Manufacturer Remote IMEI Unlock Code
What is the Manufacturer/Not Found method?
This is an alternative method to get your unlock code if your IMEI number is "not found" or the carrier is unknown.
We are sending your IMEI directly to the manufacturer rather than the carrier.
This method may be more expensive, but the success rate of obtaining your unlock code is relatively high.
If your previous order came back "Not Found" with us or on another unlocking site, the manufacturer unlock code is for you.
If we cannot get your unlock code then we will refund you 100%.
For Samsung phones manufacturer method can provide a Defreeze code if your device is "Phone Freeze", please specify in the notes sections you will require Defreeze code.
-T669 Gravity Defreeze codes are not available. There is no refund if you order freeze code for Samsung gravity T669.
For Sony Ericsson phones manufacturer method, make sure your phone has enough attempts to enter the code, as if has enough attempts to enter the unlock code. Please note that these are for GSM Carriers only
Manufacturer Unlock Order Form
Fields marked * are required!
(Press *#06# on your device to get the IMEI number)

CHECK PRICING and do a free code look up now!
START HERE by selecting your make below
Step 1
Check your code availability
We quickly scan our IMEI databases to see if a code is available for your device.
This search is completely free and anonymous!
Press *#06# on your device to get the IMEI number.
Step 2
We need your contact information
Your information will be strictly used to deliver the code and instructions to the email address you specify once your order is complete.
Step 3
Review your order and payment
Once you have finalized and checked that all the information is correct you will be transferred to Paypal's secure payment gateway.
Step 4
Receive your unlock code
Upon receiving your order and payment we will immediately begin processing your code request.
You will receive an e-mail with detailed instructions on how to unlock your device!
That's it!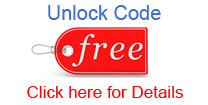 Follow or Subscribe to Us for a chance for a FREE Unlock Code