The New GALAXY NOTE Edge
CellUnlocker How Tos
9:23 pm September 5, 2014
Introducing the GALAXY NOTE Edge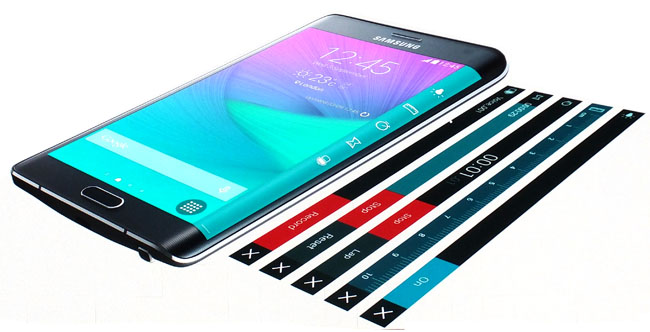 The Phone of the future! The Samsung Galaxy NOTE Edge is a brand new upcoming flagship model along side the upcoming GALAXYNOTE 4 device. Samsung integrated a flexible AMOLED QUAD HD screen into the device which allows a unique aesthetic design. Thescreen starts off normally as a slightly smaller NOTE 4 from the left side, but the screen slowly declines into a slope and curves off theright side of the device. This extra curve is viewable from the side which is ideal when using the EDGE as a desk clock beside your bed.Samsung includes the multi window /apps in that extra curved window. The material for the GALAXY NOTE Edge is improved above theold plastic bezel design to a dense aluminum metal edge. The back cover uses the same rubber/plastic combo that covers the largebattery, sim slot, and SD Card slot. Overall, the design is a premium improvement over its predecessor. Other than the obvious curvaturedesign the Note Edge is .01 INCHES smaller than the GALAXY NOTE 4.

SPECIFICATIONS

The Galaxy Note Edge utilizes the same advanced radio technology utilizing the GSM spectrum (CDMA spectrum available on CDMA networks). The device itself has the following dimension(s): 151.3 x 82.4 x 8.3 mm (5.96 x 3.24 x 0.33 in.) and weighs in at 174 g (6.14 oz).

The Display:

– Super AMOLED Capacitive touchscreen (16 Million Colors)




– QUAD HD 2560 x 1600 5.6 Inch screen with (~524 ppi) (2K Screen with high viewing angles)




– Corning Gorilla Glass 3 (w/ Curved Edge Screen)

The CPU/RAM/MEMORY:

– New CPU! the Qualcomm Snapdragon 805 CPU running at 2.5 GHz (Krait 450) utilizing the Adreno 420 GPU




– In the International Version: Exynos 5433 Quad Core 1.3 GHz Cortex- A53 & Quad core Cortex-A57 utilizing the Mali-T760 GPU




-The RAM within the NOTE EDGE remains the same at 3 GB




-The Memory configurations are either the 32 GB or the 64 GB distributions (micro SD slot up to 64 GB expansion available)

The Camera:

-16 MP (3456 x 4608 pixels, OIS (optical Image Stabilization) and LED Flash)




-3.7 MP front facing camera that is capable of 1080p@30fps video recording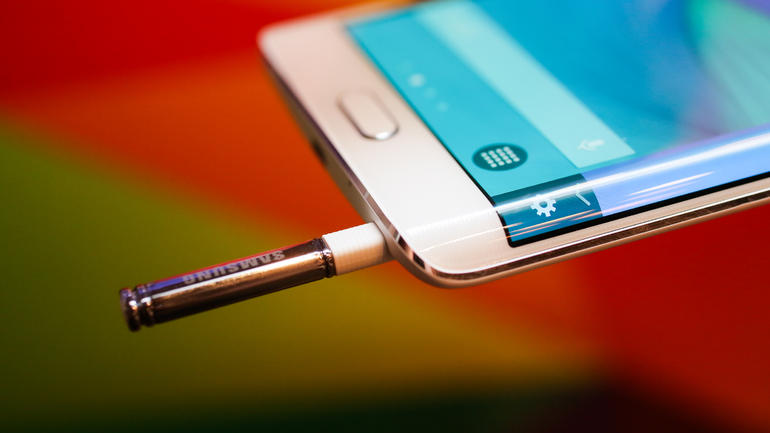 ——————————————————————————————————————————————————
The Galaxy Note Edge uses a USB 2.0 compared to the USB 3.0 port on the NOTE 3 from last years model. The Unique factor of this device

as mentioned is the screen which integrates the anticipated Flexible SUPER AMOLED Display and curves off the right side of the device.

This functions as a desk clock when placed flat on the desk and also as a multi tasking window for various applications. What other uses

this extra curved space may be used for will be up to developers and Samsung to develop and provide. The GALAXY NOTE EDGE operates

on ANDROID 4.4.4 (KitKat) and runs t he latest software available from Google. The UI of the NOTE EDGE is upgraded and improved to

reflect a flatter UI with a minimalistic feel. The amazing High resolution / definition gives the icons and navigation a joy to work with and

the blazing fast processor will speed you through any task efficiently and quickly without problems.

Lastly, The Galaxy NOTE EDGE will be available for full SIM unlocking via Cellunlocker.net! On launch and release (to various Carriers

worldwide) the Note Edge will be supported by Cellunlocker.net to Unlock and Utilize its full potential. Once Unlocked the Galaxy Note

Edge will not be limited to the carrier it was intended for, but it will then be free to be used on various other GSM networks around the

world. Visit us for more information regarding this device and also regarding the unlock!