How to Network Unlock your iPhone 14/14 Plus/14 Pro Max Guide – "Unable to Activate eSIM" Fix
CellUnlocker How Tos
2:17 pm September 28, 2022
Requirements to Network Unlock your iPhone 14/14 Plus/14 Pro Max:
Activated iPhone 14/14 Plus/14 Pro Max (must be able to access the home screen/settings)
Network Unlock requested or processed through original carriers or a 3rd party site
Access to a stable Wifi Connection
You can request an network unlock request from the original carrier of the device by contacting them or a third party company like Cellunlocker.net.
Note: Network unlocking iPhone 14/14 Plus/14 Pro Max are different from other devices, as most devices will use an unlock code. Network locked iPhone 14/14 Plus/14 Pro Max will show "Unable to Activate eSIM".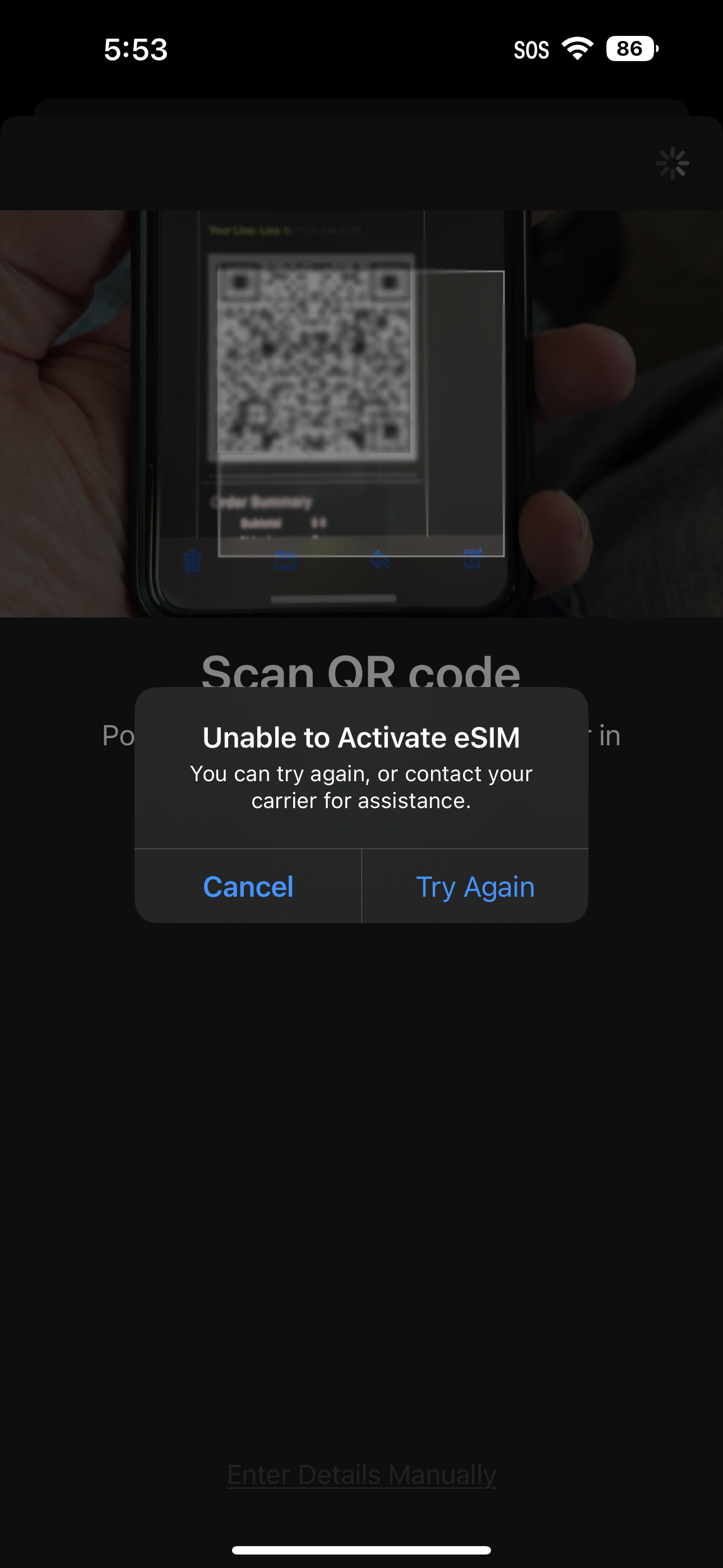 iPhone 14/14 Plus/14 Pro Max do not use unlock codes and are processed through servers then registered on Apple's systems for the network unlock. However, as mentioned on Apple's site: https://support.apple.com/en-ca/HT201328

Here is what the manual version alternative to the QR code looks like.
Instructions to unlock iPhone 14/14 Plus/14 Pro Max:
To get rid of the "Unable to Activate eSim" (which indicates the phone is locked) message, you must request an unlock from the original carriers or a 3rd party company first.
Once the network unlock is requested and the process is done, Go to Settings > Cellular > Set Up Cellular
It will give you 2 options for: Transfer From Nearby iPhone or Use QR Code(QR code comes from carrier). You can select transfer and follow onscreen instructions if you're transferring from another iPhone.
Otherwise, select "Use QR code" then scan the QR from the carriers, or select "Enter Details Manually". Once done, you should be good with your new carrier.
(Please note if your phone is blacklisted, it will not work with other USA or North American carriers. Blacklist/blocked means that the carriers have blocked your device from being used inside North America possibly due to reported lost, stolen, or unpaid bills. However, it will usually still work with overseas carriers overseas since they don't share the same blacklists.)

If you want to check if your device is blacklisted or not, you can usually check it with websites such as:

https://stolenphonechecker.org/spc/consumer for USA
https://www.devicecheck.ca/check-status-device-canada/ for Canada
Troubleshooting
"I unlocked the phone but it's not connecting to my network":
Make sure the service provider you're trying to use is compatible with the device. If you have verified it's compatible with your network, then try a back up and restore.
"I unlocked the phone but I'm not able to use data or send/receive MMS."
In this case you will need to adjust what's called the APN settings. The APN settings vary depending on the service provider you are trying to use. Please contact your service provider and they can assist you with setting this up. There is no separate unlock for data/internet or MMS. If you can call or text, your phone's network is fully unlocked.