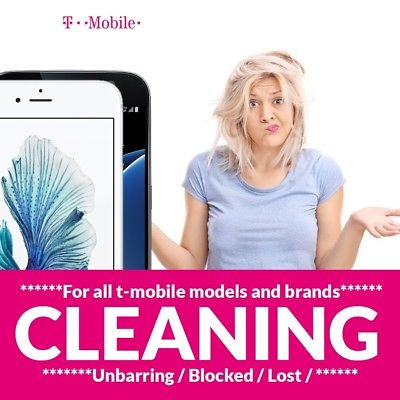 T-Mobile IMEI Cleaning, Unblocking, Unbarring, Unblacklist Service Unlock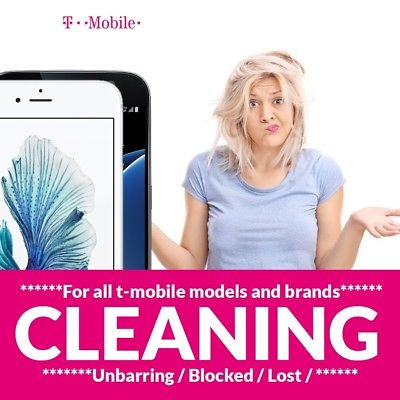 Is your T-Mobile Phone barred from the T-Mobile network due to unpaid bills, or reported lost/stolen? The T-Mobile IMEI cleaning service will change your IMEI into a "clean" status meaning that it will no longer be blocked, barred, or blacklisted from the T-Mobile network. The service has been tested and works 100% guaranteed or your money back.
Clean your T-Mobile Device to "Clean" Status
| | | |
| --- | --- | --- |
| Any T-Mobile Device | Yes | All Models and Makes are Supported |
| Blocked | Yes | Blocked Status will be changed to Clean title |
| Lost Status | Yes | Lost Status will be changed to Clean title |
| Stolen Status | Yes | Stolen Status will be changed to Clean title |
| Financing/Unpaid Bills | No | After cleaning your Phone will automatically be barred again if outstanding bills |
| Fraud | No | We cannot clean Fraud status devices at this time |

If we Cannot Clean your T-Mobile Device you will be refunded 100% Guaranteed
Please Read!
This is NOT to Unlock your Phone's Network, please revert to Network Unlocking Services for this. This will clean your T-Mobile Device's Status from (BLOCKED/LOST/STOLEN) into "clean" status.
We do not support T-Mobile devices that have outstanding balances on them, as once unbarred, it will return to barred status once back on the network. The only way to clean your device from outstanding bills is to pay T-Mobile the outstanding amount.
We do not support T-Mobile devices with "Fraud" Status at this time
Please CHECK YOUR IMEI STATUS before placing your order.
The Cleaning Process
Fill out the unlock form with your device details
Once we have received your request form, we will start the procedure
Our automated system will email you "Cleaned Status" when it's ready. (You can check on the T-Mobile website to verify this)
Follow our how-to unlock walk through and you are good to go!
Need Help?
If you have any further questions, please contact our 24/7 live support.
Ready to Clean your T-Mobile Phone?
Select "Choose Make" at the top to proceed to the manufacturer page of the device you wish to unlock.
Unlocking Acer Phones - Frequently Asked Questions
The pricing will vary depending on the Model and Network your Acer is locked to. Do a code look up below and you will see the pricing for your device. Cellunlocker.net offers a lowest price Guarantee!
Once your payment has cleared you will be emailed the Unlock code and detailed instructions. The average turnaround time for processing is 1-3 hours (This may vary from time to time, however our automated system will automatically email you once it is finished processing).
Yes, all of our codes are 100% Guaranteed and genuine to unlock your phone's Network. Please keep in mind, an unlocked phone will not be compatible with every Service Provider. It is up to you to verify with the carrier you wish to use if your Acer Phone will be compatible on their network after being unlocked.
Instructions for Inputting Unlock Code:
Power on your Acer device with a foreign sim card
Phone will prompt for you for "Sim Network Unlock Pin" or "Enter Unlock Code"
Enter the unlock code provided
Your Acer phone is now unlocked!
Sorry, there are no videos available at this time.
No Reviews at this page at this time
Please check out our
Testimonials
Page from customers and also checkout our reviews at
Review Centre