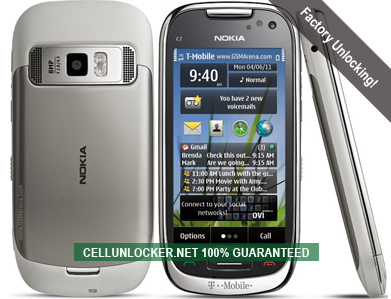 How to Unlock Nokia
Get your Nokia Unlock Code Below
Our Nokia Unlocking process is safe, easy to use, simple and 100% guaranteed to unlock your phone regardless of your GSM network! This is the same method Networks and Carriers will use and charge you $50 and over to unlock your phone. Once you receive our 15 or 20 digit Nokia Unlock code and easy to follow instructions, your Nokia phone will be unlocked within 5 minutes and be using a SIM card of your choice!
Watch Exactly How we will Unlock you Nokia Phone's Network
Simply enter the Network Nokia Unlock code sent to you via E-Mail and your phone is unlocked!
Safe, Fast & Easy!
Why Unlock your Nokia Phone with Cellunlocker.net?
* Easily switch Sim cards between GSM Carriers using the same Nokia phone
* Our Automated system will E-Mail you the Nokia Unlock code
* If you are travelling, buy a local SIM card and save on roaming fees
* Unlock your Nokia device from the comfort of your own home fast and easy
* No complicated rooting,software, or cables required
* Simply enter the subsidy unlock code we e-mail you
* There is absolutely no risk of damaging your Nokia phone by unlocking it.
* Cellunlocker.net Guarantees Lowest price and Fastest Turnaround time
* 100% Guaranteed, if we cannot unlock your Nokia phone we will refund you
Customers Who recently Unlocked their Nokia Phones using Cellunlocker.net
Most Popular Nokia Unlock Codes
* Nokia Lumia Models
* Nokia C3
* Nokia N8
* Nokia 5230 Nuron
* Nokia X7
Unsupported Nokia Models (DO NOT ORDER THESE!)
* Nokia 6280 (Rogers Only)
* Nokia 6790 Surge (Rogers Only)
DISCLAIMER: If have ever previously attempted to unlock your phone, make sure you have a USB cable before placing your order. If you input the unlock code and you receive the message "Not allowed", "Phone Restriction" or "Hard locked" then it is a result of the incorrect code entered too many times. If this is the case, you will have to use a software that we will provide you which will require a USB cable. If your phone is brand new phone there is nothing to worry about
If your Network or Carrier is not listed below, DO NOT place your order under a different carrier, as the code will come back incorrect and there will be no refunds
*If your Phone's Network is not listed below, you can try using our Nokia Unlock Software

CHECK PRICING and do a free Nokia code look up now!
START HERE by selecting your make below
Step 1
Check your Nokia code availability
We quickly scan our IMEI databases to see if a code is available for your device.
This search is completely free and anonymous!
Press *#06# on your device to get the IMEI number.
Step 2
We need your contact information
Your information will be strictly used to deliver the code and instructions to the email address you specify once your order is complete.
Step 3
Review your order and payment
Once you have finalized and checked that all the information is correct you will be transferred to Paypal's secure payment gateway.
Step 4
Receive your Nokia unlock code
Upon receiving your order and payment we will immediately begin processing your code request.
You will receive an e-mail with detailed instructions on how to unlock your device!
That's it!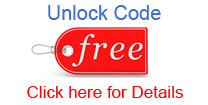 Follow or Subscribe to Us for a chance for a FREE Nokia Unlock Code