Remote Unlock Service Unlock
Our technicians will unlock your device remotely
Remote Unlock Service
This service is different from our conventional services as it will require a data cable, PC and internet connection. Our certified technicians will then connect to your device and service your phone depending on the service required. We use this service as an alternative if your unlock code for your device is not available, or you require a special service for your device.
If you have been redirected here on our website, or by one of our customer service representatives, this may be the only solution to unlock your device at the moment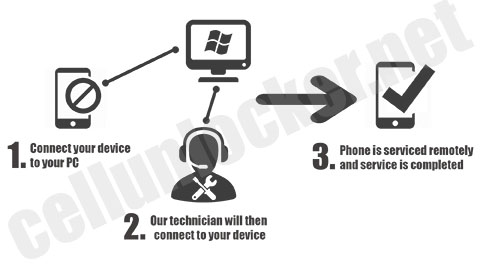 Please Read:
You may order the service anytime, however our technicians will be available:
9:30am-5:30pm Monday to Friday, 11:00am-5:00pm Saturday to Sunday PST
The solution is permanent and there is no rooting required for your device which can void warranty. Its 100% Safe and our service will not void warranty
This is an example of Unlocking the Network with our Remote Service
It's a great alternative if your Unlock Code is "Not found" or for networks such as Sprint and Verizon in which Unlock Codes are not available.
Please select the service you require below

---
Popular Array Unlock Models
Popular Array Unlock Networks
Sprint
Virgin
T-Mobile USA
Unlocking Remote Unlock Phones - Frequently Asked Questions
The pricing will vary depending on the Model and Network your Remote Unlock is locked to. Do a code look up below and you will see the pricing for your device. Cellunlocker.net offers a lowest price Guarantee!
Once your payment has cleared you will be emailed the Unlock code and detailed instructions. The average turnaround time for processing is 1-3 hours (This may vary from time to time, however our automated system will automatically email you once it is finished processing).
Yes, all of our codes are 100% Guaranteed and genuine to unlock your phone's Network. Please keep in mind, an unlocked phone will not be compatible with every Service Provider. It is up to you to verify with the carrier you wish to use if your Remote Unlock Phone will be compatible on their network after being unlocked.
Instructions for Inputting Unlock Code:
Power on your Remote Unlock device with a foreign sim card
Phone will prompt for you for "Sim Network Unlock Pin" or "Enter Unlock Code"
Enter the unlock code provided
Your Remote Unlock phone is now unlocked!
Sorry, there are no videos available at this time.
Added 09/21/2018
Samsung Galaxy S7
Added 09/06/2018
Samsung Galaxy S9
Added 09/06/2018
Customer Reviews
Added 09/06/2018
Order Review
Added 09/06/2018
AT&T Unlock
Added 09/06/2018
Customer Review
Added 09/06/2018
Customer Review
Added 09/21/2018
Cricket Galaxy S8
Added 09/06/2018
S8 Unlock Review
Added 09/06/2018
Unlock Blackberry Keyone
Added 09/06/2018
Softbank Japan iPhone
Added 09/06/2018
iPhone SE Unlock
Added 09/06/2018
T-Mobile Unlock App
Added 09/06/2018
Galaxy S7 Forgot Pass
Added 09/06/2018
Galaxy S6 Unlock
Added 09/06/2018
Note 5 Unlock
Added 09/06/2018
S6 & S6 Edge Unbox
Added 09/06/2018
Note 7 Unlock