Unlock Samsung Screen Password Removal Service
Remove Samsung Screen Lock Password, Pattern and PIN
Remove Samsung Screen Lock Password, Pattern and PIN without Wiping Your Data/Photos. It's Easy, Safe and No Factory Reset Required!
If you forgot the password of your own Samsung lock screen or you bought a used device from a stranger that is password-protected then this Samsung Lock Screen Removal service gives you the ability to remove any type of personal password within minutes. It doesn't matter what kind of password protection is enabled on the Samsung phone, whether it's the Pattern lock, PIN or fingerprint, our Samsung Password Removal service can completely remove all types of passcodes from the lock screen. Rest assured that NO data/photos will be deleted from your smartphone whatsoever while using this service.
This service is different from our conventional services as it will require a data cable, PC and internet connection. Our certified technicians will then connect to your device and service your Samsung phone to remove the screen password.
Please keep in mind this service is not to unlock the network of your phone, But to remove the Samsung Screen Lock Password, Pattern and PIN.
If you need to network unlock your Samsung device, please click here.
How Does it Work?

We will need one of our certified technicians to connect to your device via your PC. Once connected we take care of the rest. Please keep in mind:
Once connected, the process will take 5-10 Minutes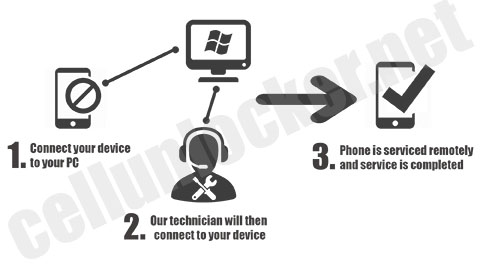 • The ability to remove 4 screen lock types including pattern, password, pin & fingerprints., safe and effective.
• Does not require factory reset
• Removes your Samsung lock password, without any damage to your device's data/photos
Requirements
1. Windows PC
2. USB cable to connect to PC
3. Anydesk installed on your PC
Detailed Instructions will be provided after placing your order, however please keep in mind these are required to proceed with this service
Technician Availability
Please place your order to book a time slot with one of our certified technicians. Technician availability is as follows:
9:30am-5:30pm Monday to Friday PST
Once connected, it will take approximately 5-10 Minutes
*Closed for Statutory Holidays and Weekends
100% Safe and Money Back Guaranteed
At Cellunlocker.net, we only offer 100%  Safe and Guaranteed Services
No rooting or complicated software required
Our techniques are 100% risk free of damaging your device
Our certified technicians have years of experience
Permanent lock removal (unless you add a new one)
Supported models:
If we are unable to remove your password lock screen,  you will be fully refunded
Ready to Remove Your Samsung's Password Lock Screen?
Enter your information as accurate as possible and you will be emailed information on everything you need to prepare for your appointment with one our technicians. Book a time slot, connect with or friendly staff and we will get your phone up and running in no time.