Support Center
I am receiving a Code Error with the code supplied to me
If you are receiving a Code Error with the supplied Unlock code, please email us at [email protected] with the following information:
1. IMEI number (Press *#06#, please do this again to verify the one supplied by you was correct)
2. Network the phone is currently locked to (Not the network you wish to use it on)
3. Phone Model and Make
4. The Error Message you received when trying to input the code
5. The Message that appears on your phone before you enter the code
*Please be detailed with your error so we can assist you in a fast and efficient manner
I cannot enter the code into my phone
Please refer to this page for Unlocking instructions
If you are following all the instructions and you are not receiving a prompt to enter the code into your phone, you may need to try another sim card. You may also be receiving no prompt because your phone may already be unlocked. If your phone is already unlocked, it will not prompt you again to enter the code. You may contact at [email protected] if you are still having issues.
I can make Calls and Text but I'm not getting Internet Service.
In this case you will need to adjust what's called the APN settings. The APN settings vary depending on the service provider you are trying to use. Please contact your service provider and they can assist you setting this up. There is no separate unlock for data or internet. If you can call or text, your phone's network is fully unlocked. Also keep in mind, if your phone cannot use BBM, or other Blackberry services, Black devices need a special "Blackberry Dataplan" which you can get from your service provider
My Phone is asking for the "PUK" or "Security Pin" or "Password"
If your phone is asking for one of the above, it is the Simcard personal password or phone security password NOT the Network Lock which we provide for you. You can contact your service provider for this. Once you bypass this, you can use the Network Unlock Code provided by us.
My Phone said "Lock Successful" and it seems unlocked, but I am not getting signal with the phone
Keep in mind we ask you to check with your service provider to check if your phone will be compatible with their network after unlocking. Not all unlocked phones will be compatible with any Network.
However, if you have made sure your unlocked phone will be compatible with the network, and you are still not getting any signal try:
– Pulling the battery for 5 seconds and restarting the phone (Signal may take a few minutes to pick up the new network)
– Go to manage connection or mobile network settings, make sure "airplane mode" is turned off, and your network selection is set to automatic.
– If your phone has dual mode (CDMA and GSM) make sure GSM Mode is switched on.
The Model or Network I am trying to unlock is not listed on your Website
Please just shoot us an email at [email protected] and we will be happy to let you know if we are able to unlock a particular model or network that is not listed on our website

CHECK PRICING and do a free Cell Unlock code look up now!
START HERE by selecting your make below
Step 1
Check your Cell Unlock code availability
We quickly scan our IMEI databases to see if a code is available for your device.
This search is completely free and anonymous!
Press *#06# on your device to get the IMEI number.
Step 2
We need your contact information
Your information will be strictly used to deliver the code and instructions to the email address you specify once your order is complete.
Step 3
Review your order and payment
Once you have finalized and checked that all the information is correct you will be transferred to Paypal's secure payment gateway.
Step 4
Receive your Cell Unlock unlock code
Upon receiving your order and payment we will immediately begin processing your code request.
You will receive an e-mail with detailed instructions on how to unlock your device!
That's it!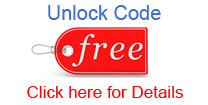 Follow or Subscribe to Us for a chance for a FREE Cell Unlock Unlock Code