Is my Sony Xperia Hardlocked?
How do I know my Sony Xperia's Network is Fully Unlocked or is Hardlocked?
Checking Lock Status for (Xperia Models Only)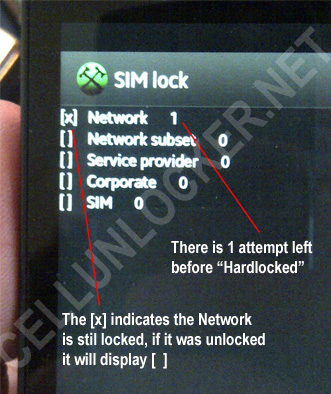 It is important to check if your Xperia has enough attempts to enter the code, otherwise even the correct unlock code will NOT WORK. There are no refunds if you purchase a code and your phone is hardlocked. Please check first before ordering!

If you have an Xperia X10 or X8 Model
With a Non accepted simcard start up the phone. When the screen says "emergency calls"
1. Start up the phone and press the Menu key ( ) and Back key ( ) as follows:
2. Pressing Key Sequences: Menu Back Back Menu Back Menu Menu Back
Note: Please make sure the phone have SIMLOCK when pressing these keys to get into the Service menu.
OR
All other Xperia Models
press *#*#7378423#*#* and access the service menu > simlock
You will see a menu:
EX:
[X] Network 10 [ ] Network Subset 10
[ ] Service Provider 10
[ ] Corporate 10
[ ] Sim 0
If it shows [ ] rather than [x] for all the boxes above, it means your phone is fully unlocked.
If it shows [X] Network 0, it means your phone is hardlocked, 0 attempts to enter the code. You can only unlock your phone via Xperia Unlock Software in this case.
OR
The best way to tell if your phone is unlocked, is just input a non accepted simcard, and see if you can make a call with it.
What can I do if my Sony Xperia is Hardlocked?
Luckily we do now have a software solution. This works for ALL Sony Xperia models. Even if you have 0 attempts left to enter the correct code, use this software to unlock your phone.
Get Sony Xperia Unlock Software