T-Mobile Device Unlock App Instructions

Introduction:
These are specific instructions to unlock your T-Mobile phone using the 'Device Unlock' application.
This service does NOT use an unlock code as the application prevents the device from being unlocked by unlock codes.
Requirements for T-Mobile Device Unlock App:
1) Foreign sim card (sim card from another carrier)
2) Wi-fi/Internet connection
3) IMEI cannot be blacklisted (reported lost/stolen)
Instructions to T-Mobile Unlock App: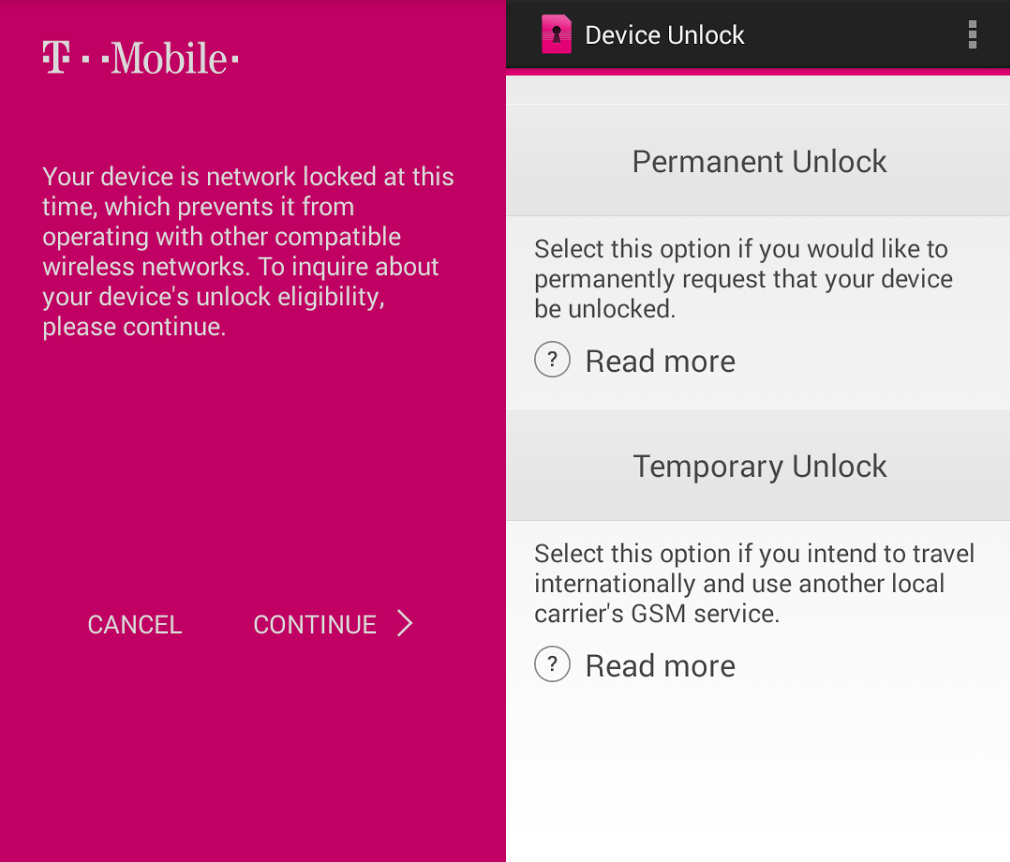 1) Connect to wi-fi and power on the phone with a foreign sim card
2) Go to the 'Device Unlock' application
3) Press 'Permanent Unlock'
4) Phone is now unlocked!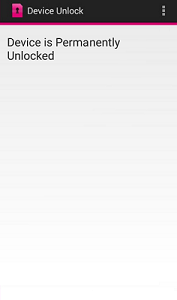 Video Guide for T-Mobile Unlock App:
*************************************************************
Troubleshooting:
In this case, you want to make sure you gave us the correct information pertaining to your device. Please check the following:
– IMEI when dialing *#06#
– Model number of the device
– Network the phone is locked to
If there are any discrepancies, contact us immediately with the correct information.
"Unlock failed. This mobile device is not elegible for unlock."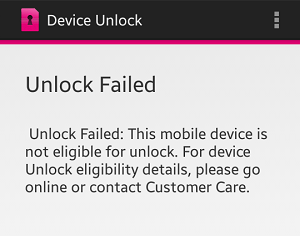 1) Check your device Settings for a firmware/OS upgrade
2) Factory reset your device (back up important data beforehand)
3) Try the unlocking procedure again
"Server not responding. Please try again later."
This is a connection issue with the phone/application to the service provider.
This issue cannot be resolved as it's a connection and/or hardware issue.
Here is a little gift from us! 😊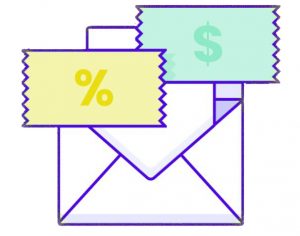 Here's a Little Gift For You Today!
Cellunlocker.net Always Offers Lowest Price Guaranteed, But Here's Something Extra!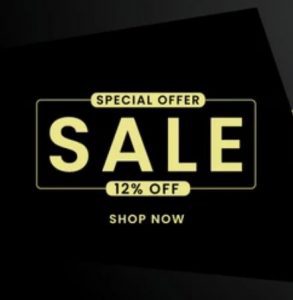 Click Image to Copy Coupon Code
Thank You for Making Us The #1 Phone Unlocking Site on Google Reviews Today  ⭐⭐⭐⭐⭐

*One Time Per Customer, Valid for 24 Hours
Risk Free - 100% Guaranteed or your Money Back!