HTC One M8 Unlock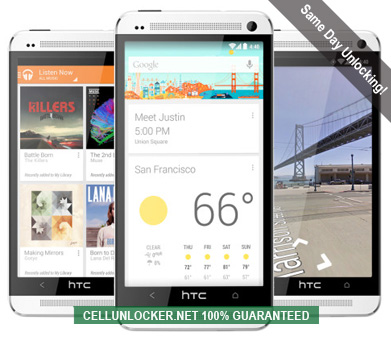 Unlock the new HTC One – How to Unlock HTC One M8 Phone
The new HTC One M8 is making its debut in the spring of 2014. This will be HTC's new Flagship phone and has been acclaimed as "the best android phone every made". HTC fans should be excited about this powerful phone running on Qualcomm Snapdragon 801 chipset with 2.3GHz quad-core CPU. There are loads of new features in comparison to its predecessor the HTC One M7.
The HTC One M8 will be released from all major carriers including: AT&T, T-Mobile, Rogers, Fido, Bell, Telus, Wind, Mobilicity, Virgin, Koodo, O2, Orange, Vodafone, Three 3 and many more GSM carriers around the world. However, the new HTC One M8 will usually come carrier locked. Which means you cannot use it with other service provider sim cards. Here at Cellunlocker.net, we provide an unlocking service for your HTC One M8 to be used on other carriers. This is great if you want to travel and use local sim cards or if you want to change providers without having to buy a new phone. This is the same service your carrier will charge you $50+ for.
Why Unlock your HTC One M8 Phone with Cellunlocker.net?
* Easily switch Sim cards between GSM Carriers using the same HTC phone
* Our Automated system will E-Mail you the HTC One M8 Unlock code when ready
* If you are travelling, buy a local SIM card and save on roaming fees
* Unlock your HTC One device from the comfort of your own home fast and easy
* No complicated rooting,software, or cables required for your One S.
* Simply enter the remote unlock code we e-mail you
* There is absolutely no risk of damaging your HTC One phone.
* Cellunlocker.net Guarantees Lowest price and Fastest Turnaround time
100% Guaranteed to Unlock the new HTC One Network!
After I place my order what do I get?
1. You will receive an 8 digit authentic network unlock code (Sim network unlock pin) via email.
2. Detail step by step instructions (No technical skills required).
3. Lifetime technical support via phone, live chat and email.
Popular HTC Unlock Models
Popular HTC Unlock Networks
Fido
T-Mobile USA
Bell Mobility
Koodo
Telus Mobility
Everything Everywhere
Cricket Communications
SaskTel
AT&T
3 Hutchison
Verizon
Unlocking HTC One M8 Phones – Frequently Asked Questions
Instructions for Inputting Unlock Code:
Power on your HTC One M8 device with a foreign sim card
Phone will prompt for you for "Sim Network Unlock Pin" or "Enter Unlock Code"
Enter the unlock code provided
Your HTC One M8 phone is now unlocked!
09/21/2018
Samsung Galaxy S7
09/06/2018
Samsung Galaxy S9
09/06/2018
Customer Reviews
09/06/2018
Customer Review
09/06/2018
Customer Review
09/21/2018
Cricket Galaxy S8
09/06/2018
S8 Unlock Review
09/06/2018
Unlock Blackberry Keyone
09/06/2018
Softbank Japan iPhone
09/06/2018
iPhone SE Unlock
09/06/2018
T-Mobile Unlock App
09/06/2018
Galaxy S7 Forgot Pass
09/06/2018
Galaxy S6 Unlock
09/06/2018
S6 & S6 Edge Unbox