LG G Pro 2 Unlock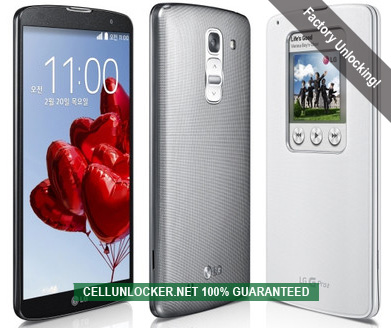 Unlock LG G Pro 2 (F350, D837, D383)
How to Unlock LG G Pro 2 – LG G Pro 2 Unlock Code
The LG G Pro 2 is LG's new Android Phablet flagship device. It is the successor to the popular LG Optimus G Pro. The new LG phablet comes with a large HD screen, a new and improved camera and faster processor.
The LG G Pro 2 will come carrier locked from most service providers. So if you try to insert a sim card from another provider, you will notice a "Sim network unlock pin" message. This means this device is locked and cannot be used with another carrier unless it is unlocked. Here at Cellunlocker.net we are specialists with sim unlocking LG devices. We will provide you with an authentic 16 digit network unlock code which will free your LG G Pro 2 from all carrier restrictions. This means, after unlocking your LG G Pro 2, you can travel and use another carrier's sim card, or simply change service providers without having to purchase a new phone.
We can unlock all variations of the LG G Pro 2 including:
– Unlock LG G Pro 2 F350
– Unlock LG G Pro 2 D837
– Unlock LG G Pro 2 D383
Why Unlock your LG G Pro 2 Phone with Cellunlocker.net?
* Easily switch Sim cards between GSM Carriers using the same LG phone
* Our Automated system will Instantly E-Mail you the LG G Pro 2 Unlock code
* If you are travelling, buy a local SIM card and save on roaming fees
* Unlock your LG G Pro 2 device from the comfort of your own home fast and easy
* No complicated rooting,software, or cables required
* Simply enter the remote unlock code we e-mail you
* There is absolutely no risk of damaging your LG G Pro 2 phone by unlocking it.
* Cellunlocker.net Guarantees Lowest price and Fastest Turnaround time
100% Guaranteed to Unlock your LG G Pro 2 Phablet
Popular LG Unlock Networks
AT&T
Cricket Communications
Rogers
Fido
Bell Mobility
Koodo
T-Mobile USA
Virgin Canada
Metro PCS
All Africa Networks
Telus Mobility
All Asia Networks
Unlocking LG G Pro 2 Phone – Frequently Asked Questions
Instructions for Inputting Unlock Code:
Power on your LG G Pro 2 device with a foreign sim card
Phone will prompt for you for "Sim Network Unlock Pin" or "Enter Unlock Code"
Enter the unlock code provided
Your LG G Pro 2 phone is now unlocked!
09/21/2018
Samsung Galaxy S7
09/06/2018
Samsung Galaxy S9
09/06/2018
Customer Reviews
09/06/2018
Customer Review
09/06/2018
Customer Review
09/21/2018
Cricket Galaxy S8
09/06/2018
S8 Unlock Review
09/06/2018
Unlock Blackberry Keyone
09/06/2018
Softbank Japan iPhone
09/06/2018
iPhone SE Unlock
09/06/2018
T-Mobile Unlock App
09/06/2018
Galaxy S7 Forgot Pass
09/06/2018
Galaxy S6 Unlock
09/06/2018
S6 & S6 Edge Unbox