Motorola Moto X+1 Unlock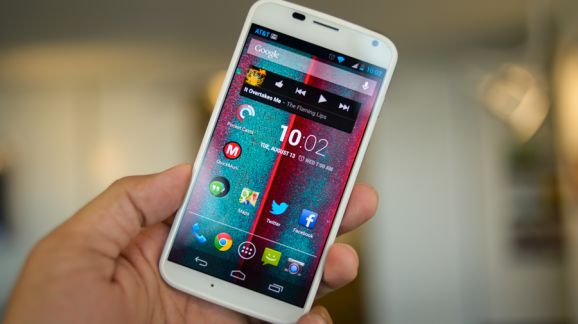 How to Unlock Moto X+1 to use on other Networks
The Motorola Moto X+1, also known as the "new" Moto X+1, has a sleeker and slimmer design than the first Moto X+1. This model features a 5.2″ AMOLED display, turbo charging support and a 13MP camera. This device will come network locked if purchased from a service provider. To use this device with another carrier after, you must network unlock it. Unlocking your device with Cellunlocker.net is guaranteed, simple and quick. The unlock is permanent; so whether you update the firmware, wipe the device or are constantly changing sim cards – you do not need to unlock the phone again!
Why Unlock your Motorola Moto X+1 Phone with Cellunlocker.net?
* Easily switch Sim cards between GSM Carriers using the same device
* Our Automated system will E-Mail you the Moto X+1 Unlock code
* If you are travelling, buy a local SIM card and save on roaming fees
* Unlock your Motorola device from the comfort of your own home
* No complicated rooting,software, or cables required
* Simply enter the subsidy unlock code we e-mail you
* There is absolutely no risk of damaging your Motorola phone by unlocking it
* Cellunlocker.net Guarantees Lowest price and Fastest Turnaround time
100% Guaranteed to Unlock your Motorola Moto X+1 Network
Array Unlock Models
Unlocking Moto X+1 – Frequently Asked Questions
Instructions for Inputting Unlock Code:
Power on your Motorola Moto X+1 device with a foreign sim card
Phone will prompt for you for "Sim Network Unlock Pin" or "Enter Unlock Code"
Enter the unlock code provided
Your Motorola Moto X+1 phone is now unlocked!
09/21/2018
Samsung Galaxy S7
09/06/2018
Samsung Galaxy S9
09/06/2018
Customer Reviews
09/06/2018
Customer Review
09/06/2018
Customer Review
09/21/2018
Cricket Galaxy S8
09/06/2018
S8 Unlock Review
09/06/2018
Unlock Blackberry Keyone
09/06/2018
Softbank Japan iPhone
09/06/2018
iPhone SE Unlock
09/06/2018
T-Mobile Unlock App
09/06/2018
Galaxy S7 Forgot Pass
09/06/2018
Galaxy S6 Unlock
09/06/2018
S6 & S6 Edge Unbox