Nokia Lumia 1020 Unlock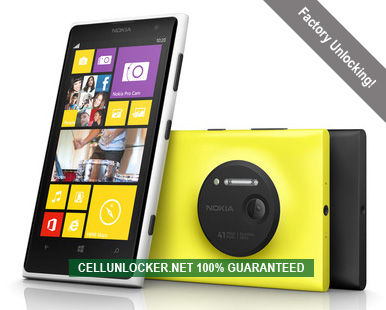 How to Unlock Nokia Lumia 1020 – Get your Lumia 1020 Unlock Code Below
The Nokia Lumia 1020 is Nokia's new flagship phone. Also known as Nokia EOS, Nokia 909, Nokia RM-875, Nokia RM-877, Nokia RM-876. This Windows 8 phone is out with a faster processor and better camera. If you purchased your Lumia 1020 from your carrier, most likely it will be carrier locked and cannot be used freely on other networks when inserting a new sim card. Cellunlocker.net can unlock your Lumia 1020 from all network restrictions. Unlocking your Nokia Lumia 1020 Windows phone has never been easier with Cellunlocker.net. Our Nokia Lumia Unlocking process is safe, easy to use, simple and 100% guaranteed. This is the same method Networks and Carriers will use and charge you $50 and over to unlock your phone. Once you receive our 8 or 20 digit Nokia Lumia Unlock code and easy to follow instructions, your Nokia phone will be unlocked within 5 minutes and be using a SIM card of your choice! Once your Nokia Lumia device has been unlocked it is permanent, even after updating the firmware.
Whether you are travelling, or just wish to use another Carrier with the same Nokia Lumia device, Cellunlocker.net can help you unlock your Nokia Lumia fast and easy.
Our most popular Nokia Lumia 1020 Unlocking Networks include:
– Unlock Rogers Nokia Lumia 1020
– Unlock Telus Nokia Lumia 1020
– Unlock Koodo Nokia Lumia 1020
– Unlock T-Mobile Nokia Lumia 1020
– Unlock At&t Nokia Lumia 1020
– Unlock Orange/T-Mobile UK Nokia Lumia 1020
– Unlock Everything Everywhere (EE) Nokia Lumia 1020
– Unlock O2 Nokia Lumia 1020
+ All other networks which are supported below! Please do a Code Lookup below to see which models/networks we can unlock.
Why Unlock your Nokia Lumia 1020 with Cellunlocker.net?
* Easily switch Sim cards between GSM Carriers using the same Nokia Lumia 1020 phone
* Our Automated system will E-Mail you the Lumia 1020 Unlock code
* If you are travelling, buy a local SIM card and save on roaming fees
* Unlock your Nokia device from the comfort of your own home fast and easy
* No complicated rooting, software, or cables required
* Simply enter the 8 or 20 digit Sim Pin or Unlock Code we e-mail you
* There is absolutely no risk of damaging your Nokia Lumia 1020 phone by unlocking it.
* Cellunlocker.net Guarantees Lowest price and Fastest Turnaround time
* 100% Guaranteed, if we cannot unlock your Nokia Lumia 1020 phone we will refund you
Permanently Unlock your Nokia Lumia 1020 Network, 100% Guaranteed
Array Unlock Models
Unlocking Nokia Lumia 1020 – Frequently Asked Questions
Instructions for Inputting Unlock Code:
Power on your Nokia Lumia 1020 device with a foreign sim card
Phone will prompt for you for "Sim Network Unlock Pin" or "Enter Unlock Code"
Enter the unlock code provided
Your Nokia Lumia 1020 phone is now unlocked!
No Reviews at this page at this time
Please check out our
Testimonials
Page from customers and also checkout our reviews at
Review Centre