Device Comparison, Part 2: Screen Size & Resolution
Cellunlocker Tech Reviews
5:55 pm March 29, 2016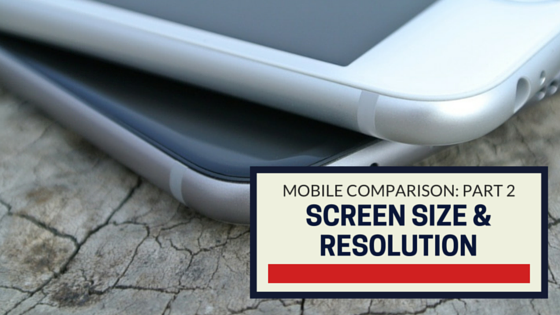 While choosing one smartphone over the other may be exciting, it can also be an overwhelming and daunting process. You must consider brand name, processor speeds, and every other seemingly minute facet, especially the screen size and resolution.
Here is a breakdown of the different types of displays across the wide range of mobile devices today.
Thin Film Transistor (TFT) LCDs
Undoubtedly, the most common type of display used in mobile phones and tablets are TFT LCDs. These screens are upgrades over previous versions of LCD displays and offer higher resolutions and better image quality. These are on the cheaper end of the spectrum and are commonly found on budget devices.
Even with all of its glamor, TFT LCDs are limited by poor visibility and narrow viewing angles in direct sunlight or light. These screens also consume significantly more battery power, which makes them less battery friendly.
In-Place Switching (IPS) LCD
In comparison to TFT LCD screens, IPS LCDs are much better. These screens use less power and offer wider viewing angles, which both contribute to a better battery life. However, these screens are more expensive than the standard TFT LCD screen. IPS LCDs are found on more upscale phones, such as the iPhone 4. With a significantly higher resolution of 640 x 960, it has a remarkably brilliant picture quality and is known as Apple's coveted Retina Display.
Resistive Touchscreen LCD
Resistive touchscreens are designed with two layers of conductive material. Each layer is separated by a tiny gap, which includes acts as resistance for the device. Anytime the user touches the screen the two separate pieces of glass touch and creates a circuit.
The phone's mobile processor or chip recognizes this information and communicates it to the OS. These types of touchscreen devices are not as responsive and commonly require a stylus to effectively identify points of touch. Resistive touchscreens are typically used in lower feature touch phones and screens.
Capacitive Touchscreen
Capacitive touchscreens are more high-tech than resistive devices. With capacitive touchscreen devices, the thin layer of glass is coated with indium tin oxide or another transparent conductor. Anytime the screen is touch by a finger, the interruption in the electrostatic field of the screen. This interruption is detected by the phone's chip or processor, which communicates to the OS to act accordingly. These types of devices are much more effective for human touch and are more likely to be used in more expensive phones.
Organic Light Emitting Diode (OLED)
OLED is one of the newer technologies mainly used in monitors and different mobile displays. With OLED technology, a carbon-based, organic material is placed between a cathode and an anode, which serve as two conducting sheets. In turn, these two sheets are sandwiched between a substrate (bottom glass plate) and a glass top plate or seal. As an electric pulse is applied to the two sheets, an electro-luminescent light is created from the organic material between the sheets of glass. Color and brightness can vary based on the actual electric pulse.
In comparison to LCDs, OLEDs are significantly better because of their wider viewing angles, lightning fast response time, exceptional reproduction of color, and light weight designs.
Active-Matrix Organic Light-Emitting Diode (AMOLED)
AMOLED are a certain type of OLED displays for smartphones, tablets, and other mobile devices. These types of displays are quickly growing in popularity among more expensive devices. AMOLED screens offer all of the same attributes of OLED, such as light weight design, higher sharpness and brightness, amazing color reproduction, and superior battery life.
These displays are currently being used in the mainstream devices, such as some of the newest Nokia N8. The AMOLED display is superior to the TFT LCDs.
Super AMOLED
Super AMOLED displays are a more advanced version of AMOLED. Super AMOLED displays were created by Samsung and actually includes touch sensors on the display. This is in direct contrast to having to create a separate touch sensitive layer. Because of the ability to have a single layer, Super AMOLEDs are the thinnest display technology on the market.
Samsung's state-of-the-art devices, such as the Galaxy S I900 now come with this display. Super AMOLED displays are significantly more responsive than other AMOLED displays.
Retina Display
Retina display got its name because none of the pixels can be individually identified by the human eye. Instead of seeing individual pixels, you only see a brilliant, super sharp retina display. This type of display is used by Apple for its high resolution (640 x 969 pixels) IPS LCD.
Tactile / Haptic Touchscreen
When Nokia and Blackberry needed a display for their enterprise market smartphones, they chose tactile/haptic technology. With each touch action, the tactile touchscreen instantly feedbacks to deliver an unmistakable and immediate confirmation to the user. This technology has been found to bolster user performance, satisfaction, and accuracy while using keying words on a touchscreen.
Gorilla Glass
Gorilla Glass is some of the toughest material on the market. It's designed with a special alkali-aluminosilicate glass that provides protection against drops, scratches, and everyday bumps. A large number of mobile device manufacturers are choosing Gorilla Glass, such as Nokia, Samsung, and Motorola. This technology makes the device more reliable and durable. In the end, users will always find more safety and security in using a device with Gorilla Glass.
The 'Best of the Best' in Smartphone Display
Galaxy S7 & S7 Edge
Both of these phones are equipped with Samsung's powerful AMOLED technology stretched across a 5.1-inch to 5.5-inch 2k display. Users enjoy vibrant colors and deep blacks on Samsung's Adaptive Display. Both of these devices boast a stunning resolution of 1440 x 2560 pixels, giving the Galaxy s7 Edge a pixel-per-inch (ppi) density of 534 & the Samsung S7 a ppi density of 577 respectively.
Samsung Galaxy S6 Edge+
With a 5.7-inch display, the Samsung Galaxy S6 Edge + features a 2k display and Gorilla Glass 4. While the pixel density of this device isnt as high as some of its competitors, the S6 Edge+ offers a ppi density of 518, it remains a solid choice for anyone interested in a crystal clear image.
iPhone 6s Plus
Apple is still using LCD technology on it's iPhone. Unfortunately, LCDs do not have the same super rich blacks as OLED displays. This factor limits the iPhone's ability for high contrast. Although it doesn't have the 2k display, the iPhone 6s Plus Retina HD includes one of the highest color accuracies on any smartphone.
Droid Turbo 2
Hailed as the world's first shatterproof phone, Motorola's Droid Turbo 2 is truly in a class of its own. It's designed with doubled-up touch sensors laid over a flexible Gorilla Glass OLED display, which will bend but not break.
LG G5
The LG G5 boasts a large 5.3-inch screen made from Cornings Gorilla Glass. This phone offers its users a crisp images on both photos and games with a resolution of 1440 x 2560, giving its a ppi density of