Device Comparison, Part 3: Performance & Gaming
CellUnlocker How Tos
7:58 pm April 7, 2016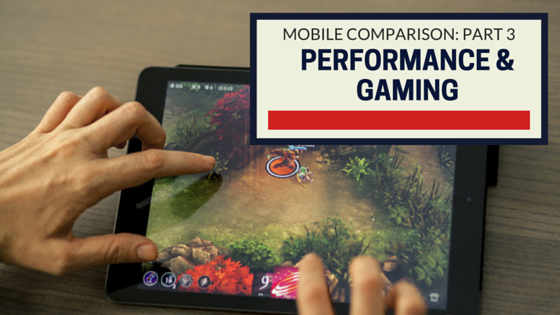 If you use your phone for multitasking, gaming, or downloading or uploading lots of photos and videos, then you need a device with large amounts of processing power and a high data transfer speed. A powerful processor can provide smooth video playback and complex games that are entertaining enough to occupy you for hours. Here's how to choose the smartphone with the best performance.
Choosing a Carrier; Decisions, Decisions….
Without reliable wireless coverage, a powerful smartphone is useless. Data transfer speed varies from carrier to carrier, market to market, and sometimes even from building to building. All four of the major U.S. carriers offer 4G LTE networks, which are 10 to 15 times faster than 3G. Many carriers will let you talk to friends and family on the same network for free, and different carriers offer devices with different features and discounts. You may need an unlocked smartphone for international travel or a device with certain apps. Some people choose a prepaid phone instead of a contract so they can switch devices or carriers anytime. You may have to pay more for the phone initially, but monthly prices are usually lower. These are all great reasons to choose a carrier before you choose your phone. Here's some more information about the carriers you can choose.
AT&T has nationwide coverage and a huge selection of phones, but its customer service isn't very helpful. Verizon Wireless has the largest 4G LTE network in the U.S. and great customer service. You'll also get better voice quality. However, prices are higher than with other carriers. Sprint is less expensive, and it offers a solid high-speed network and an open approach to third-party apps. Subscribers can add a wide range of Java applications. You can also choose Virgin Mobile or Boost Mobile, Sprint's prepaid brands. T-Mobile has mostly cutting-edge phones at low monthly rates with good customer service. Discounts on phones are good as well, but the network is weaker outside urban areas. You can also pick a smaller, regional carrier like U.S. Cellular. It's only available in about half the country, but it has great customer service. Instead of buying a phone from a carrier, you can get an unlocked phone that will work on any network.
What Makes a Fast Phone
Faster phones don't have annoying lags, and they're much more versatile. Like a computer, the most important part of a smartphone is its processor. That's because smartphones are like miniature computers. They can navigate the web effortlessly, play full HD videos, and edit pictures and videos. You can even prepare spreadsheets and create and read PDF documents on a good smartphone. They also offer entertaining 3D games with gorgeous graphics.
A processor, also called a microprocessor or CPU, receives input and provides data or output. Modern CPUs or central processing units can perform trillions of calculations per second. Many include multiple processing cores that work together for even more power. You should also look for a phone with plenty of RAM or random access memory. RAM is the temporary memory that's available to apps when they're running.
Some of the fastest processors available are the Qualcomm Snapdragon, the Nvidia Tegra, the Samsung Exynos, and the Apple A8. The Samsung Galaxy S6 uses the eight-core Exynos technology, with four processors running at 1.5 GHz and the other four running at 1.2GHz. The new Exynos 7 Octa 7870 has eight 1.6 GHz Cortex-A53 cores and an LTE Cat.6 2CA modem that can download up to 300 Mbps. The processor can also handle 1080p video playback at 60 fps, and it supports up to two 16 megapixel cameras. It consumes over 30 percent less power than previous Samsung chips.
The quad-core NVIDIA Tegra 4 processor has an ARM Cortex-A15 CPU that runs at 1.9 GHz and a GPU with up to 72 custom cores. It also has 4 GB of memory and 4k UltraHD display capabilities. Its i500 software modem transmits at up to 150 Mbit/s.
The HTC m9 has a Qualcomm Snapdragon 810 processor, with one set of four cores running at 2GHz and the other set running at 1.5GHz. The new Snapdragon 820 offers X12 LTE with download speeds up to 600 Mbps. Its Kryo 64-bit quad-core CPU gives great performance without draining the battery, and the Adreno 530 GPU, or graphics processing unit, delivers up to 40 percent better graphics.
The Apple iPhone 6 runs on a 1.4GHz dual-core A8 Cyclone processor. According to Apple, it's 25 percent faster than the A7, and it has 50 percent more graphics power. It has 2 billion transistors, twice as many as the A7, and a separate PowerVR GX6450 quad-core GPU for excellent graphics. It's smaller than the A7, so it consumes less power. Metal, a new graphics applications performance interface or API, lets games take full advantage of the A8's processing power.
The Best Smartphones Available
The Samsung Galaxy Note 5 is one of the most expensive phones available, but you'll get a large screen with a stylus and lots of power for your money. This phone connects with 2G, 3G, 4G, LTE, Wi-Fi, and BLUETOOTH 4.0 networks, and it has an eight-core Exynos 7420 CPU with four 1.5GHz Cortex-A53 cores and four 2.1 GHz Cortex-A57 cores. It has 4GB of RAM, and you can choose a model with a 32, 64, or 128 GB memory. The Android 5.1.1 operating system makes apps easy to use. The Note 5's only drawback is its nonremovable battery.
The HTC One M9 has an amazingly clear 20 MP camera, 4K video recording, the Qualcomm Snapdragon 810 processor, and the latest Android OS. It has 32 GB of memory and 3 GB of RAM, with a microSD card slot that provides up to 2 TB of additional memory. The battery provides over 25 hours of talk time and over 400 hours of standby time.
The iPhone 6S has 3D Touch technology that senses how hard you press the screen for better touchscreen control. It has a 12 MP camera that records 4K video and a 5 MP FaceTime camera. The new 64-bit A9 chip provides 70 percent faster-processing performance and 90 percent faster graphics speed, for console-quality games. Its LTE Advanced speeds are up to twice as fast as the previous model, and it supports up to 23 LTE bands, as well as BLUETOOTH and Wi-Fi. Touch ID makes unlocking your phone quick and easy.
The Samsung Galaxy s7 Edge+ boasts either a 1.5ghz to 2.1ghz quad core (depending on where in the world you buy it) and 4gb of system memory. With spec rivaling even some modern day desktop computer, this flagship device offers a responsive gaming experience, all beautifully rendered on a 5.7in AMOLED display. There are few devices on the market today that promise better performance if the price tag doesn't scare you away!