Blackberry Z10 is being released!
CellUnlocker How Tos
10:17 pm January 30, 2013
The New Blackberry Z10 is officially being released February 5th 2013 from networks such as Rogers, Bell, Telus and other GSM Networks!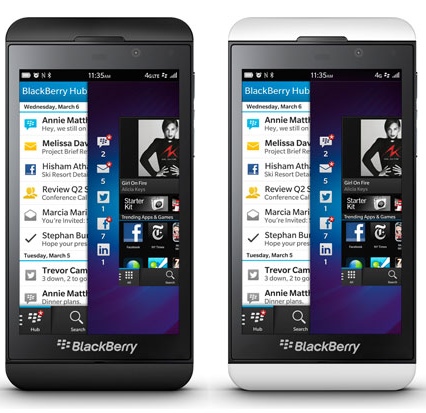 Current Specs of the Blackberry Z10 include:
Memory: 2 GB RAM, 16 GB Flash (extra microSD slot supports up to 32 GB)
Processor: Dual Core 1.5 GHz
Dimensions: 130 millimeters tall by 65.6 mm wide, and 9 mm thick
Screen: 4.2 inch, 4-pont IPS LCD display, 1280 x 768 resolution at 356 PPI
Weight: 135.4 grams
Camera: 8 megapixel, 1080p HD video recording (2 megapixel front facing camera, 720p video recording)
NFC-enabled support for mobile payments.
WiFi: Dual band 802.11 a/b/g/n, Mobile Hotspot Network: 4G LTE or HSPA+, support for global roaming
Battery life: 10 hours of talk time on 3G, 305 hours on standby on 3G, up to 60 hours Audio playback, up to 11 hours video playback.
GPS: Assisted, Autonomous and Simultaneous GPS
Bluetooth: Bluetooth 4.0 low energy
HDMI: microHDMI out port
Cellunlocker.net is proud to announce we will be exclusively factory unlocking these devices to work on other GSM Networks. This is 100% Guaranteed and will permanently Unlock your Blackberry Z10 Network restrictions to work on other Networks whether you are travelling or just want to change service providers using the same Blackberry Z10 Device. You can get Blackberry Z10 Unlock Code
Unlocking your Blackberry Z10 is 100% Safe and Guaranteed from Cellunlocker.net, we use the exact same method carriers will use to unlock their devices, and charge you 50 dollars and above!
Don't be restricted to using your Blackberry Z10 to just one network, unlock the network restriction of this amazing Blackberry 10 device!
Unlock Blackberry Z10 by Unlock Code Now!