Let Freedom Ring – Free Phone Unlocking for Active-Duty Armed Forces
CellUnlocker How Tos
1:56 am December 10, 2013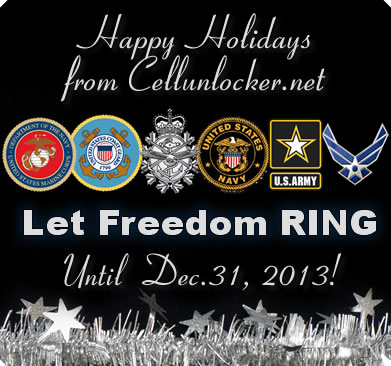 Even though you serve to protect our freedom every day, you're surrounded by roaming fees. This December, we want to make cell phone unlocking a little easier on you.
As you're serving halfway around the world from family and friends, wouldn't it be nice to easily unlock your phone and use a local network service provider to keep in touch?
CellUnlocker.net offers free cell phone unlocking for active-duty Canadian Armed  Forces and United States Armed Forces servicepersons. From now until December  31, 2013, purchase cell phone unlocking service, send us an email with a copy of your current military I.D., and we'll refund our fee. Unlock your Samsung, LG, BlackBerry, iPhone, Motorola, Sony or any other qualified phone. Limit one per military ID.
If you're a serviceperson serving abroad, you can use our cell phone unlocking service to free up your phone to use on a local network service provider to make calls, send texts or check email. This can help you avoid hefty roaming charges while abroad.
If you're an active-duty serviceperson, here's how you can get this promotion:
1. Select your model, your current network and your IMEI code from the Code Lookup.
2. Purchase your cell phone unlocking service from CellUnlocker.net.
3. Email us your full name, order number and your military ID.
We'll refund our fee, giving you our top cell phone unlocking service—absolutely FREE!
Share this exclusive offer with your fellow active-duty servicepersons, and soon you'll all have a chance to keep in touch no matter where you may serve over the holidays.
We're grateful for your service. Thank you for protecting our freedom.
We hope this promotion gives you a little more freedom to call family and friends this holiday season.
For more details, call 1-800-507-9077 or contact us.
Available until December  31, 2013. Limit one per military ID.