Samsung Galaxy S5
CellUnlocker How Tos
9:29 pm March 10, 2014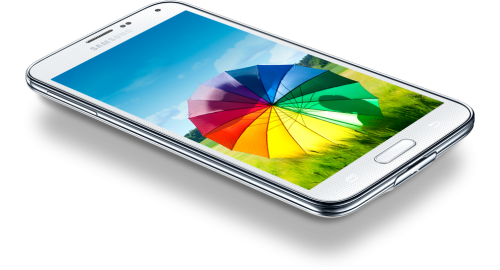 The Samsung Galaxy S5 was announced in February 2014 and is expected to release in April. The device will, again, take a micro-sim card. It will be released on Kit Kat 4.4.2 in black, white, blue and gold. You'll get the standard features: bluetooth, wi-fi, portable hot spot, NFC, IR, GPS, and java emulator. Just for having this device, you'll automatically get 50GB of free storage on Dropbox, in-call noise cancellation, and Swype keyboard pre-installed. Samsung has also added temperature, humidity, barometer and heart rate sensors on the phone.
The S5 has a 5.1″ super AMOLED, multi-point touch screen with Corning Gorilla glass. It will also have a fingerprint sensor, which is Paypal certified, and it is UP67 certified. This means the S5 will be dust and water resistant up to 1 meter and 30 minutes. There will be 2 versions of this device; 16GB & 32GB, which is expandable up to 128GB with a micro SD card, and a 2GB RAM. With these specs alone, you already know the S5 will be big!
Samsung has included a 16MP camera with LED flash and HDR for sharper images and a 1080p HDR camcorder. This camera is also capable of simultaneously recording HD video and images. It also has a 2MP front-facing camera with a 1080p camcorder. The S5 is also able to record 2 videos at once! A new feature Samsung has included with the camera is the 'selective focus' feature. This allows you to focus on something in an image and blurring out the background.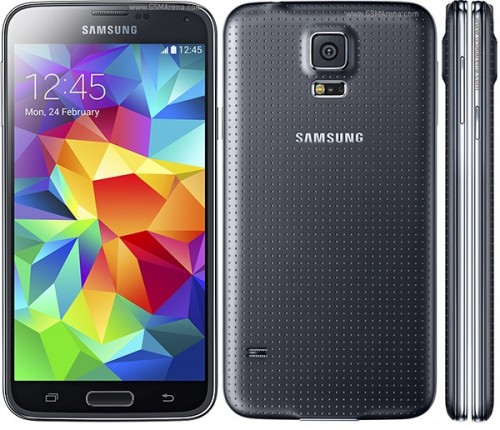 Like the S4, it will have a Qualcomm Snap dragon processor. It is a quad-core, 2.5 GHz processor for lightning fast browsing speeds and faster navigation. It also includes Adreno 330 which gives the user better graphics and less lag – ultimate gaming experience! As usual, there will be a removable Li-Ion 2800 mAh battery providing up to 390 hours on standby and up to 21 hours of talk time. If that's not enough, this time Samsung has included a built-in power saver! Another new feature Samsung has added is the Download Booster. This feature allows you to use wi-fi and your LTE together. It will use a wi-fi network at 80-90% of your LTE speed to download files. Not a feature seen in other phones yet.
And of course, you'll get the exclusive Samsung features; S Voice, Smart Stay, Smart Pause, Smart Scroll, and air gestures. If you're not familiar with these features, here's a quick run down. S Voice is similar to Siri, but more useful. With S Voice you can search the internet, make calls, text in and out, and pull up maps. Smart Stay, Smart Pause and Smart Scroll uses the sensors on the device that watches the movements of your eyes. With Smart Stay, the backlight will stay lit if the sensor sees your eyes are still on the screen. With Smart Pause, if you look away from a video, the S5 will automatically pause the video until your eyes return. And with Smart Scroll, you can scroll up and down webpages with your eyes.
Air gestures is similar to Smart Stay, Smart Pause and Smart Scroll. Instead of your eyes, you will use your hands. With Quick Glance, you can wave your hand over your device while the screen is locked and it'll light up to show you all your notifications (ie. missed calls, new e-mails and SMS, etc). Air Jump allows you to scroll up and down webpages and e-mails by moving your hand up and down over the screen. Air Browse lets you go forward and backwards when viewing images, changing your music, and in S Memo by moving your hand right and left. The best air gesture, in my opinion, is the Air Call-Accept. This feature allows you to take incoming calls by moving your hands left and right over the sensor. This will automatically pick up your call on speaker phone – which you can turn off in your settings. I'm sure all Samsung fans will be very happy with this device.
Unlock Your Samsung Galaxy Device Today!