Huawei P8 vs. Samsung Galaxy S6
CellUnlocker How Tos
11:27 pm May 12, 2015
Huawei's latest and greatest in phone technology is the P8. This phone was released in April and is competing against other bigwig flagships such as Samsung's Galaxy S6 and Apple's iPhone 6. The phone comes with a 5.2 inch display and loaded with Huawei's own Emotion UI. This post will compare the P8 with the S6, hopefully helping you decide on the phone that's best for your needs and wants.
Let's start off with the body and design.
Huawei P8: aluminum unibody, external SIM card trays, external memory card slot
Galaxy S6: aluminum and glass unibody, external SIM card tray
Huawei took a page out of Apple's book and dressed the P8 in a metal unibody with a line across the top and the bottom. It is also only 6.4mm thick, meaning it's thinner than the Galaxy S6. It looks and feels premium, but because of how thin it is, it's sometimes a little uncomfortable in hand. The volume rocker and power button are both on the right hand side of the phone, situated about half way down for easier reach. Some variants of the phone can also accept two nano SIM cards—both located just under the power button and accessible with a pin. One tray will hold your nano SIM card, and the other can hold either a second SIM or a microSD card. Keep in mind that not all models support dual SIM cards, though.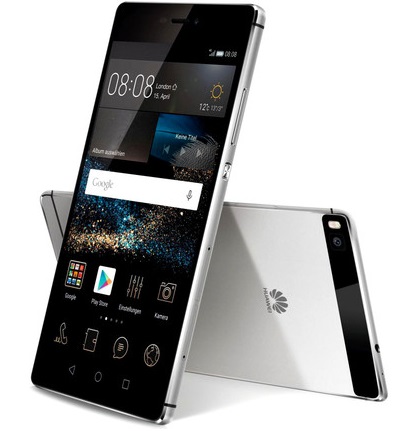 Samsung took a huge leap with the release of their S6, completely revamping the look of the Galaxy line and removing the expandable memory. It has a premium feel, given the glass and metal around the phone. It features an aluminum band sandwiched between a glass touch screen and a glass battery door that's not removable. With its rounded corners, we feel like Samsung is also treading lightly on Apple's waters. It's also important to note that with the premium design, Samsung also stripped the phone of its removable battery and external memory. Having heard the many cries of outrage—and the phone being thicker than the P8—it may not have been worth the sleek design.
It's a close tie, but we are going to have to go with the P8 on this one. Feel and body wise, they're quite evenly matched—it's up to whether you like the feel of glass or metal over the other. However, even though Samsung has stepped up their game in the design area, the ability to add external memory is what really gives the P8 its edge over the S6.
Next up, battery.
Huawei P8: 2680mAh
Galaxy S6: 2550mAh
With medium to light usage, you'll find that the P8 will be wavering on the precipice of "just enough" for anything more than an eight hour day. The 2680mAh battery is non-removable so you wont be able to carry a spare, but Huawei offers an app that allows you monitor and control your battery usage. With a little work, you can make it last a little bit longer.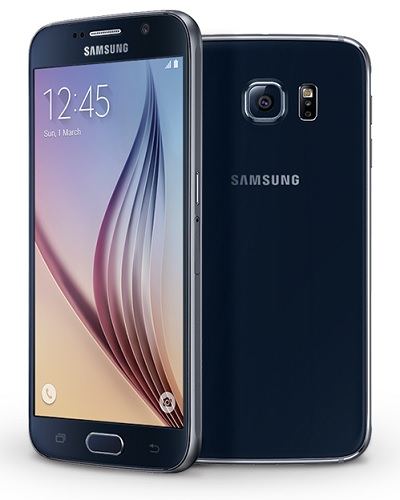 The Galaxy S6 has a smaller non-removable battery, but an arguably better processor. Even with less capacity, we're almost guaranteed a longer life. It handled heavy usage a lot better than the P8 did, making it a better phone for lasting a full day. However, Samsung doesn't provide such an extensive application for fine tuning battery usage, which means that if the phone isn't enough to last you a day, you'll end up carrying a charger around.
We'll have to call this one a tie. We found that the Galaxy S6 was an easier "all-day" phone, but the ability to tweak and tune the battery usage on the P8 is not negligible.
Display.
Huawei P8: 5.2 inch with 441 ppi pixel density
Galaxy S6: 5.1 inch with 577 ppi pixel density
No one can say that the P8's display is subpar—but then again, no one will be praising it above all others, either. Sitting at 5.2 inches, it's just a smidgen bigger than the S6, but with fewer pixels to boast about. In the pixel competition, the P8 loses out. However, how many of us will be able to tell the difference between the two when they're not placed side to side? Unless you're gunning for the champion of pixels per inch, we think the Huawei will be perfectly fine for daily entertainment and casual use.
But then again, why say no to a sharper screen? The S6 features a 5.1 inch display with 577 pixels per inch. No matter what you do, the screen will look gorgeous. It just barely loses out to the P8 in size, but in sharpness, the S6 wins on paper. Of course, it's all relative when you compare the two phones side by side. To the general eye, there's not much difference unless you look for it.
Even though there's only so much that that the human eye can discern, we'll have to give it to the Galaxy S6. It may be 0.1 inches smaller, but the pixels are far more packed, making for a clearer display overall. Keep in mind that even though the S6 is technically better in specifications, you may not be mind the difference, so take a look at both phones in real life before you decide on which phone to buy.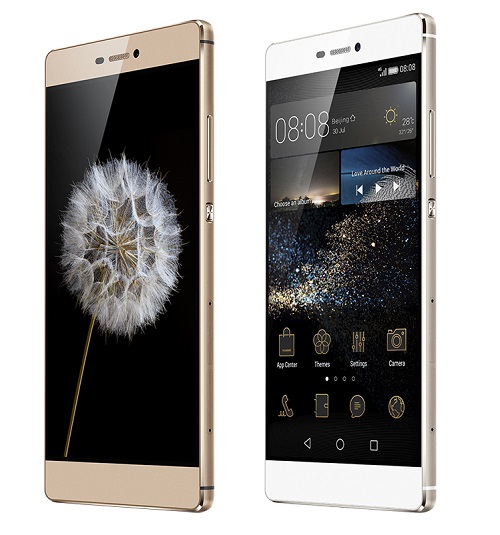 How much do each of these phones cost?
Huawei P8: starts at around $530
Galaxy S6: starts at $750
This means that the S6 is sold at a significantly higher price while lacking the ability to expand on memory. The lower price of the P8 will certainly attract many more customers, but those customers will also have to use Huawei's own Emotion UI, which is a hit or miss.
We're going to end the post here, but please check back next week for a full review of the Huawei P8. Hopefully, this gave you an idea on which phone you'll prefer when making your purchase. Remember that the S6 uses a TouchWiz version of Android Lollipop while Huawei ships their phones with their own version of Android, called Emotion UI. Tune in later this week for more information about how Emotion UI compares to other Android variants!
-Caroline