Device Comparison, Part 4: Mobile Cameras & Photography
CellUnlocker How Tos
11:26 pm April 12, 2016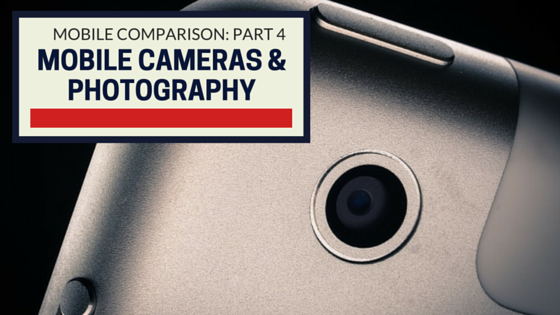 If you are in the market for a new phone, do not be intimidated by the sheer number of models on the market. You can whittle down the possibilities by figuring out exactly which features are the most important to you. Pay particular attention to the camera on prospective phones. You will likely take a good number of pictures so be sure to pick out a model with a high-quality camera.
The Basics of Smartphone Cameras
Megapixels
The vast majority of smartphone cameras have resolution that is measured in megapixels. Megapixels refer to an image's size. It is a term commonly used in the context of smartphone photography and digital camera photography in general. In the most literal sense, a megapixel is defined as one million pixels. As an example, a camera with 5 megapixels can generate an image with five million pixels.
Smartphone cameras with high megapixels are especially useful for taking pictures that are suitable to be displayed or printed on/from a computer. Some smartphones with 20-plus megapixels empower users to zoom in without suffering image quality loss. The majority of camera phones allow the user to take pictures at a lower resolution if desired. Look for a phone that gives you a considerable level of flexibility so you can take photos at a resolution that allows for the image to be sent, printed or viewed without diminished quality.
Smartphone Camera Features
There are all sorts of new camera features popping up with each wave of new smartphone models. Some of the latest additions include dual pixel autofocusing technology to create the sharpest possible photos. There are ultra-wide angle lenses to allow more light into the picture. Nowadays, phones feature cameras with extra large sensors that capture vivid colors and highly nuanced details. Manual mode gives the user full control over shots. Optical image stabilization reduces blurriness and so on.
Popular Smartphone Camera Apps
Nowadays, taking snapshots with a smartphone's base technology simply won't suffice! Everyone seems to need the latest and greatest camera app. Stock camera apps provide access to exclusive features and other cool technologies that emerge over time.
Camera MX
The Camera MX for Android app is perfect for hobbyists who want to share their pictures on Instagram or Google+. The app's Camera Zoom FX gives picture takers access to all sorts of cool filters and effects. Users can select single or multiple effects to create their own unique filters.
Android users should also check out Camera360 Ultimate. This app is absolutely chock full of uber-cool features. It is even regularly updated so users can access a wealth of new settings. Play around with Camera360 Ultimate's effects and filters to take full advantage of your smartphone's camera functionality.
The free Fotor app for iPhones and Android is a flexible image editing app that anyone can easily pick up and use for high-quality shots. It allows users to edit, combine and share photos with ease.
Lifecake is free app for iPhone, iPad and Android devices. It helps you save and organize pictures of your kids, nephews, nieces, grandchildren or students. The twist with Lifecake is that it collects pictures of your youngsters as they age to build a personal timeline. You will find yourself using Lifecake more than you anticipated as you reminisce with loved ones about fun times with the family.
Qwik
If you are looking for a fast and easy way to create gorgeous photos, look no further than the Qwik app. It features over 600 filers, an incredible number of frames and fonts and so much more. Run the Qwik app on your phone and you will be able to edit your snapshots in mere seconds. The app has an array of hands-on tools that allow you to manipulate your images in almost any manner. Go ahead and have fun with the app and share your photos with Qwik's online community. The best part is that cool new features are added each week so you will always find a fun new tool or setting to play around with.
Would you like to connect with photographers around the globe? Android and iOS users can with VSCO. Create a personalized VSCO Journal to organize your photo collection and check out others' pictures to boot. This is a social platform centered on sharing rather than popularity. Your number of followers and other statistics are completely hidden from view so everyone can squarely focus on sharing/viewing smartphone photos with the global community.
The Best Smartphone Cameras
Samsung Galaxy S7 Edge
The new Galaxy smartphone features a large 12 MP image sensor to help you capture crystal clear pictures. The Galaxy S7 Edge also has Dual Pixel autofocus to provide sharp looking photos without exception. Its ultra wide angle lens permits more light to enter into the shot for the ultimate illumination. There is no doubt that this is an amazing smartphone camera. You will be floored by its vivid colors and highly detailed images, regardless of whether the shots were taken in the sun or the shade. Perhaps the best part about the Galaxy S7 Edge is the speed at which shots can be taken. Whip out this smartphone and you will be snapping shots in mere seconds.
Sony Xperia Z5
The Xperia Z5 is regularly compared to the widely lauded Moto X Force. Anyone who needs to take shots at night will immediately fall in love with the Xperia Z5. The phone's camera is designed to take bright pictures in the dimmest of conditions. The phone doesn't even need a flash. This feature helps the phone preserve its battery and prevents those blinding flashes from annoying those who are being photographed. Add in the fact that the Sony Xperia Z5 is built with a 23 MP sensor and it is easy to see why the phone is so popular.
LG G5
The LG G5 smartphone has it all. There is a 16 MP sensor that helps you capture the smallest of details. Take a look at the rich color of this phone's photos and you will be absolutely amazed. Users also enjoy extensive manual controls that allow them to shoot professional quality photos. There is also a helpful auto mode for those who aren't familiar with the nuances of photography.
Nokia Lumia 950
The Nokia Lumia 950 is overflowing with features. You will be hard-pressed to find a better camera phone than this one. There is a Carl Zeiss lens, a triple LED flash, optimal image stabilization and so much more. You can create your own unique shots with the phone's easy to use manual mode. Once you take a look at its 20 MP photos' sharpness and color, you will question why it took you so long to upgrade.
Moto X Force
Commonly listed as one of the top phones, the Moto X Force has a 21 MP sensor that generates stunning images. This phone's vivid pictures really bring the surrounding world to life. The Moto X Force also has one of the industry's best camera apps for simple photography purposes. Each setting is intuitive and users can tweak their shots to their desired settings/details with little hassle.