LG V20 Available in Canada
CellUnlocker How Tos
12:26 am November 4, 2016
LG V20 Available in Canada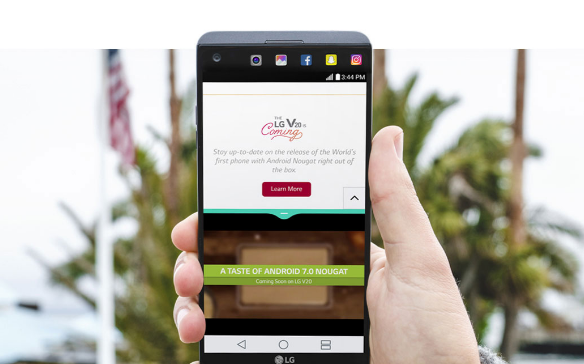 2 months ago LG announced their new flagship device; the LG V20. This is the first V series device that will hit Canada for the first time. The LG V20 will be sold by Canadian carriers Videotron and Wind Mobile. Consumers who purchase these devices early will be able to receive a bonus gift which are the Beoplay H3 headphones by Bang & Olufsen. However, there will be limited quantities so first come first serve!
The LG V20 provides users with a powerful suite of multimedia tools deployed at their finger tips. With the inclusion of the quad DAC (32 bit digital to analog converter) for super high-quality audio experiences and a high performance mic for excellent phone recording users would have a lot of fun being creative. The dual camera and steady shot 2.0 is also included to provide seemless video recording and picture taking. The dual rear facing camera is a combination of a 16 MP f/1.8 aperture module and a 8 MP f/2.4 module. There is also included a "wide angle" lens which shows a field of view of 135 degrees. The 5 MP front facing camera views at 120 degrees so you can selfie a lot of friends. The unique design of the LG V20 is the secondary screen which displays notifications and frequently used apps.
In terms of other specifications the LG V20 features the 5.7 inch QHD IPS display and carriers a 3,200 mAh battery. With 64 GB of expandable storage (via microSD) and 4 GB of RAM storage and performance will not be an issue. Speaking of performance the LG V20 utilizes the Snapdragon 820 chipset which is a high end SoC found in other high end flagship phones of 2016. A notable mention is that the LG V20 is the first non Google android to arrive with Android 7.0 Nougat. The LG V20 is Band 66 compatible which allows the phone to work with Wind's unique AWS-3 LTE network.
At this point only Videotron and Wind carriers this flagship model in Canada, we have yet to recieve any further word from other major Canadian carriers.
PRICE
Wind is currently selling the V20 for as low as 349$ on the Wind Tab and 999$ outright. Videotron is selling the LG V20 for 249.95$ on a 2 year contract and 1020.95$ outright.