Samsung Nougat Update InBound
CellUnlocker Tech News
12:42 am January 20, 2017
Samsung Nougat Update InBound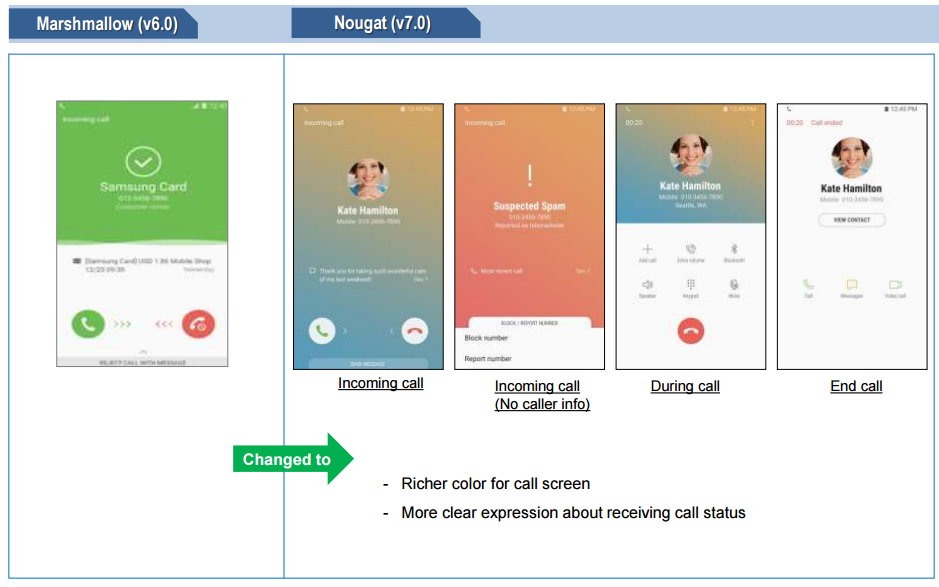 Samsung has released some new information about it's Nougat update progress thus far. Information was officially provided by Samsung via their Samsung Newsroom site. It lists the devices expected to receive the update, the approximation of ETA, and some major features included in the Android 7.0 N update. Around the world the S7 and S7 Edge models already began receiving the Android N update beginning on January 17 2017. Canadian S7 and S7 Edge models are expected to receive their official Nougat updates in the weeks to come on approximately Feb 8 2017 (reportedly by Koodo).
In a nut shell the supported devices are listed below:
Galaxy S7 Edge
Galaxy S7
Galaxy S6 Edge Plus
Galaxy S6 Edge
Galaxy S6
Galaxy Tab A with S Pen
Galaxy Tab S2 (LTE Unlock)
Galaxy Note 5
Galaxy A3
Galaxy A8
Beta testers had a chance already to test the new major update via Samsung's Galaxy Beta Program. This program began with Android 6 Marshmellow beta testing featured on the S6 models. Now that the various phases are done and the update packaged and released we look forward to Nougat to be available on various other Galaxy devices. Naturally, the S7 and s7 Edge will receive the updates first.
Some of the major changes are explained in detail below.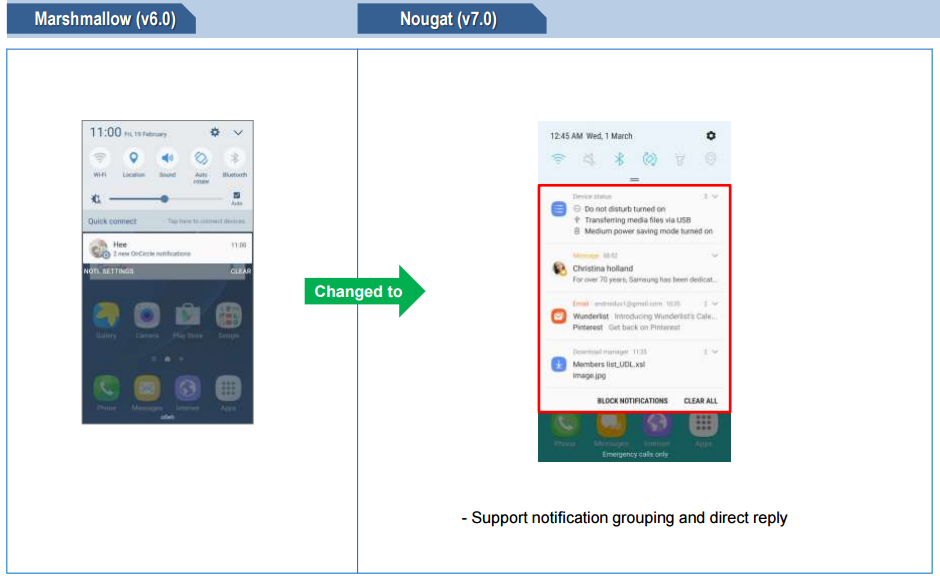 Samsung Pass
The Samsung Pass feature is a payment system that was created and implemented by Samsung. It is taking it's time to populate various parts of the world such as Canada but it is on the verge of becoming fully available soon. Utilizing Samsung's secure system called Knox, Samsung Pass can be used to make quick purchases in shops, restaurants and others that support NFC and / or MST (magnetic secure transfer). It basically turns your smart phone into a big credit card with Tap. MST uses a tiny metal coil which is bent into a loop. Electricity passes through the coil forming a magnetic field which relays information to standardized magnetic credit card readers. It is an emulation of users swiping a card. Samsung Pass can also work as a "master key" for logging into websites using Samsung Internet on the device. Using your fingerprint to log into websites and making payments with full mobile banking app integrations in the works.
UI Clean Up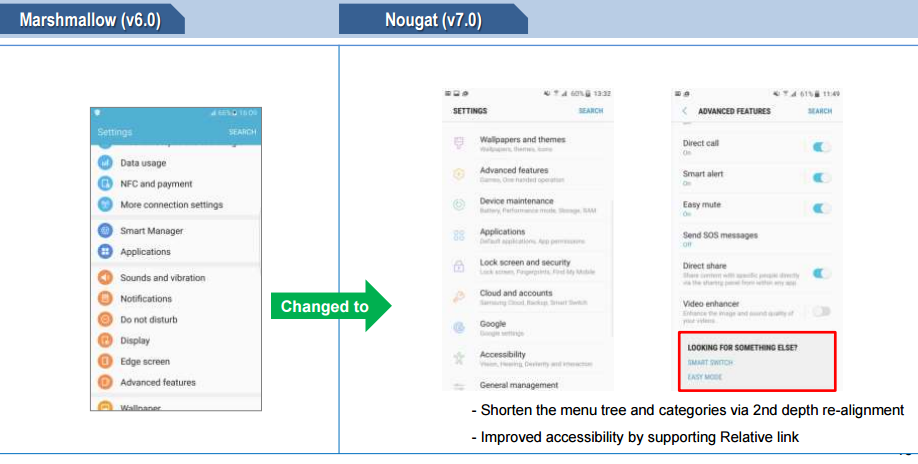 Key changes are found in the UI itself. The old Samsung Touchwiz icons, color schemes and design has been overhauled completely. Colors are a lot more calm and cohesive with less circles and shapes surrounding various icons. The menu is more modern and laid out just like the Note 7 menu. This includes enhanced features such as adjustable display sizes, and the back button (on screen in menus) is clickable with bold titles. Other notable changes include improved notification headers which is cleaned up. No more titles under the icons but just clean symbols alone. The S finder and Quick connect positions have been integrated into the quick panel as well.
Nougat Notification panel handling is introduced as well which allows notification grouping and direct reply.
On the home screen we see the added Nougat ability to long press a home icon to bring up a mini menu on top for more options.
Multi Window
Split screen adjustments and handling has been improved as well. Easier selection of options are introduced to help users in adjusting the size or function of their window size and usage. User's can now open up more than 2 apps at the same time as we have seen in the Galaxy Note series.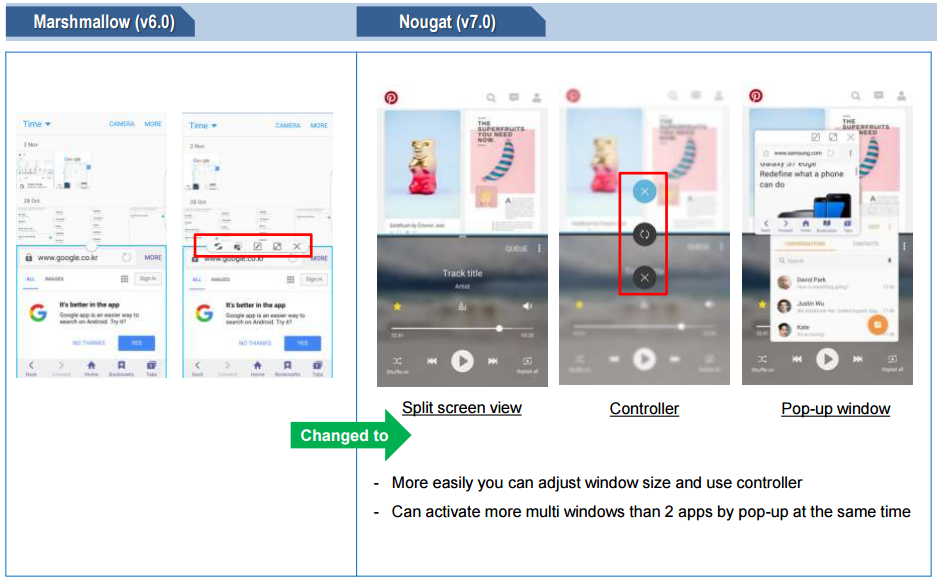 AOD (Always On Display)
Note 7 AOD functions are further implemented into the S7 and S7 Edge AOD options. This means increased clock styles, colors, options to change color and pictures and the added ability to double tap on a notification to launch the linked application.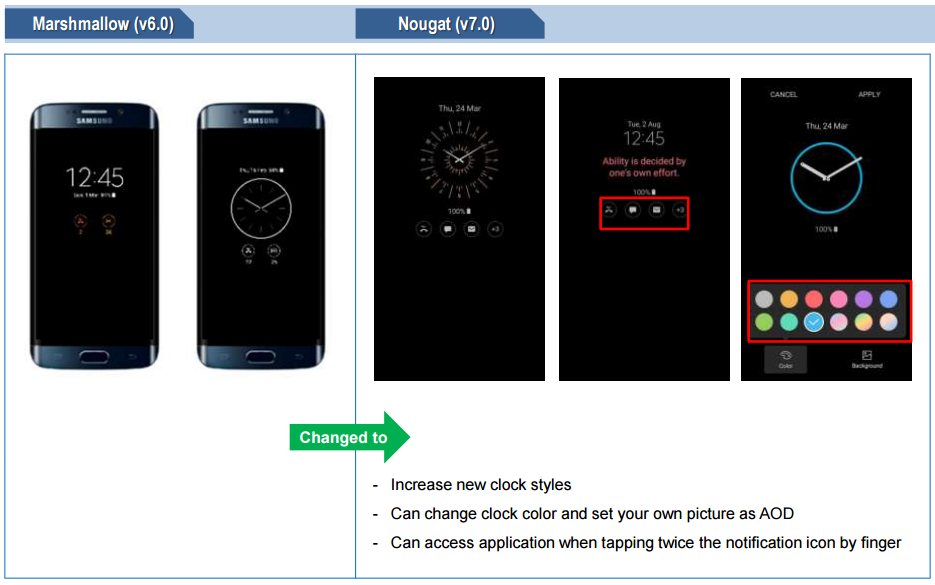 Improved Lock Screen
The lock screen is also cleaned up to look more like an iPhone with toned down colors for a calming effect and a clean notification system. You can now double tap on notification panels to launch them.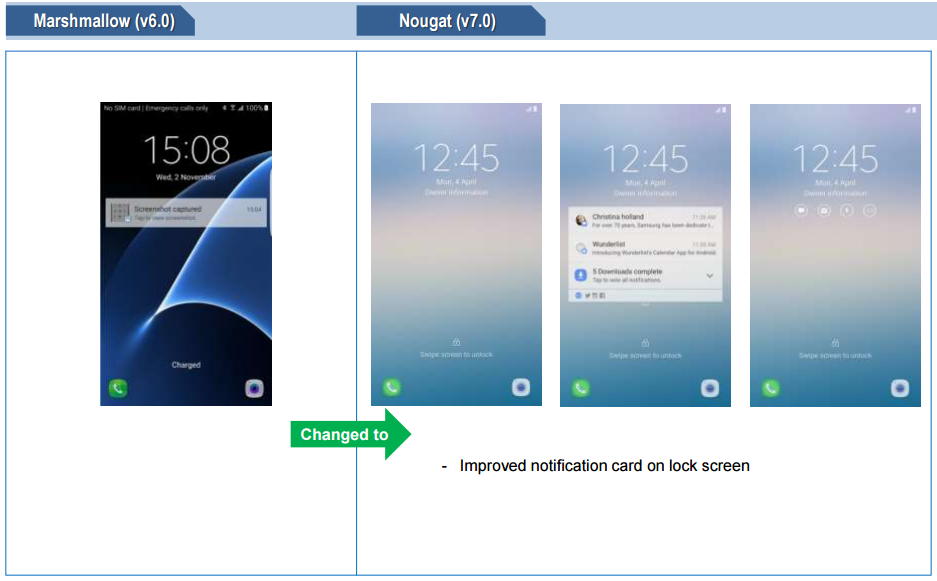 Other notable changes
The Call screen has been enriched with smoother colors instead of the old green and red color scheme found on older versions. Overall the call screen can be a good standard upgrade which is both pleasing to the eye and functional. Modern upgrades are always welcome. The Calendar app also received it's own update which simplifies its usefulness. First off the app name "S Planner" is finally officially changed to "Calendar" (no more going through apps looking for "s planner"). The color language is, again, consistent with the rest of the OS, neutral, and primary colors splashed about in a cohesive manner.
A lot of the icons have been toned down as well looking more enhanced and consistent all around. Less colors are used and more calmer colors were chosen.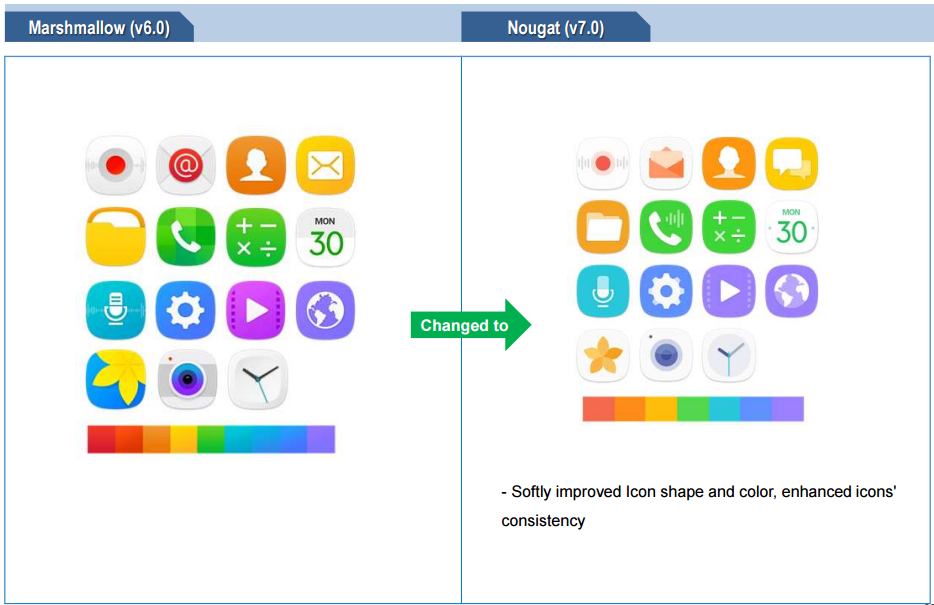 Camera Application
The Camera App finally takes on the improved version found on the belated Note 7. Users can now quickly swipe in different directions (left, right, up, down) to launch various functions. A lot of the clutter found on the camera app's main screen (various options on top and bottom) have been removed and tucked away into its options. Overall, expect to enjoy a more cohesive, consistent experience and a cleaner UI.
Battery Smart Manager
Smart Manager makes its way from the Note 7 days to the S7 and S7 Edge. Smart Manager enables users to decide to use a HD / FHD / or the standard QHD display to help conserve battery life. You can also tap "optimize now" to automate a system clean up which can noticeably free up storage space, ram, and various other junk all at once. A use ful tool to have and a welcome feature addition. User's can Mix and Match the various included options for each step of power saving intensity choice. For a moderate power saving profile users can pick HD, FHD or stay on QHD, then users can decide how the system should limit the CPU and what the RAM should do and so on.