Samsung Galaxy S8 Spec's Revealed!
CellUnlocker How Tos
1:51 am February 24, 2017
Samsung Galaxy S8 Spec's Revealed!
The Galaxy S8 is a much anticipated smartphone that a lot of people are waiting for. Following the Note 7's demise people are very much curious as to how Samsung plans to come back. So far all the leaked images and rumors, though cloudy, seem to promise something rather different and unique experience. The display choice and the removal of the home button are some of the biggest moves Samsung could make.
Today we would like to share another leaked image that has been going around since yesterday about leaked Galaxy S8 specs. Check it out below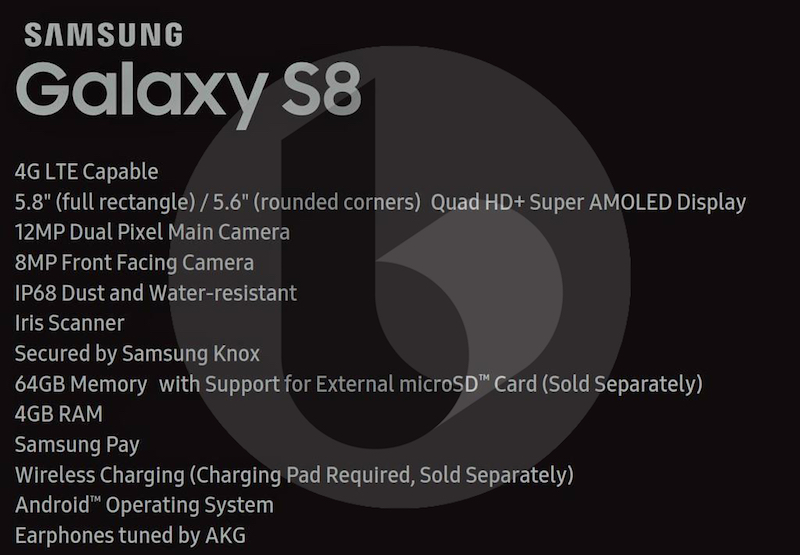 As we know, the Galaxy S8 can be debuted as early as April 21. It seems, however, that we will be seeing partial bits of the devices specs ahead of time. The Galaxy S8 will feature a 5.8 inch Quad HD+ Super AMOLED display, 4GB's of RAM, a new IP68 water and dust resistance rating, 12 megapixel dual-pixel camera on the back with an 8 megapixel camera on the front and an iris scanner. We are also seeing 64GB's of expandable storage (with microSD support) alongside Samsung Pay, wireless charging and surprisingly, included earphone's which are tuned by AKG.
Yesterday the specs sheet for the GALAXY S8+ was leaked. When we compared the two specs sheets we saw that the majority of the features were identical to one another (save for the display size). This is great news for those who prefer the smaller device of the two but want all the same features.

The specs sheet does omit a few details we would like to know but we can take a wild guess. The processor included would most likely be the next gen Exynos 9 chip for international users and the Snapdragon 835 chip for the Americas. The battery size is estimated to be about 3,000 mAh.
On top of this we still believe that both the S8 and S8 + will feature edge to edge displays which also replace a lot of the top and bottom bezels with display space. The fingerprint sensor is most likely found on the back of the device.
We are also wondering what Samsung's plans are for Bixby, their in house Artificial Intelligence. Also how will Samsung's DeX feature operate?
The Unveiling of the new devices may come on March 29, so stay tuned.