iPhone X Long-Term Review (December 2017)
Cellunlocker Tech Reviews
1:20 am December 13, 2017


Our Experience with the iPhone X so far…

The iPhone 10 (or the iPhone X) is the next generation iPhone. It looks beautiful, it is extremely smooth and fast in performance, and built out of high quality materials, as expected from Apple. The iPhone X does, undoubtedly, look a lot like some cross breed between the S8, the LG V30, and the Essential phone, yet it retains its own classic style and design due to it being Apple.
After using the iPhone X for a period of months now we are providing a short update as to whether the iPhone X is worth it or not.
---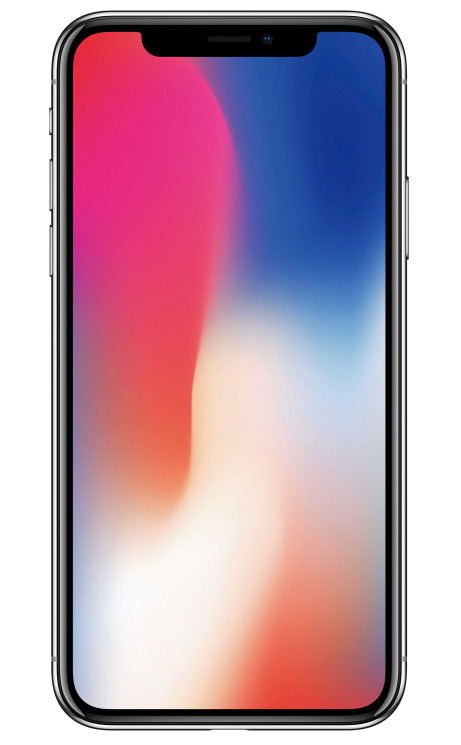 Lets start with a list of PROS:
The iPhone X is a refreshing NEW Design over previous iPhone's
High-End Specs and Blazing Fast Performance (Apple A11 Bionic Hexa-Core Processor)
IP67 Certified for Dust & Water Resistance
Relatively Light Weight Design @ 174g (6.14oz)
5.8 Inch Display with a screen-to-body ratio of ~82.9%
Super AMOLED Display with Apple's True-Tone Display Technology
Ultra Fast Face ID
Introduction of Qi Wireless Charging into the Apple Ecosystem
Amazing New Camera
---
The iPhone X is amazingly refreshing if you have been following Apple's iPhone product line for a while now. Let's be honest, it was getting more and more mundane as we see our smartphone counterparts pumping out phones with radically different designs and looks. Apple made a bold move in taking this new flagship iPhone towards a brand new direction. Eliminating Touch ID entirely in favor of Face ID, a new Bezel-less display design, and a new design overall.
In short, We actually love what Apple created.
1. New Display, New Design, New Direction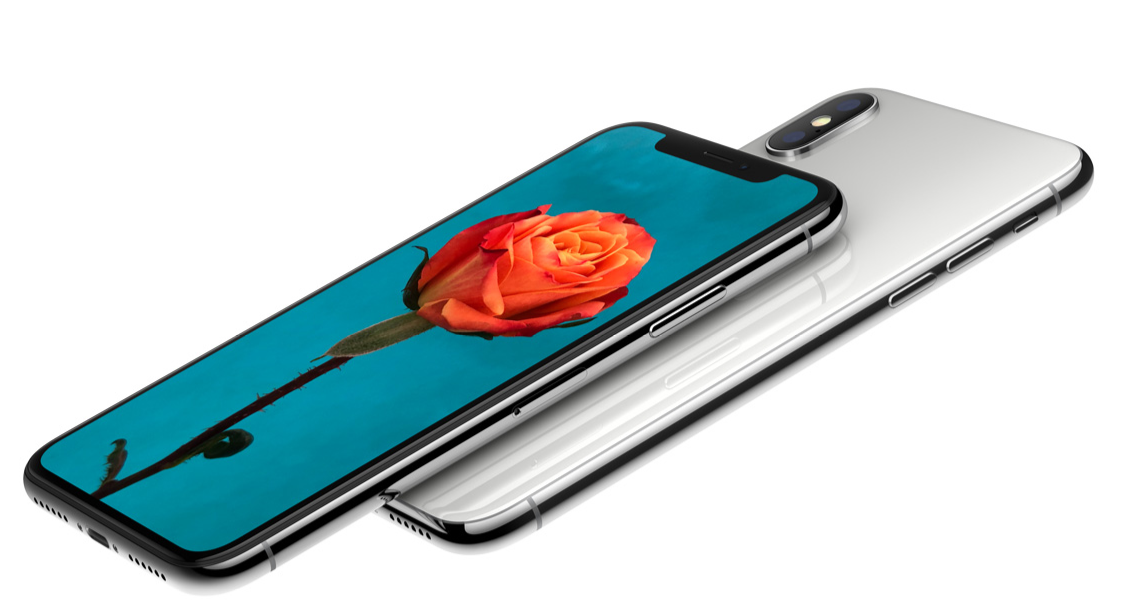 The New Design of the Apple iPhone X is appealing and feels great in the hands. Gone is the aging and recycled iPhone 6 design and in with the new bezel-less design. We love the True-Tone Super AMOLED 5.8 inch display with that amazing screen-to-body ratio of 82.9%. This gives us an amazing view on everyday media consumption and it also gives this special illusion of being drawn into the beautiful display. Not only does the display draw us in but the colors are claimed to be true to life and we found this to be perceptively true. Compared to the over saturated competition in the OLED display arena, Apple not only fine tuned their display but also applied their True-Tone tech and their Wide Color Gamut prowess as well. All this technology enables support for Dolby Vision and HDR 10. Deeper blacks, brighter display, and amazing details.
The display resolution has been beefed up (finally) to a 2436 x 1125 pixel resolution spec with about ~458 ppi pixel density. We are glad to see the iPhone X take advantage of this higher resolution which clearly does show in everyday videos, images, and games. The resolution had to be bumped up due to the requirements of OLED panels but this is still a welcome upgrade.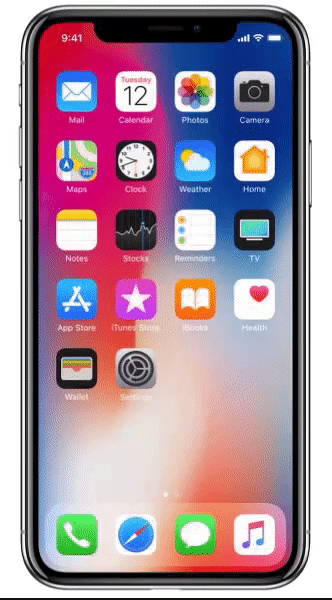 The iPhone X is fun to look at. It has that new shiny curvy edges thanks to a full glass front and back. The iPhone X is also physically smaller than the iPhone 8 yet it has a larger display. Let that sink in. Some may find that the display can be a bit too "narrow and long" but that is something you may simply need getting used to. The iPhone X is really light weight and because of it's small body it is actually really comfortable to hold and use.
Gestures is super simple to work with and iOS 11 makes it even easier to adopt. Due to significant hardware changes iOS has to adapt. Now swiping down from either sides of the "notch" brings down either the notification shade or the command center which is incredibly handy. Swiping up is to go home or swiping up to the center activates your opened apps screen. Swiping left or right on the bottom of the display switches between opened apps. It is actually really easy to migrate from previous iOS versions to this new world. Plus it's a lot of fun.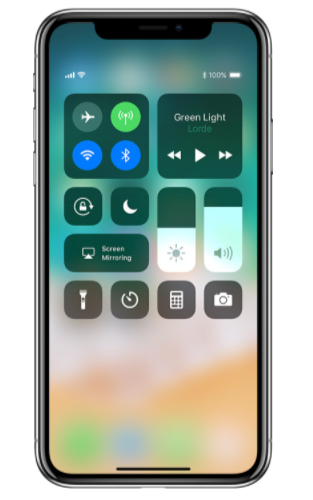 2. Face ID: How well does it work?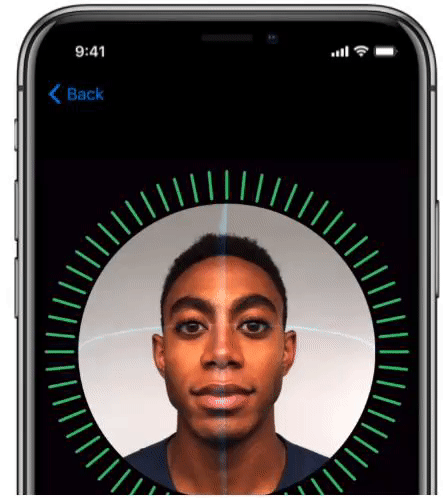 Pros of Face ID:
In short: It's Fast.
Apples new Face ID feature actually worked a lot better than what most speculated it to be. Many thought it would be a gimmick or a feature with a ton of bugs (perhaps a bit fueled by the whole Apple presentation failure) yet Face ID blew us away. It just simply works and is incredibly lightning fast. Yes it does have it's downside due to the nature of how it works but above that it is a pleasure to use. When trying to utilize Apple Pay or when logging into the websites you simply need to look at the iPhone and Bam unlocked or ready to go. In fact, Face ID feels a lot more "intimate" or "personal" to the user. As Apple claimed, face ID  will constantly "grow with you". This means that as your face ages and changes with you so that Face ID will always recognize you and only you. Of course, Face ID will not work if your eyes are closed which is important if you have people trying to log in while you sleep.
Face ID is just so incredibly fast, solid and reliable. For some it will take time to get used to raising your iPhone to your Face or at least to a reasonable level for the cameras to see your face but after all that it is super quick. Just bring it up, look, and swipe. One could even argue that Face ID unlocks as fast as Touch ID did. Another amazing little touch Apple added is Face ID's ability to "hide" all of my notifications contents until I look at the iPhone. This is simply sublime.
When receiving calls the ringtone could be loud but as you turn your head and look at the display Face ID also recognizes you and turns the ringtone volume down. It just knows when it has your attention.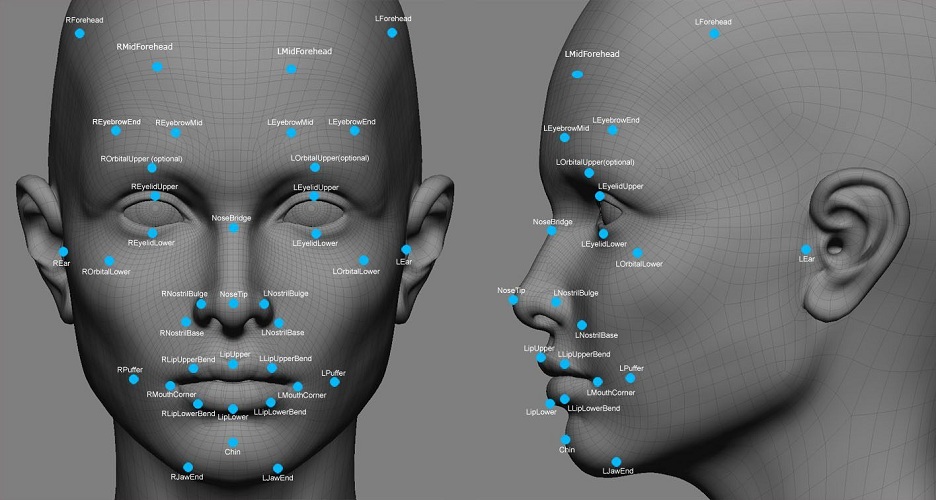 Cons of Face ID:
I wish the unlocking process could be a bit more seemless. What I mean is that having to SWIPE after looking at the phone is an added step and I have found myself in numerous occasions where I just wished it would swipe itself. Android phones do not need to swipe up after authentication is completed (and I do miss that). I hope Apple will provide updates for us users to choose to disable the need to swipe after authenticating with Face ID.
Another issue (though not as common) I have run into is when I needed to unlock while I was shaving or brushing my teeth. Face ID records a 3D mapping of your face and takes into account the many points of your face to recognize you. That little lock icon at the top will shake if it can't determine if your face is really yours. I found myself readjusting my mouth to a closed position to make sure Face ID recognizes me. This is not common and is more on the rare side so it is nothing to fret about. I also believe as Face ID improves this will be fixed.
Using Face ID for Apple Pay can be a little awkward. Instead of the simplicity that Touch ID provided (simply hold your thumb on the home button as you pull it out) now you will need to swing your iPhone X up to your face and make sure it authenticates you before tapping away your purchase. This is more of a preference and a lot of folks out there don't really find this a con. On the flip side Apple Pay was a joy to use and the iPhone X's Face ID worked fantastically every single time.
3. An Amazing Camera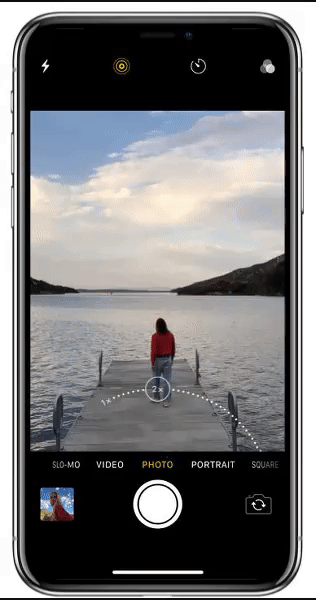 The camera received a major overhaul in it's software. The dual camera still utilizes a standard lens and a telephoto lens but this time both received the OIS treatment. The new Portrait Lighting features are quite something different (in good lighting) and to have such versatility will definitely boost your photography level. Compared to all previous cameras on past iPhones this is the best version yet. The wider apertures also help a lot in low light situations. Both lenses have 12 MP sensors where the standard lens has an aperture of f1.8 and the telephoto featuring an f2.4 aperture lens with a 52mm focal length. The telephoto provides 2x optical zoom which is amazing to have as digital zoom loses detail while optical does not.
Images captured by the iPhone X are, as expected, more true to life in color and have been engineered to take wonderful photos. It has that "iPhone quality" to every photo you take. The Selfie camera is also, as expected, simply amazing. We're looking at a 7 MP f2.2 shooter at the front that produces true-tone colors and even face detection. It simply flies.
Animoji's is a pretty fun but also advanced feature added to the iPhone X. Utilizing Face ID features these famous iOS emoji characters come to life as it precisely mimics your facial expressions as you talk, make faces, and move your head around. This is a fun addition that works great in snapchat's animated filters as well as in iMessage with your friends and loved one. You can even share ani-moji's with Non-iPhone X users!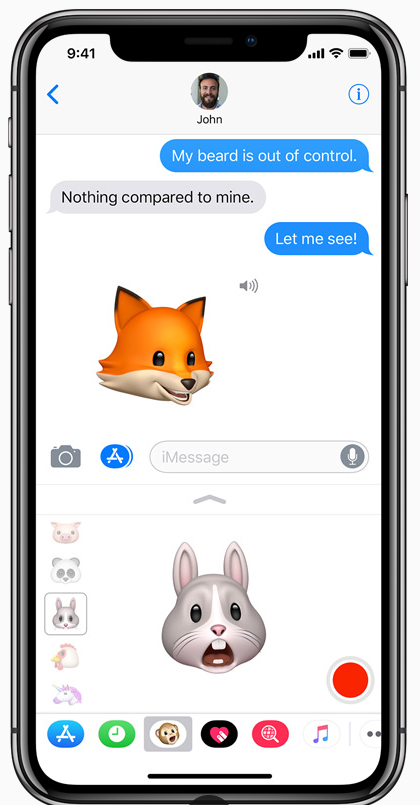 4. Wireless Charging & Battery Life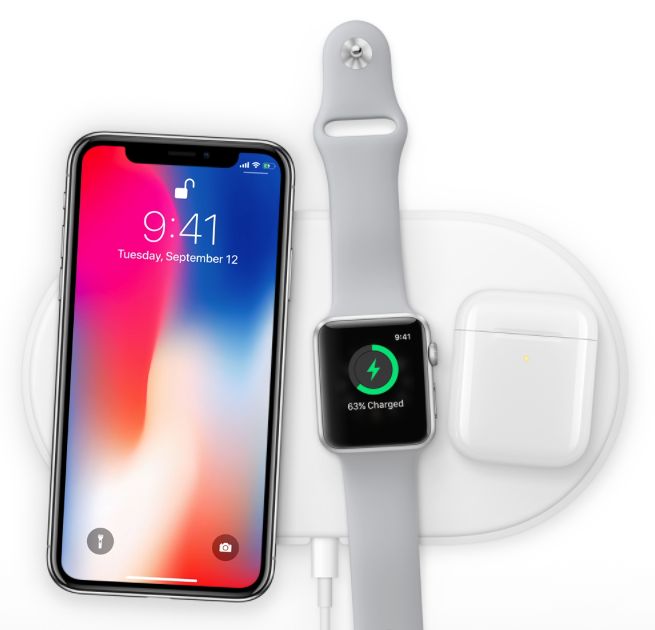 Wireless Charging has been around for a long time now but Apple just started introducing Qi Wireless Charging technology into their iPhone line up. I am actually glad that Apple is now embracing Qi Wireless Charging as many companies will begin incorporating the technology into their stores and development for it will be sped up. Wirelessly charging your phone is great because all that is required is for you to simply place your iPhone X on a pad and it will begin charging. No need to fumble with lightning cables. Not only that but because the iPhone X does not have a 3.5mm headphone jack your lightning port will then be opened for your 3.5mm headphone jack adapter while your iPhone X charges on the pad wirelessly!
The Downside is that wireless charging in the iPhone is still new and is pretty slow. It isn't snail speed slow but it is noticeably slower than Samsung's already advanced "Fast Charge Wireless Charging" technology in their line ups. I've noticed that the iPhone X slows down charging around the 70% mark which took quite a few hours to get to. If I need 100% I leave it on over night or I will plug it in. This area will need quite a bit of work on Apples part in future iterations.
Another downside of wireless charging is caused by the nature of how wireless charging works. You need to place your phone in a very specific spot on the charging pad otherwise it will not work. There were times when I woke up in the morning to realize that I misaligned the iPhone X on the pad which did not activate wireless charging. Sucks.
The convenience of have wireless charging is there, nonetheless, and is a welcome addition on top of cable charging.
This ties in to battery life. The iPhone X will easily get you through the day no problem but I have been personally topping up intermittently throughout the day. However, I am not really worried about any limitations on battery life.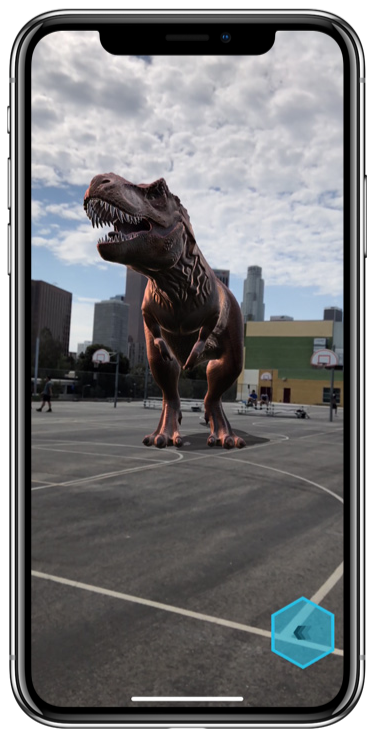 5. Long-Term Verdict:
Overall we really love the iPhone X. It has so many pros that the cons are agreeable and we can live around it. The lack of the 3.5mm headphone jack still irks us as many times me and my coworkers misplace that darn 3.5mm headphone dongle in a world that is still using high-end 3.5mm jacks. Despite this and the cons mentioned above in this post I still recommend the iPhone X. There is one final problem that needs to be brought up. It is the price. It is a whopping 1500+ CAD or 1000 USD which is the cost of a decent laptop or a good camera. If owning the best of the best from Apple is important to you and you have deep pockets by all means treat yourself. However, if you do not have such cash to throw away we recommend looking at other alternatives.
We hope you enjoyed our article covering the iPhone X's usage and its various pros and cons after a few months of usage. If you own the iPhone X we recommend getting protective cases or accessories for it. For cheap and high quality cases check out our partner site here at www.shopfiora.com!