The New Snapdragon 845 Processor will Power Flagship Smartphones for 2018
CellUnlocker Tech News
3:14 pm February 27, 2018
Qualcomm has announced their new Snapdragon 845 Processor that has already arrived in 2018. Classic flagship devices such as the Galaxy S9 and the S9 Plus feature this powerful processor as well as a string of other flagship phones. The Snapdragon 845 is a SoC (system on chip) which combines computational components, graphical units, connectivity modems, and many other essential components that are important to a mobile device. Notably, Qualcomm has been working hard to bring us all into a new era of AI.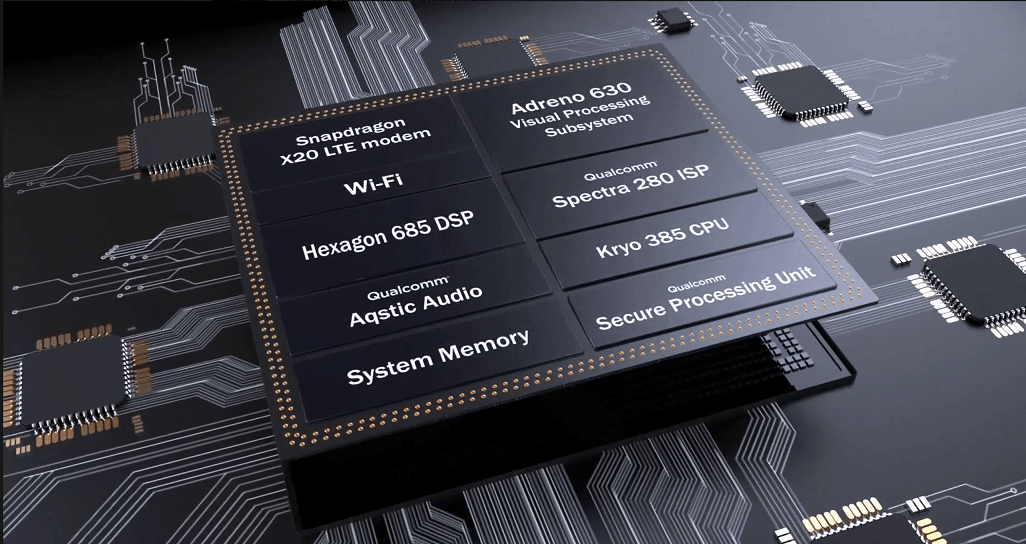 Artificial

Intellegence
Artificial intelligence is an important feature that Qualcomm is focusing on for their next-gen platform. Other competitors such as; Apple, Huawei, and Google are already deeply invested in this market utilizing various techniques such as off-loading intense AI processing to of on-device machine learning functions. Therefore, it is no surprise that Qualcomm is now jumping into the fray with AI development. Within the 845 is a component called the DSP which is called the Hexigon digital signal processor. Within this processor contains a Hexagon Vector Extension which is responsible for dealing with complicated mathematical equations that is necessary for artificial intelligence to operate. The new Hexagon 685 DSP will be 3 times more efficient than the DSP found in the Snapdragon 835 chip. In real world usages we are not entirely clear on how much of an improvement we will see.
The Hexagon DSP does not exist only for AI, however. The component also delivers all the computational groundwork for developers to gain access to advancements in audio, sensors, and video technologies. This includes imaging technologies such as HDR.
Display

Improvements
The Snapdragon 845 supports a new feature that Qualcomm calls "Ultra HD Premium" which apparently is compatible with a wider color gamut (more specifically the Rec. 2020 standard). This enables a lot more colors to be rendered and a considerable increase in more shades of existing colors. All of this in 10-bit HDR. This feature is powered by the new low-power Spectra 280 ISP which is a big upgrade from what the Snapdragon 835 offers. Phone displays are constantly on the rise with increasing pixel counts, sizes and OLED displays that become even more vivid with colors. Snapdragon 845 is the promised processor that will provide content in 4K.
Networking

Improvements

 
On the network side of things the chipset now supports the new X20 LTE modem which promises up to 20% speed increases over the last gen chip. This translates to speeds of up to a 1.2 Gbps peak which is way beyond what current service providers can actually achieve in the real world. We are speaking of LTE Cat 18 download speeds and Cat 13 upload speeds. Talk about future proofing.
Wi-fi connectivity has also been taken a look at by Qualcomm and found ways to improve it. Now providing support for the new 802.11ad standard on board the Wifi chip supports multi-gigabit speeds. This includes 2×2 802.11ac.
Performance

 Improvements
We believe that the Snapdragon 845 chip is iterative in terms of performance improvements over the Snapdragon 835 chipset. Expect to see about 10-20% speed improvements and 30% efficiency improvements depending on what you do with your new smartphone launching in 2018 such as the Galaxy S9 Plus. The new Kryo 385 cores are used in the CPU this year providing the heavy lifting.
The Adreno 630 GPU offers similar speed boosts of about 30% in both performance and efficiency.
Battery life

Improvements
Qualcomm is cutting down on power usage through a new system called the "Tile-based Foveation". This component works hand in hand with the Snapdragon 845's eye-tracking system to determine what the user is looking at. The GPU will then render the part of the screen with higher detail if the user is looking at that portion of the screen while reducing detail around that spot. Overall this should help reduce the amount of battery is used while maintaining higher frame rates in big GPU intensive games and applications.
The Snapdragon 845 is a 64-bit octa-core processor that is built upon Samsung's 10nm process. The chip runs at 2.8GHz and utilizes LPDDR4x dual-channel memory that runs at 1866MHz. In this day and age these specifications do not hold as much meaning as they used to. Even mid range processors provide performances that flagship chips from even 5 years ago performed at. We have hit a temporary ceiling where in real world usages we won't see much of a difference any more to the naked eye.