Samsung GEAR S Review
CellUnlocker How Tos
10:29 pm November 17, 2014
Samsung GEAR S Smart Watch
The latest installment of Samsung's wearable device is called the Samsung GEAR S. It runs on Samsung's very own TIZEN Operating System which is the reason why the device family dropped the "GALAXY" title in the first place. With more advanced features, specs and design we hope to share with you below useful information regarding the Samsung GEAR S Smart Watch.
Specification:
a. Dimensions: The GEAR S has a dimension of 39.9 x 58.1 x 12.5.
b. Display: 2.0 inch Curved Super AMOLED (480 X 360) screen.
c. Chipset: The Processor included is a DUAL Core CPU running at 1.0 GHz.
d. Network: The device is 3G capable with bands of 900/2100 or 850/1900
e. Memory: The GEAR S RAM stands at 512MB with an internal storage space of 4GB.
f. Sensors: Gyroscope, Heart Rate monitor, Ambient Light, UV sensors, Barometer, Accelerometer, and Compass.
g. Connectivity: Wifi b/g/n connections with A-GPS/Glonass. The Gear S also includes Bluetooth 4.1 and a USB 2.0 port.
h. Battery: 300mAh Li-Ion Battery is included.
i. OS: The Gear S runs on a Tizen Based Gear S platform.
Features of the Gear S Smart Watch:
1. The Samsung Gear S Smart Watch provides advanced communication features allowing connections with your Galaxy Note device to receive calls, make calls, send and receive text messages and other information. It is also capable of 3G connections so you can go without your phone as well.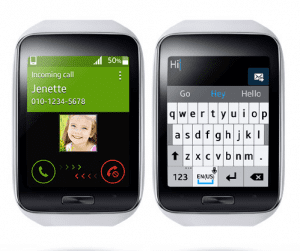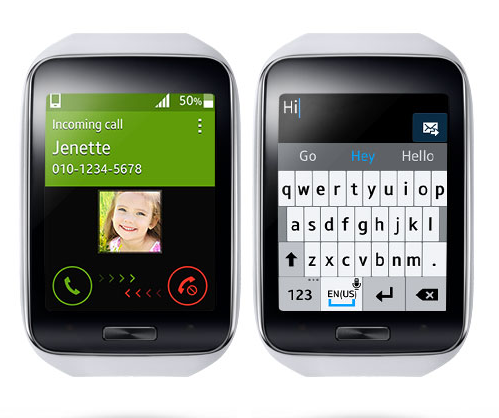 2. The Gear S also is able to measure your health features (ie. health, heart beat sensors, walking sensors etc.) but also show advanced information such as news and weather that is useful for everyday users.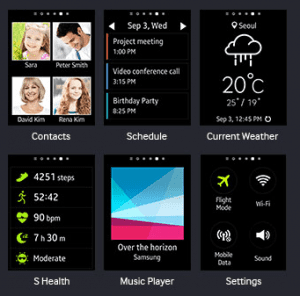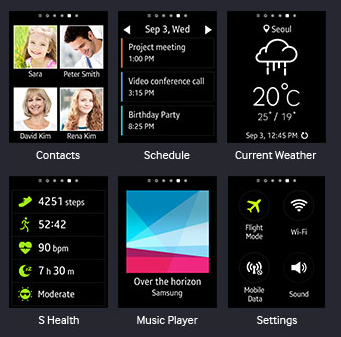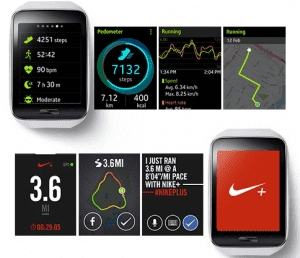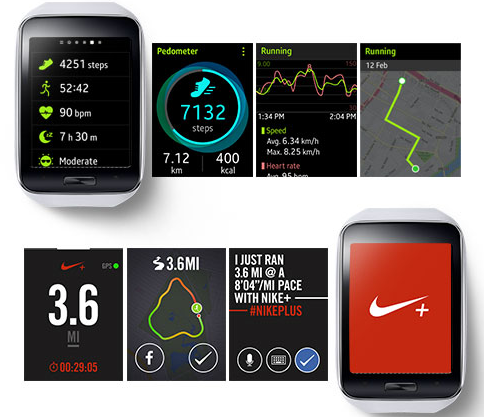 3.  The entertainment feature is more expansive than its previous versions now, including longer battery life, faster more efficient app configurations and new apps that are supported to make it even more useful!