LG White Card
CellUnlocker How Tos
11:42 pm February 3, 2016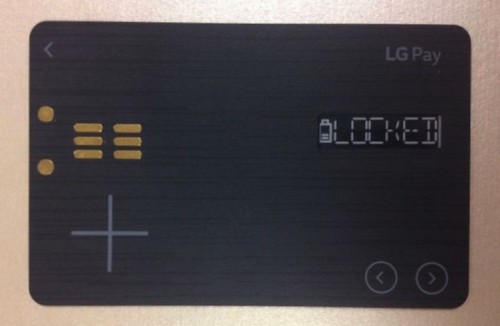 The new 'White Card' is LG's solution to Apple Pay and Android Pay, but it's not what you would expect. Unlock virtual wallets and cards, LG's White Card is an actual card. It has similar dimensions to a regular credit card, with the exception of digital adaptations.
It's actually a device that stores multiple debit and credit cards at once, giving you the ability to select which card you'd like to use. Its design invokes minimalism. The front of the card features gold contacts, a plus sign, a little display, and two arrow keys. The gold contacts look like they're for charging the card, the screen to display which card you're using (and the battery life), and the two arrow keys to choose the card that you'd like to use. Presumably, the plus sign is to add a card.
It's been mentioned that LG decided on this design to appeal toward folks who are wary of using their smart devices as payment through methods such as NFC. The size and shape of the White Card will hopefully be familiar enough for it to gain traction with users. Plus, the thought of having one card replace all your cards can be quite appealing.
Rumours reveal that the card can be used to make payments at stores as well as act as a debit card for withdrawing cash from ATMs.
50,000 cards have been pre-ordered by LG, with more to follow as they discuss mass production. It's rumoured that the White Card will be unveiled in March at Barcelona, but initial testing will only be available to South Korea for now. Whether the device will support swipe, tap, and PIN codes is unknown.
– Caroline