LG V20 Unveiled!
CellUnlocker How Tos
12:54 am September 27, 2016
New LG V20 Unveiled and Reviewed!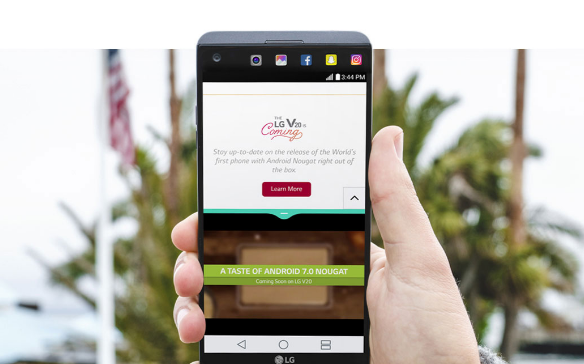 With the Note 7 and iPhone 7 released close to one another LG reveals the LG V20 flagship model. The timing is quite impeccable for LG to release a capable, premium device. On paper we are looking at a powerful smartphone with interesting specifications. Let's see how well it performs up against its competitors.
The latest LG flagship device is the LG V20 claims to be the greatest multimedia smartphone you would ever own. LG included the world's first 32-bit Hi-Fi DAC (digital-to-analog) converter inside the V20 for incredible sound via your headsets (still rocking the 3.5mm headphone jack). The device also features two rear-facing cameras for super wide-angle imaging.
Interestingly, LG's "secondary display" makes a return this year which is basically a second screen up top above your main display which displays "always-on" ticker information.
The LG V20 is the first non Nexus device to receive the Android OS update to Nougat. This comes with improved battery life via the Doze functionality and multi-window features. The Google In Apps search feature is also included which functions a lot like Apple's iOS search which combines contacts, apps, messages, and the web to find your information via key words. This is a clean and handy tool that should have been on Android a long time ago.
The device shapes up to be quite an interesting competitor within this time of the year when major flagship models are presented. We will review the unit and also talk about how well this device works for the user.
Specs:
Quad-Core Kryo Processors Qualcomm Snapdragon 820 CPU (2 x 2.15 GHz Kryo combined with 2 x 1.6 GHz Kryo cores)
Adreno 530 GPU
4 GB RAM
64 GB internal storage + microSD support up to 1 TB
Android 7.0 Nougat
5.7-inch QHD IPS Quantum display 2560 x 1440 resolution (513ppi)
Secondary Display: IPS Quantum 1040 x 160 resolution 513 ppi
Dimensions: 7 x 78.1 x 7.7mm
Weight: 174g
Camera 1: 16 MP rear camera with f/1.8 aperture and OIS (75 Degree lens)
Camera 2: 8 MP f/2.4 aperture wide angle camera
Camera 3: 5 MP front facing camera with f1.9 aperture (wide angle 120 degrees)
Removable 3200 mAh battery (Qualcomm Quick Charge 3.0 enabled)
USB Type – C
32-bit Hi-Fi Quad DAC inside
Finger Print Scanner on rear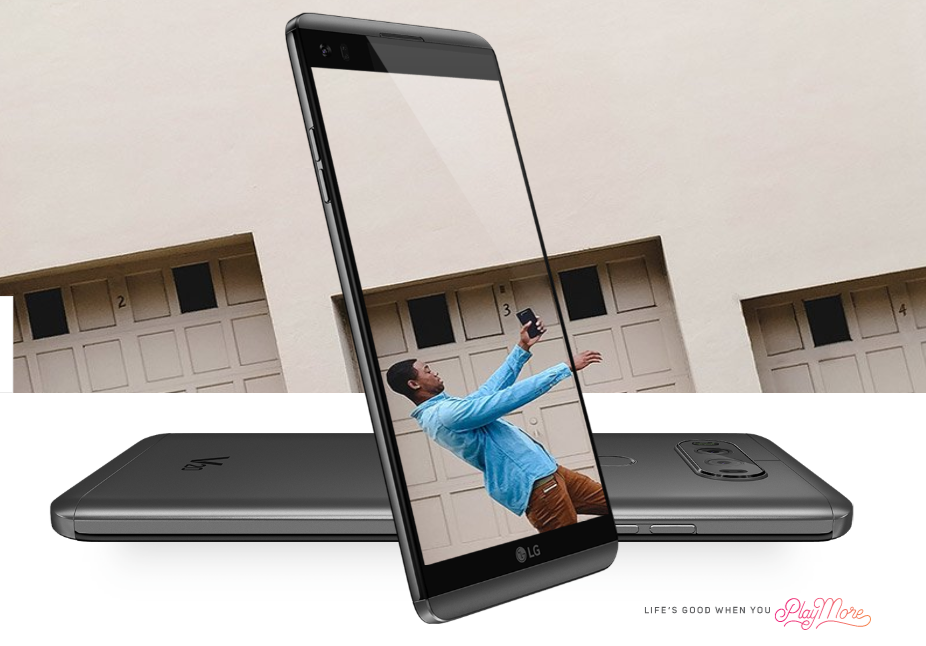 PROS
Great Quantum display
Removable battery
Secondary display is useful
Impressive wide angle dual camera system
Premium design materials used
The most audiophile friendly smartphone in existence right now
Great High Definition triple mics for audio recording
Top notch specs on paper
Android Nougat (7.0) pre installed
CONS
Performance is great but there are times when the phone feels sluggish due to lags and delays turning on (inconsistent performance)
Slow boot time
Not IP68 proofed
Can heat up in the hand
Can be a bit too big for some
No APP drawer by default
Introducing… the 32bit Hi-Fi QUAD DAC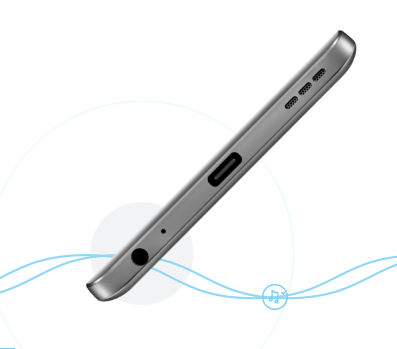 A huge selling point that LG has made a big deal about was the internal DAC. The V20 is the first smartphone ever to integrate a 32-bit Hi-Fi DAC (powered by the ESS Sabre ES9218) into its device. This provides powerful quality sounds through wired connections. Given that you are using high quality audio files and good pairs of can's this would be a clear winner for audiophiles who had to choose a device for 2016. For other users this may be more difficult to distinguish, especially for those who do not use larger music files to play off of. If one spends enough time with this powerful sound setup you most likely cannot go back to any other high end phone such as the Note 7 or the iPhone 7 Plus. Did we also mention that the LG V20 comes with a 3.5mm headphone jack? Though DAC's primarily bring high end music files such as FLAC to what it is meant to express the DAC within the V20 device can also take your simple MP3's and make it sound louder and with great clarity. You do have the option to turn off the DAC system. The V20 enables users to revisit their old tunes and relive concert recordings, playlists, and other old songs you might find in your hard drive's attic space.
The exterior speaker is found at the bottom of the phone and is quite good. It does not crackle or sound high like playing in a tin.
At the bottom of the device LG has included an HD 24-bit audio recording microphone system. This means your LG V20 comes with three AOP mics to ensure professional level sound recording that brings voice to the front. The mics will still record background noises that are articulated and it is works quite wonderfully. The recorded files are LPCM 24 bit audio formats with up to 48kHz sampling.
It is good to invest in a device knowing that you will have powerful music experiences that no other smartphone can offer via lossless files but also have the means to record sounds with high quality output.
To round of the tour de force of a sound system within LG is including a pair of Band and Olufsen H3 headsets in the box. If you would dare to compare these cans to simple earbuds that come with many other smartphones, you would be gravely mistaken. The quality upgrade in this decision is a huge step-up to really show what you can benefit with the DAC system inside the phone.
Double Snappers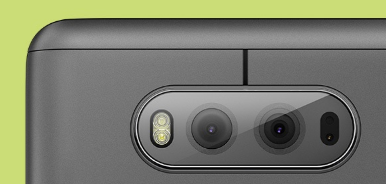 The V20 sports a dual rear facing camera one being 16 MP (f/1.8) and the other being an 8 MP f/2.4 wide angle camera. This can really help people create awesome content with two different degrees of view. Though 75 degrees is a lot narrower than 135 degrees the wide angle camera provides an interesting fish-eye look for creative content. Users would certainly find this fun to play with among friends and family. LG's camera also comes with laser guided detection, phase detection and contrast auto focus. We should see high quality images coming out of this device.
However, as reported by users of the pre-production model the condition must be right. While images look crisp and sharp where light is adequate, mid to low light situations tend to cause motion blur and grainy effects during AUTO mode. Sharpness is visible but definition can be soft at times. The LG V20's camera is still a very strong contender in the smartphone camera category.
It is important to note that no smart phone today can take great photos in darkness or low light compared to a DSLR or a professional camera. These cameras, though they have come very far into the future are still companions for certain creative work and mostly used for personal life to capture your moments and other information around you. Not really for professional use.
Within the pre-production model of the V20 we found that the camera had a tendency to crash. We hope that the final release of the model will have it updated and fixed. The only way, at this time, to fix the crash is to do a phone reboot. Compared to the iphone or the faster Note 7 which launches camera's with a double click of the home button the LG V20 will need to sort out this bug. Missing a moment because your camera app crashing is no joke. Another important note is that this may be a faulty unit.
The device can record 4K video with the assistance of Qualcomm's EIS 3.0 technology (electronic image stabilization) (AKA LG's Steady Record 2.0) which should reduce sync latency by up to 50 milliseconds. This feature utilizes the phones gyroscope-based electrical image stabilization and digital image stabilization. In real world this means that your hand movements will cause a lot less jitters and shakes. This can seriously help with home movie makers and other people looking to take on a challenge. User can also record in 1080p video support.
Design Language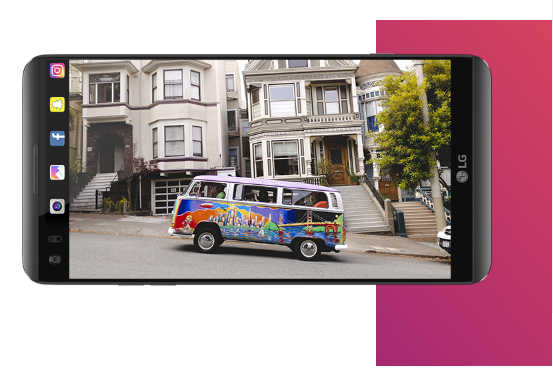 The LG V20 features a matte metal body. It has a premium feel and is rather quite minimal and quite nice to look at. The size is a little bit large in the hand but it still feels good somehow. The device is light with the weight of 174 grams which is between the iPhone 7 and the Note 7. Physically, however, it is longer and wider then both alternatives. The larger size could possibly contribute to a well balanced device.
The look and feel of a device is very subjective and can be quite difficult for reviewers to try and please everyone with. Some may say that the V20 looks plastic and cheap when viewed from afar. Personal taste may alter on how you use the phone. Overall, we would agree that the V20 is a fantastic device.
To continue the LG tradition, the fingerprint sensor is found on the back of the phone. A USB-Type C port along with a 3.5mm headphone jack is found at the bottom of the device. An interesting point to make is that the LG V20 has a Metal back that is removable. This reveals the 3200 mAh battery, MicroSD slot, and SIM slot. To have user friendly battery exchanges right from your back is very convenient and important later on in the future. Battery life degrades over time due to heat and usage (charging) and it is unavoidable. That is why a few years down the road people start to report issues with battery life even from 100% charge. The batteries simply cannot hold a full charge like it used to on day 1. However, for the LG V20 the story changes. You can easily swap in a brand new battery pack from LG or a 3rd party company and voila you are set for another few years or more given that you do not switch out your phone so soon.
The phone is not water resistant which is a bit of a downer. The device can get hot in the hands due to the beefy CPU and GPU inside. You may feel some heat in your hands but the temperature is not crazy hot so no need to worry.
Secondary Display
The Secondary Quantum display above your main display features five quick tools which includes and are not limited to sound profiles, camera, flashlight, and Wi-fi. You can add on any other apps to an additional 5 slot row for a quick launching experience. Remember that this display does not turn off and remain on even if your main display is turned off. To add or remove the app you simply need to tap and hold the app on the secondary display and pull it down into your main screen and vice versa. The final section as you scroll on displays your name in a specific font. Notifications displaying information does show up as a rolling display. Rest assured, despite the "always – on" feature of this display, users can opt to turn it off via their settings.
Main Display
The 5.7 inch QHD IPS Quantum display is bright and has rich colors all around. The resolution is set at 2560 x 1440 pixels and is a fantastic display. The resolution is the same as that of the Note 7 while the iPhone 7 Plus uses an IPS LCD display that uses a 1920 x 1080 panel. While watching a movie or playing a game the colors are vivid, crisp and they are very much detailed thanks to its 1440p resolution. LG allows users to customize the temperature of the screen to make things easier on your eyes by applying a warmer hue.
The Internals and Battery Life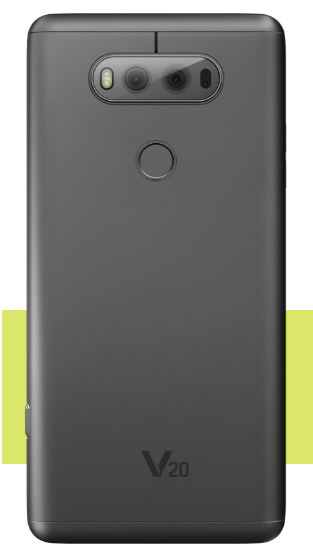 The LG V20 comes with the new UX5.0+ UI which is a slightly more refined edition of what was seen on the LG G5. The main home screen does not have an app drawer. We were grateful to see that LG included 3 different home screen options with two of them offering the App drawer back. The LG UX5.0+ UI is relatively non-distracting from the overall Android experience. LG includes other App's that are LG flavored and are quite useful. The QuickMemo+ app is sort of like Google Keep, the Comfort view function gives you screen a bit of a yellow hue to help you view the phone at night and still be able to fall asleep. We also found the Knock-to-Wake and Knock-To-Sleep functions extremely useful. A cool app LG deploys is called the Smart Bulletin. This is a home screen slide you can add and combines all of your related information into a simple layout.
The LG V20 utilizes the new Qualcomm 820 chipset, 4GB RAM, 64GB internal storage with expandable storage via microSD, and support for X12 LTE speeds. On paper, the LG V20 is more than capable of handling its own weight right? Most of the time the device ran admirably and worked zippy and super fast as expected. However, it is important to note that there are moments time to time where the phone struggles with certain tasks such as Google Maps, Internet browsers, and other apps randomly. We are criticizing both the optimizations LG has made utilizing the Snapdragon 820 CPU and also Snapdragon as well for decreasing multitasking performance from octa core (810 cpu) down to Quad core (820 cpu). The biggest example is between the two different Note 7 (international vs North American) Exynos 8890 VS Snapdragon 820 battle. The Exynos with its octa core configuration and optimized performance destroys the Snapdragon 820 in many fronts. Snapdragon, while being an innovative silicon company who has great history in CPU and in the smartphone market, will need to come back stronger especially after the Snapdragon 810 failure. One thing we must note is that the Snapdragon 820's Adreno 530 GPU is a powerful beast. It runs graphical tasks like no other and out ranks other silicons in the graphical department. The LG V20 has cross-platform Vulkan API support which is advertised as ushering in "console quality" graphics on your mobile platform.
The LG V20 comes standard with 64 GB's of storage space and kept the microSD slot which supports up to 1 TB. Bluetooth 4.2, NFC and USB-Type C is also found on the phone.
The battery life of the device performs pretty well. You can expect about a day and a half of heavy usage. If you are a moderate user you can expect about 2 full days sometimes. Thanks to Qualcomm's Quick charge 3.0 you would expect faster charging and we have seen this. It took 1 hour and 15 minutes for the battery to fully charge. A big plus to the removable battery is that you can simply swap out the battery pack when the phone dies. This eliminates the need to stand around a power source for 20 – 30 minutes for at least a good 2 – 4 days.
 Early Verdict
The LG V20 is ambitious. As LG's next phablet-sized smartphone which strays far from standard smartphone designs we are happy to see powerful specs on the device. Despite some lag which we suspect should be fixed and non existent in most devices the LG V20 does not disappoint. With a Dual camera system on the front and back, a removable battery, and Android Nougat all in one package what is there not to love? LG V20 creates an innovative stance with the included QUAD DAC inside (compared to Apple's rather boring iPhone 7 release) we are excited to see how users express what they feel about the LG V20. The LG V20 is a premium device that is recommended as one of the most interesting devices of 2016.