Sony's Current Flagship the Xperia XZ
CellUnlocker Tech News
12:59 am February 3, 2017
"Sony Xperia XZ" Sony's Current Flagship Model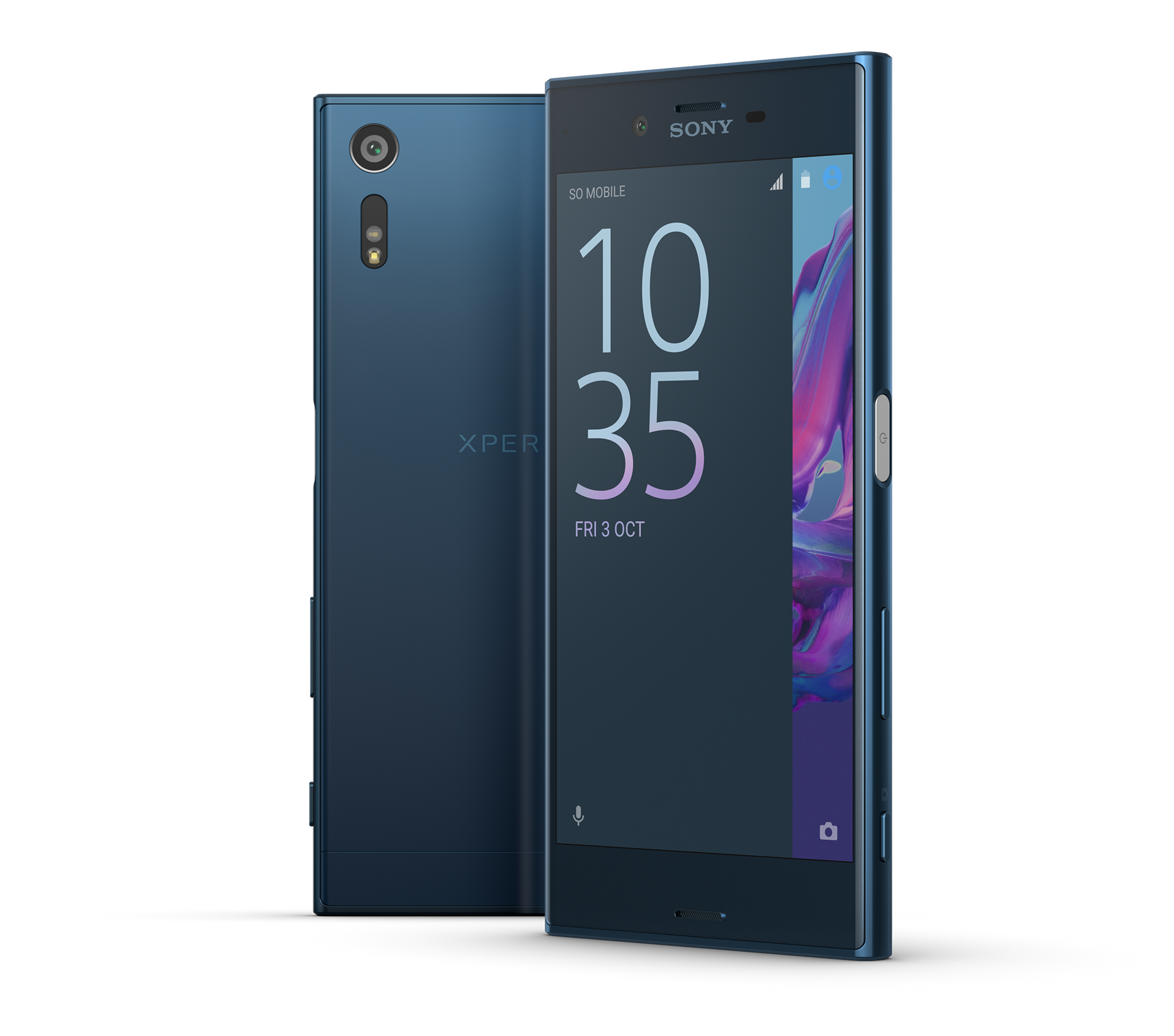 The Sony Xperia XZ is a premium smartphone which offers many specifications one should expect from a "flagship model". If you are a newcomer to the realm of Sony this may be a good purchase, but if you already own a Sony device, it may not be compelling enough to buy.
Quick Take-Away Specifications:
Display: 5.2 Inch Full HD Triluminos IPS LCD
Processor: Quad-Core, 64-bit Snapdragon 820
Graphics: Qualcomm Adreno 530
RAM: 3GB
Storage: 32 GB (single SIM), 64 GB (dual SIM model) +microSD support up to 256 GB
Dimensions: 146 x 72 x 8.1 mm
Weight: 161g
IP rating: IP65/IP68
Main Camera: 23 MP with triple image sensing, predictive hybrid autofocus, 5-axis stabilization
Front Camera: 13 MP
Battery: 2,900 mAh, Quick Charge 3.0, Qnovo Adaptive Charging, USB Type-C
Fingerprint sensor: Yes, (outside of U.S.)
Connectivity: A-GNSS (GPS+GLONASS), Wi-Fi Miracast, Bluetooth 4.2
Pros
Refined Design
Strong improvements on camera
Waterproofing
Speedy performance
Hi-Res Audio Support
Vibrant Display
MicroSD Slot
3.5mm Headphone Jack
Comfortable in hand
Great Camera Features
Cons
Fingerprint scanner not available for US models
No Nougat yet
Display is running FHD
Design may be feeling aged for some
Speakers are underwhelming
Expensive
The Sony Xperia XZ is the fourth flagship within the last two years. After the death of the Xperia Z line up Sony is beefing up its X series. Their latest and strongest offering is the Xperia XZ.
Some Features
Fingerprint sensor is fast (only available on some markets)
Water Resistance is back (IP68 Rating)
Users can enjoy PS4 games on the Xperia XZ display
The XZ is a combination of all of Sony's developed tech. Water resistant designs make a return this time around along with speedy finger print scanner (but not for all markets). Users can also play PS4 games on your device.
Sony had a lot of fun with adverts showing their tablets and devices being water resistant in the shower and various other scenes. This has returned with the XZ. Users will not have to worry about a bit of water splashing on your beloved device.
The XZ holds a higher water resistance standard than the S7 Edge and the iPhone 7 Plus with the IP68 rating. As with any water resistance, it is always warned to never keep phone's submerged for long periods of time (usually 30 minutes in about 1 meter depths of water). The device uses a 3.5mm headphone jack and a USB-C port which are both opened. Despite the open design the phone is water resistant to a higher degree.
The finger print reader was included on the model for some markets only. In the U.S. this feature is not available. The Fingerprint scanner is located on the Power Button which is found on the right hand side of the phone. This is a perfect position as your thumb is usually resting there. The sensor is also extremely fast working instantaneously as soon as you hit your power button.
PS4 Remote Play is also included into the package. User's can play PS4 games on the Xperia XZ over the same Wi-Fi network the PS4 is on. This is only useful under a handful of circumstances such as; when someone is using the TV or when you need to keep it on the down low.
This brings us to the…
Display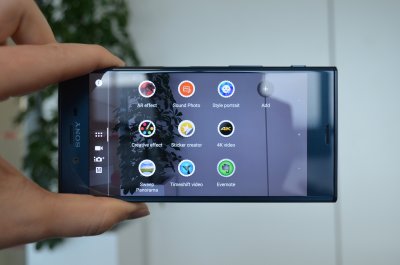 The Sony Xperia XZ has a 5.2 inch display integrated. It is also worth noting that we do not see a QHD display here, rather a FHD (full HD display). The display is still bright enough and looks great, nonetheless. FHD should help with battery life as it does not have as many pixels to operate compared to the S7 Edge (from Samsung) running a Quad HD display. The XZ may not be the best choice, however, for VR as it only contains 424 ppi (Pixels per Inch). Usually in VR situations users would want the highest ppi density available for a more enjoyable visual experience. (Compare 424 ppi to the Galaxy S7 Edge's 534 ppi).
Moving on to the…
Design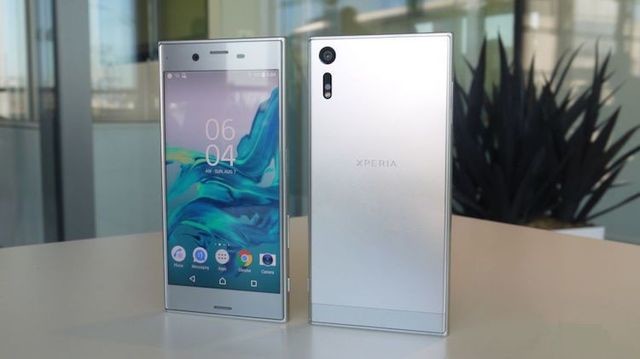 New high quality materials used on the back of the phone
Feels comfortable
Looks good
The design language has not change much over the course of the years with Sony phones. This is not necessarily a bad thing at all. It does mean that Sony is very consistent with their design and customers can identify a Sony phone from all other devices a lot easier compared to comparing the iPhone 7 with the iPhone 6S.
The build quality is premium. Sony calls the materials used "ALKALEIDO". In practice, you won't really see anything drastically different compared to other metal phones. However, the feeling of the device is different. It also looks a lot better than the glass window panel found on the Xperia Z series. The device, unfortunately, is still prone to finger prints.
The phone is easiest to hold in your hand compared to all other Sony devices put out into the markets. The boxy design remains but Sony has cut the corners a bit to give it a bit more of a rounded edge (not much though). We believe all of this helps to contribute to an overall more comfortable usage experience.
The top and bottom edges of the device are flat. This is unique compared to many flag ship phones out there with curved sides. This enables the XZ to stand up literally on its own.
The 3.5mm head phone jack is found at the top of the phone and a USB – C slot at the bottom of the device. MicroSD support is available with the tray found on the left hand side. This doubles as a SIM tray.
On the right hand side we find the power button (doubling as the speedy fingerprint sensor array / * Only found in some markets) with the volume button rockers a bit below that. Then we find the camera key. The camera key is uniquely useful when trying to take pictures. A lot of smartphone manufacturers have long since compromised by key mapping the shutter button to other buttons such as the volume or other available buttons on the phone. However, the placement of the camera button on the Xperia XZ is what makes it quite nice to have.
Multimedia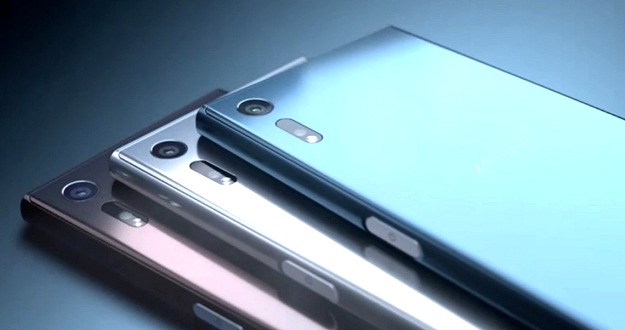 Speakers are weaker than expected
32 GB of storage + 256 GB microSD support
Powerful processor for gaming
Android 6 with Android 7 (Nougat) coming up
UI is clean
Sony is one of many manufacturers who are opting for a more Google-esque look. We all know what Google's stock Android UI looks like. Some love it, some hate it. We love the diversity of Android UI's and creativity founded upon an open sourced spirit. With that aside we have noticed the awkward duplicated apps of (Sony Messages, Phone, Contacts). We wish they can remove Google apps that make a lot of their own Sony Designed apps repetitive.
Sony also included Playstation, Xperia Lounge and Movie Creator. You can download PS4 Remote Play from the Google Play Store. Bloatware includes an AVG app, Kobo app, and Amazon app.
Out of the box the XZ runs on Android 6.0 (Marshmellow) but we know that Android 7.0 Nougat is coming soon to many users.
Multimedia Continued…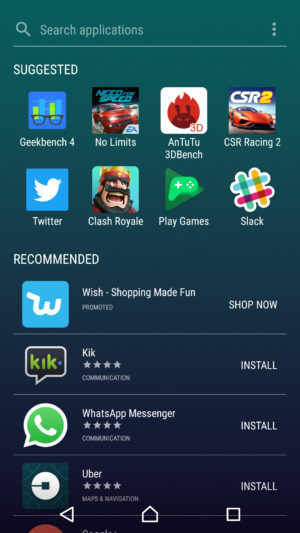 The Full HD display is bright and it is big enough (somewhere between small and too big). User's will be able to enjoy the fast processing speeds provided by the Snapdragon 820 processor when working with multimedia apps. The Adreno 530 GPU on board also provides huge boosts in graphical performance in games and other media.
The speakers on the phone, however, feel a little underwhelming. The highest volume feels weak when directly compared to other high end mobiles. Sony included their own Music app which has an interesting integration with Spotify or Google Play Music. On the bright side the XZ supports Hi-Res audio files such as FLAC, ALAC, DSD, and LPCM. The audio system can also upscale a compressed music file to present a more vibrant sound. You can hear this difference with a good set of head sets.
32GB is not enough. The size of the apps on Android are ever increasing and the extra storage space that apps take (Kakaotalk, Spotify… etc) become enormous (upwards to a few GB's due to images, videos saved, cached files, offline music). But Sony does include a 256 GB microSD support slot.
Performance and Specs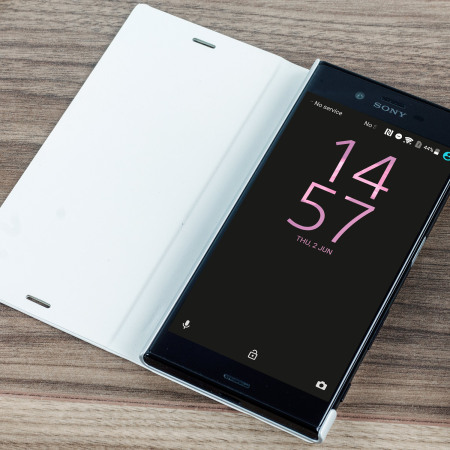 The Xperia XZ uses the Snapdragon 820 processor alongside 3 GB's of RAM. The performance is reliable. The 820 processor is one of the best on the market as of this moment still (Until the 835 comes out). You are hardpressed to find lag, performance issues with any games you play, or apps you run. Everyday tasks are also reliable and quick. The phones were also difficult to heat up to high levels. They do get warm but nothing that causes concern.
Battery Life and Camera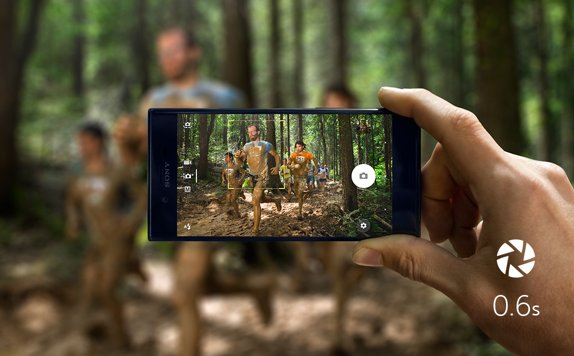 Non- Removable 2900 mAh battery
Great camera but not the best of the best
23 MP Rear sensor
5-axis Stabilization is software based
If you take a look at all the camera modules installed in all the smartphones around the world you would find that the majority is manufactured by Sony themselves. Unfortunately, Sony does not seem to have their own camera modules perfect compared to other flagship devices released thus far. Albeit there has been a lot of improvements made to their camera systems embedded into the XZ and all other X series and Z series Sony phones but there are still a ways to go for them. There is a new sensor in the Xpera XZ along with a 23 MP resolution the new sensor enables a software based 5 axis stabilization system. There is also a new auto focus sensor, RGBC-IR focus system to capture better white balance in varying lighting conditions.
Unlike Sony's flagship cameras such as the A7 mark II or the A5000 APS-C camera the Xperia XZ smartphone does not have any moving parts for its 5-axis stabilization system. It is all purely software based. The stabilization activates when the user records up close or takes macro shots. All other shooting situations uses its 3-axis stabilization instead. From tests we found that images and recordings were extremely stable and we were hard pressed to see any warping or distortion in our footage.
The Front facing selfie camera is a 13 MP sensor. A lot of details and colors are captured easily with this system and the front facing camera also enables zooming and cropping shots.
The app behind the camera is very simple. You have Superior Auto, Manual, Video Recording, AR Effect, Sweep Panorama and the usual Time Shift (or Hyperlapse) video recording / photography options. It is a straight forward app with lots of functions you can have fun playing around with. The only issue we found was that the HDR mode was found only deep within the apps settings and was usable only during Manual Mode.
The dedicated camera key we mentioned earlier comes with its pros. With one click of the button we can instantly launch the camera and take quick snaps of the life that goes on around us. The image quality was found to be pretty good. For a smartphone the images are very sharp and detailed and colors are a little more truer to life. To track movement of objects Sony implemented a predictive hybrid auto focus system which is also found in many other smart phones. As long as objects move across your sensor at reasonable speed the image should be quite sharp.
In low light situations we still see a fair amount of details. Images have somewhat lower amounts of noise but we found that the camera overexposes its shots. The camera is sometimes very slow at taking a picture when there is not enough light.
Conclusion
We like this phone. It is a great step for Sony and provides some of the best that Sony has to offer till now. If you already own a Sony product we aren't quite sure if it is enough of an upgrade for you. Perhaps wait a bit to see what else Sony has planned in a year or two. However, if you are someone who is in need of a smartphone soon (and not currently living in the U.S.) we do recommend the Sony Xperia XZ. It has good camera capabilities, vibrant and bright display, strong performance with up to date internal hardware, and a cleaned up UI to enjoy. Android 7.0 should be in the works and soon released as well for the rest of the market.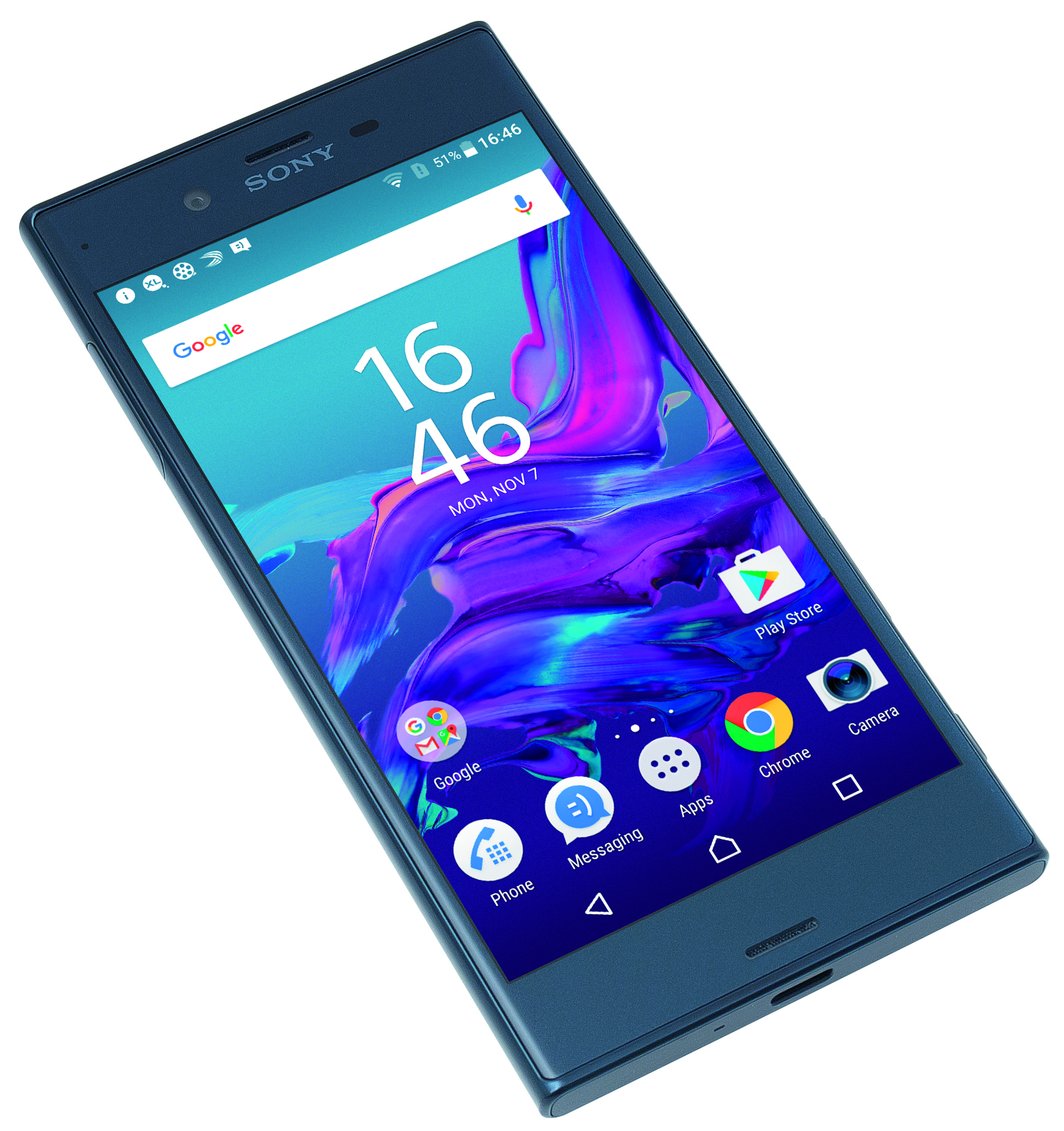 Unlock Your Sony Xperia XZ Today!