Samsung Galaxy S7 and S7 Edge Nougat Update Finally Arrives in Canada
CellUnlocker Tech News
8:23 am March 20, 2017
Samsung Galaxy S7 and S7 Edge Nougat Update Finally Arrives in Canada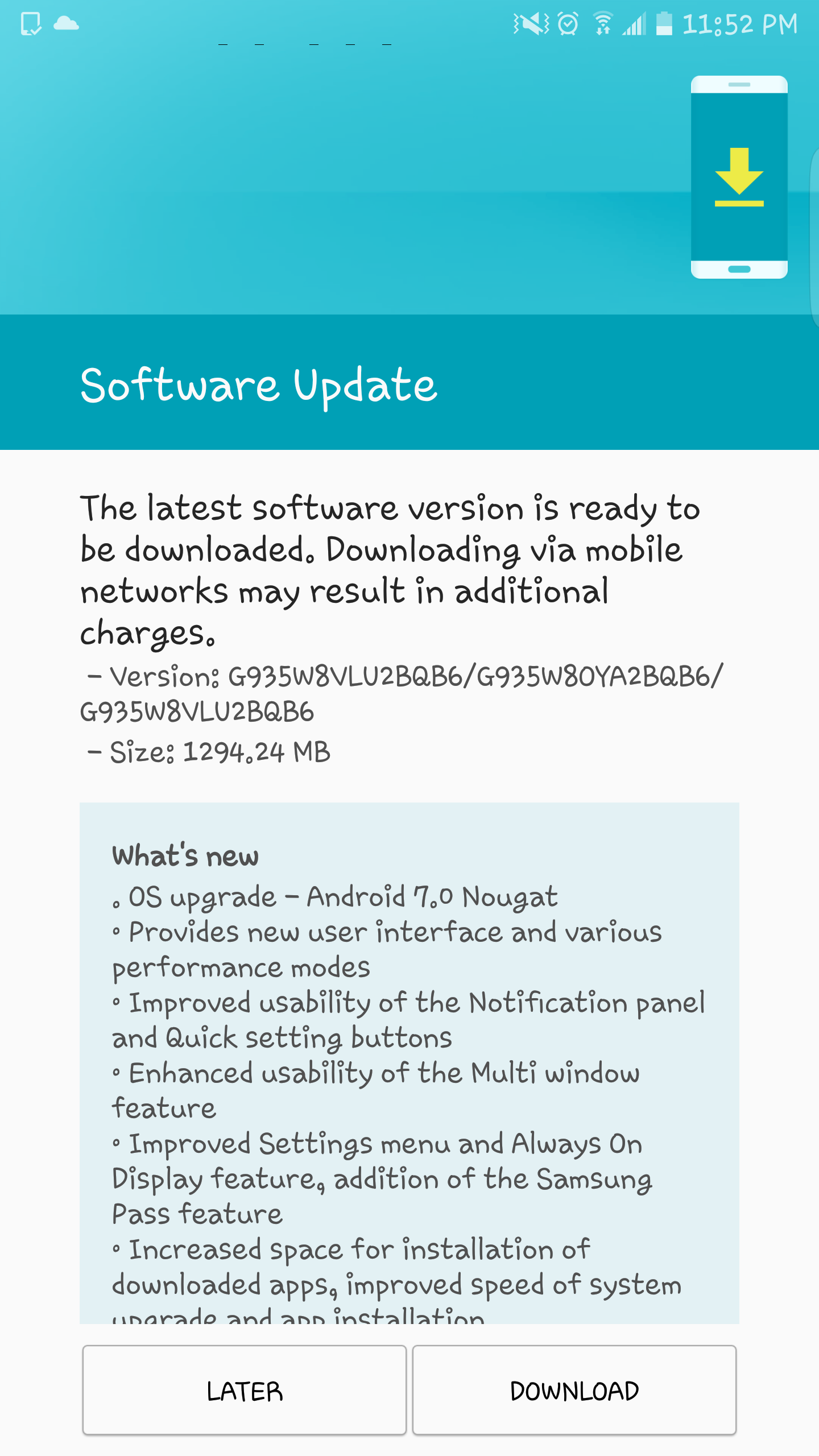 ---
What Happened?
Canadians rejoice! Today is the day (March 19 to be precise) that Samsung's version of Android 7.0 is finally released to Canadians. It seems that the majority of Canadian networks have begun releasing the Android 7.0 Nougat update to the Galaxy s7 and S7 Edge devices. This includes carriers such as; Telus, Koodo, Bell, Virgin, Rogers and Fido etc. This is quite the good news for many despite the slowness of the update to hit Canadian markets.
How big is it?
The software update is large which weighs about 1.3 GB in file size (which is to be expected for a big OS update) and will install Android 7.0 with Samsung's customized Grace UX onto your device. This comes with a slew of changes which range from battery / performance customization options to UI design changes. Expect to see flatter more uniform color schemes implemented for your app icons as well as a more fresher (note 7 like) settings menu and notification area. Within the settings users will be able to change resolution's between QHD down to simple HD to help with performance and battery life as well as how hard the CPU is allowed to work. All this should give the S7 / S7 Edge owner a feeling of newness to their 1 year old device.
The S7 and S7 Edge recently received another award for being the best smartphone of 2016 and for being the most innovative at MWC 2017 by the GSMA. This was given due to the prowess of Samsung's engineering and performances exhibited by these fantastic phones. We know the phones are good but we do have certain concerns that do arise with this update. As reported on various sites for a while, many users reported that battery performance actually was found to be reduced by several hours compared to the Marshmellow OS. Keep in mind that there are still yet many people who refute this and claim that they are actually seeing improved battery life with Android N. On paper, Nougat should be able to squeeze out more of your battery due to Doze mode being made active even when the screen is turned ON (as opposed to working only when the display is turned off). This optimizes applications to prevent spikes in battery usages via excessive uses in the background. We will be performing further tests to see what happens into the future. As with any phone, at least a good week will be needed for the system to re adjust. Canadians also use the Exynos version of the S7 Edge which is known to give better battery life overall compared to the Snapdragon brethren in the U.S.
Another point of worry involves the version itself. While Google has already released bug fixes and incremental patches for the Android 7.0 (currently on 7.1.1) Samsung just released v7.0. We aren't really sure if Samsung themselves fixed any of the bugs found on a brand new Android OS but we are hoping for the best.
Some Cool Features We Got…
Other than these caveats we are thoroughly pleased with the new features that come with Android Nougat. This involves Secure Folder (ported from the Note 7), deeper ability to customize your battery saving modes,  blue light mode, and video enhancer (for brighter, vivid colors when viewing video content on youtube, google play movies / TV and Video Player). The UI theme and redesign is awesome, cleaner and makes more sense. The camera app has been vastly improved to look more like the Note 7. The changes involve using finger gestures to activate certain functions of your camera. For example, you can now swipe upwards or downwards to switch between the front camera and the back camera. Swipe left to pull in the various effects mode and swipe right to bring out the various photography functions such as wide angle selfie mode. Wide angle selfie seems to work a lot better than it did on MM but we will need to test this out soon.
The performance of the software update shouldn't be much of an issue. The phone is fast with high end hardware which has been receiving various awards even in 2017. In real world usages the S7 Edge has fantastic battery life, great performance in games, excellent camera modules and image quality, as well as it's modern design.
We hope you enjoy your Nougat update!