LG V30 Officially Revealed! Check out the Tech Specs and Details!
CellUnlocker Tech News
9:16 am September 5, 2017
LG V30 Officially Revealed At IFA 2017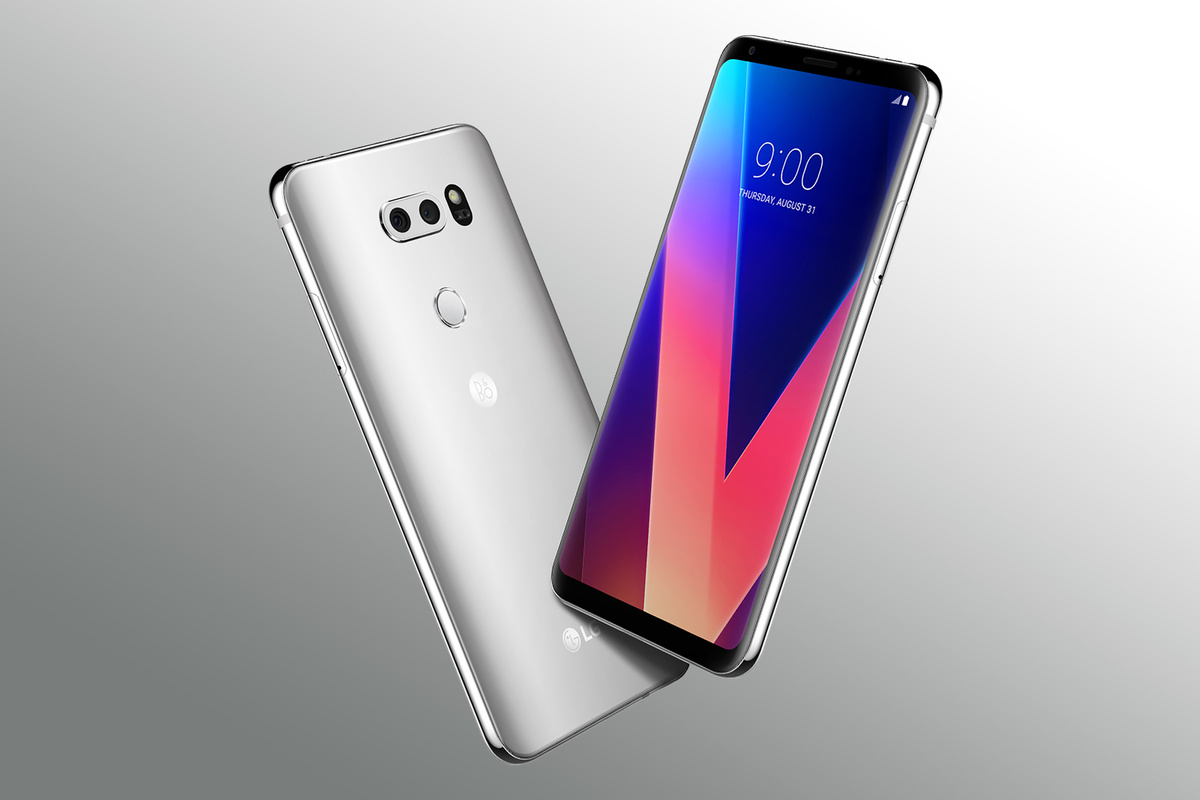 LG has finally announced the LG V30 at the IFA 2017 event today in Berlin. The LG V30 is a beautifully crafted premium smartphone that eliminates all unnecessary ideas and features and brings out the best of the best. LG has not only included an upgraded display but wireless charging, and video recording features that have never been seen in other ordinary smartphones.
We talked about the secondary display found above the main display on the LG V20 last year. This year the LG V30 sheds this feature off and provides a seemless FullVision display that is just gorgeous, simple, modern and great to look at. The Secondary Display feature has been replaced with a virtual tab that can be moved around on screen and acts as a quick tab for shortcuts whenever you need them. On top of advanced internal specs and features the LG V30 does come with a water resistant body as well which does bring the LG V30 up to speed to compete with the Apple iPhone 8, Galaxy S8+ and the already announced Galaxy Note 8.
The V20 was known to have a quad DAC integrated into its circuitry which amps up the sound and brings out high quality audio when listening to music, watching movies and the such. The V20 was also known for capturing detailed audio through it's mic making it a media content creator or musicians dream smartphone. The V30 improves on all of the best features LG provided.
Based on its video recording, audio recording and audio output prowess the V30 is indeed geared towards the artist or media creator. Moving away from that the V30 still impresses to be a premium and powerful flagship device. A lot of the tools, however, are quite advanced and rich so it will take some time for users to figure out how they work.
When will it be released?
The LG V30 is announced to be available in South Korea first on Sept. 21 while the rest of the world will follow suit but a date has not been officially provided just yet for that.
What is the Cost?
The cost of the LG V30 is expected to be similar to the V20 or the G6. Expect to see a price tag around 600$ or 800-900 CAD.
The LG V30 is meant for Creative People
If either videography or recording sound is your thing you will definitely enjoy the LG V30. This one stop media shop comes with a dual camera (one ultra wide angle, and one standard angle). The standard angle lens is a 16 MP camera that has a 71 degree range of view while the 13 MP camera is the ultra wide angle lens that has a 120 degree angle of view.
Last year the V20 had a plastic panel that covered the dual camera module, but this time the V30 comes with crystal glass that ensures that images will be clear and accurate colors will be represented. The only downside is that only the 16 MP standard camera will come with OIS (Optical Image Stabilization). However, since the ultra wide angle lens is the opposite end of the typical telephoto lens this means this isn't too much of a con. Ultra wide angles generally do not require OIS as much as telephoto lens' do. Images should still come out crisp and sharp with a lot in focus.
The Standard 16 MP camera will receive a wide aperture of f1.6 which is a bit wider than the f1.7 found on the S8. This means that the LG V30 will be able to take in a little bit more light and should be a strong low light performer compared to a lot of other flagship phones. The Google Pixel has an aperture of f2.0.
The Ultra Wide Angle 13 MP camera has a narrower aperture of f1.9. Don't get us wrong, these apertures are seriously large and high end for these tiny camera sensors found on our smartphones. This Wide Angle lens, however, does not come with Autofocus (but usually everything will be in focus, aka large depth of field so no big worries here).
Power House Specs and High End Design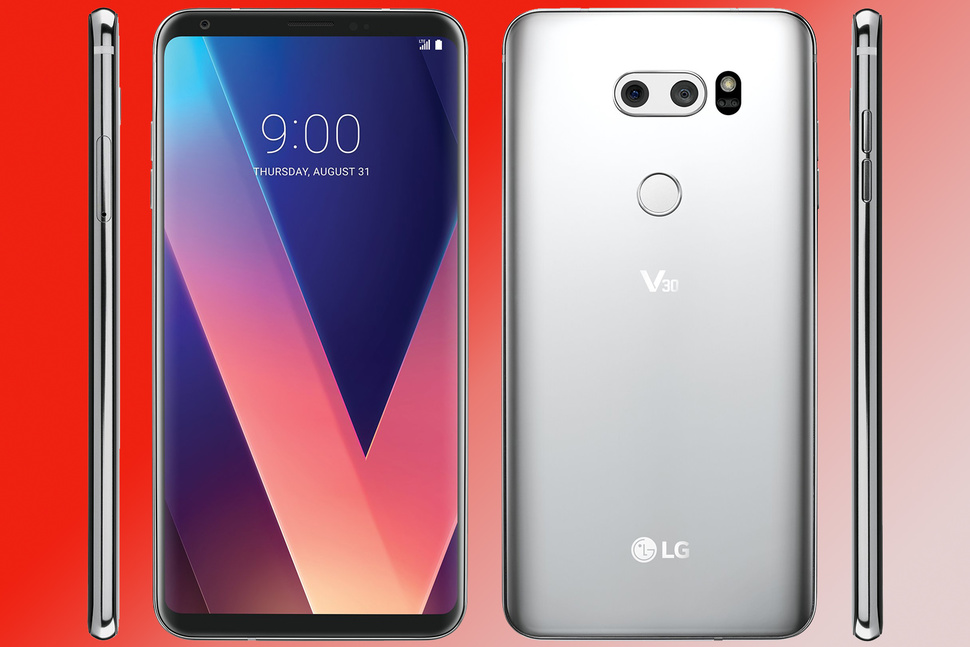 Beautiful 6-inch P-OLED QHD+ FullVision Display
Snapdragon 835 processor
4 GB RAM
Quad-DAC
HDR 10 compliant
64 / 128 GB internal Storage + microSD expansion up to 2 TB
Included B&O Earphones in box
LG finally introduced their own OLED display into the LG V30. This makes the V30 the first LG flagship (the last one being the LG FLEX) to receive this vivid treatment. We are looking at a 6 – inch P-OLED display panel that takes up most of the front side with an approximated 81.2% screen-to-body ratio. The resolution is 2880 x 1440 (~537 ppi pixel density) and the display is protected in Gorilla Glass 5. Furthermore, the V30 will be Dolby Vision and HDR 10 compliant and operate on Android 7.1.2 (Nougat) with the LG UX 6.0+ custom OS on top.
The Qualcomm Snapdragon 835 is no surprise. This is 2017's high end silicon and it gets the job done. Regardless of what tasks you throw at the V30 the smartphone shouldn't skip a beat. Coupled with the Adreno 540 we know that gaming performance, watching movies, multi-tasking, and the like will all be crunched before you can even bat an eye. The work horse is meant to be used for intense processes as it can take incredible low light photos, process Google DayDream VR, and Vulkan API console quality games quickly and effortlessly.
The LG V30 is undoubtedly the most slickest and well crafted flagship phone of the year. Many are excited for it. The V30 takes things to the next level for LG compared to all of the companies past iterations. The V30 certainly does have that same Infinity Display like quality to it (that of the Samsung Galaxy S8+ and the Note 8) but LG is taking the V30 to a different approach. The approach is a media power house with hardware that caters to content media creators. The sides of the screen curve ever so slightly which continues on to the back of the device, this makes holding the V30 a joy.
The V30 is incredibly compact and light weight despite it being chock full of high end specs, hardware, and military grade 810G + IP68 protection capabilities. The V30 weighs in at only 158g and it is covered in Gorilla Glass 5 material on the front and back. The only downsides to glass builds is the strong attraction they have to finger prints, oils, and smudges. LG includes a cleaning cloth in the box, however. The finger print sensor is found in the traditional LG spot at the back and center which makes it easy for users to reach for and utilize. The fingerprint sensor on the back can also operate as your lock button as well.
LG V30's Camera: Photography + Videography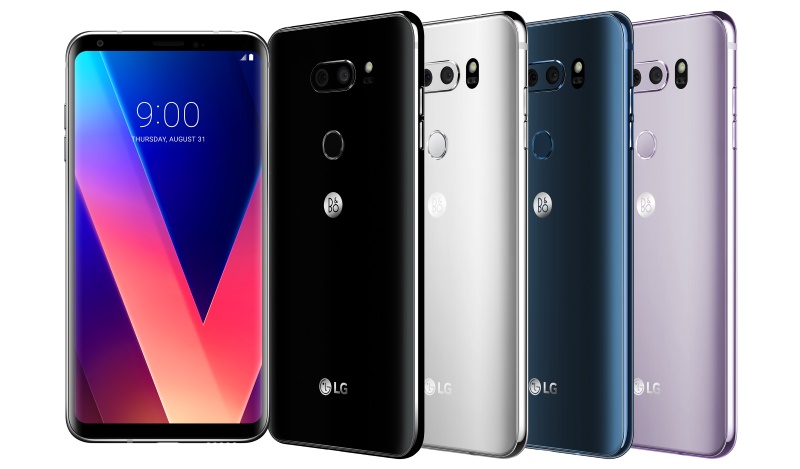 LG simply upgraded the dual camera on the V30 to the best the company can offer making this iteration quite exciting. First off, the main 16 MP camera comes with optical image stabilization (OIS) and a first-of-its-kind-in-a-smartphone wide and fast aperture of f1.6. This is 0.1 wider than the Samsung Galaxy S8 which should enable the lens to collect a bit more light in low light situations. The wide-angle lens beside it features a 120-degree field of view which is ultra wide. Unfortunately this camera does not come with OIS but it still comes with a wide f1.9 aperture lens.
Many folks prefer wide angle lenses compared to telephoto lenses found on the Note 8 and the iPhone 7 Plus. Sure, telephoto is great for portraits and getting that tight shot but generally smartphone users find most delight in capturing the whole "story". LG called the "Portrait Mode" found on other flagship phones; "Too Gimmicky that should be reserved for cheaper devices", however, because wide angle lenses can be a lot more useful we find it a joy to use.
A huge area LG improved upon was smartphone videography. A new feature called "Point Zoom" allows users to simply tap a part of the screen while recording and the camera will smoothly pan and zoom in on that point. This eliminates the whole jittery method of having to pinch and zoom!
LG boasts multiple recording options here one of which includes the LG Cine Log. This mode will enable users to capture video in one of many pre-made filters (pre-color grading). There are options ranging from "Blockbuster" to "Noir" and we found that they actually look pretty good. LG includes 15 filters initially but more will be on their way.
The Front facing selfie camera did not get any love this year as it remains a same old 5 MP sensor. LG has admitted that in order to achieve such thin bezels the selfie camera had to take a hit.
Battery Life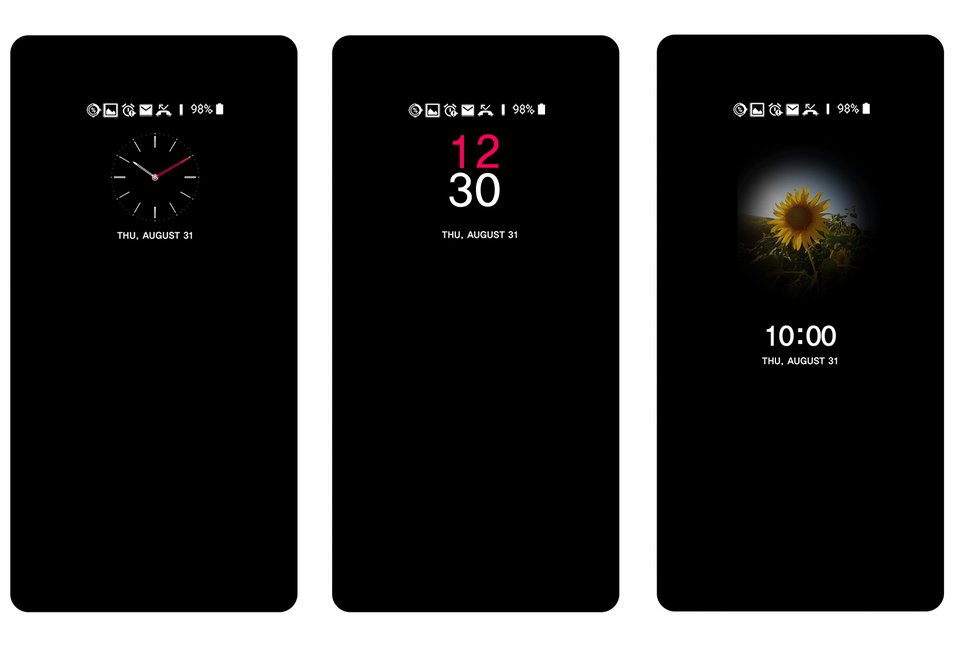 The LG V30 comes with a 3,300 mAh battery which is the same one found in the Galaxy Note 8. The LG G6 also came with a 3,300 mAh battery and we found that they do last at least one day of good usage. Right now it is too early to judge how good the LG V30's overall battery life is but we expect it to be pretty good. The only times we can see the battery life drain quickly is when we use the V30's video / photo capabilities extensively for a project or other outing.
Conclusion
Overall, the LG V30 is an exciting phone. This is LG's best yet and it includes the best of many worlds from various manufacturers. The phone is beautiful to look at, incredibly light, and built with the best materials available. They did not skimp much on the hardware components bringing in the latest high end processors, RAM chipset's, internal storages, and that bezel-less P-OLED panel. The box includes your very own B&O earbuds which we found to be the best earbuds one could find included in a box.
The camera functions are a blast to play with and we know many will have great opportunities met to create awesome content with the V30. The fast f/1.6 aperture will assist you greatly in low light situations while the Cine Log filters will add to your creative tastes.
The cost of the LG V30 is expected to be high. However, this device ticks many boxes for many people so we will not be surprised to see the LG V30 to become one of the most anticipated and most popular premium flagship of 2017.