The FOLDABLE DUAL Screen ZTE Axon M
Cellunlocker Tech Reviews
11:29 pm November 9, 2017
This smartphone's got two display's and it "folds" like a laptop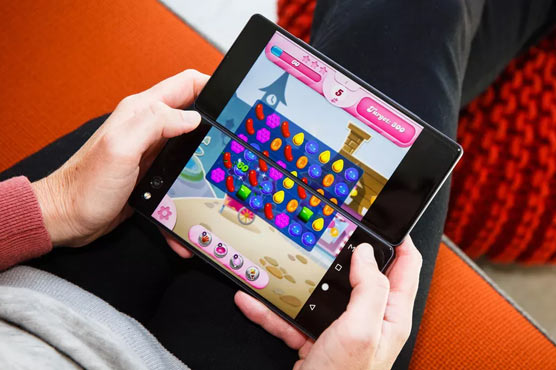 The ZTE Axon M is brand new and it upholds a design idea that have been dream't up by techies long ago. This is a part laptop, part Nintendo 3DS, part flip phone, part advanced smartphone… smartphone.
We are just throwing in what we think resembles that flipping design the phone has.
This is a new design and it feels more of an experimental splash that the company is trying to create, try new things, dabble in some future where we can bend the space time fabric itself. However, despite the phone having some radically different design compared to today's line up of flagship phone's the specifications of the Axon M is actually quite nice! Yes, other than those two large full-size displays (which "fold" on hinges connecting the two by the way) the smartphone comes with a (albeit older) Qualcomm Snapdragon 821 processor, a 5.2 inch display on the front, a 5.2 inch display on the back, 4 GB of RAM, a 20 MP camera, and 64 GB of storage (with microSD slot). Oh, the Axon M also supports the 3.5mm headphone jack! Yes.
Before we dive in here is the basic Spec Tech sheet:
OS:

Android 7.1.2 Nougat (Android Oreo 8.0 is on the way)

Display:

Dual IPS LCD Displays (Foldable)
5.2 inches Each
1920 x 1080 pixels, 16:9 ratio (~426 ppi pixel density)
Corning Gorilla Glass 5

Processor:

CPU: Qualcomm Snapdragon 821 Quad-Core Processor
GPU: Adreno 530

RAM:
Storage:

64 GB internal + microSD support

Camera:

Primary 20 MP, AF, dual-LED flash
No SELFIE camera (Use the 20 MP primary and the flippable display)

I/O & Ports:

3.5mm Headphone Jack
USB-C
Fingerprint Sensor (On Side)

Battery:
Other/Dimensions:

150.9 x 71.6 x 12.2 mm (5.94 x 2.82 x 0.48 in)
230 g (8.11 oz)
What is the Axon M?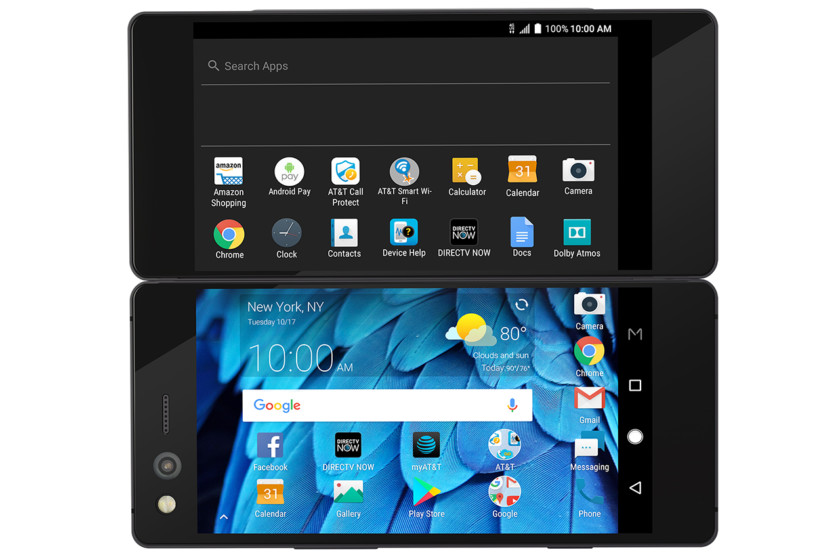 So ZTE has created a pretty advanced smartphone with two displays. It sort of feels like holding one smartphone that has the ability to unfurl itself into a tablet or a double sided smartphone. ZTE didn't skimp out on the display's either, these are IPS LCD panels that produce good color's and is bright enough. So we see it has a smartphone mode, and a "tablet" mode when you pull the back display out to have the displays sit side by side. This create's an interesting user experience because this is basically a large expansion on the whole multi-window idea but instead of sharing the one display we have two whole dedicated displays for you to multitask on.
Everyday we power through so many apps and data it is pretty crazy if you think about it. We have the likes of instagram, messenger, facebook, twitter tweets, text messages, kakaotalk, line, and not to mention all that youtubing and browsing. So we can see how people can really take advantage of the dual screen ZTE Axon M's design.
How do the Dual Screen's work anyway?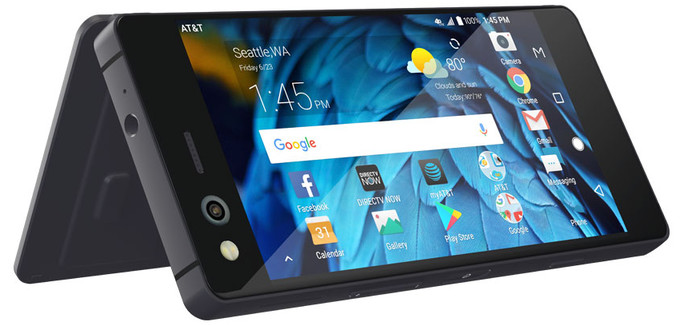 The Axon M has an integrated hinge on the side that connects the two displays. There is one 5.2 inch IPS display on the front and one 5.2 inch IPS display on the back. To adjust this you simply flip the back display to any angle that you want (obviously limited to 180 degrees of flipping).
Apps can be opened and used individually on each display or you can choose to "stretch" an app onto both displays. For example, if you stretch your Youtube app you will get the video playing on the top and you can look at the related videos and comments on the other screen. So in essence the "stretch" mode is the equivalent to a tablet version of the app that is launched. In this mode the Axon M seriously reminds me of my 3DS. Another interested feature ZTE added is this "tent" mode where you can flip the display to become a "tent" shape and mirror the display on both displays so you and your friend can sit across from each other and watch or read the same thing. This can create some interesting game app ideas (battleship anyone?).
Some of these features are made possible thanks to Androids recent integration of Split-Screen features and this also ensures that Android apps will not have many issues working on the Axon M.
You can still use the Axon M like a regular smartphone as well, just swing the secondary display to the back again.
It is important to note that there is a line that goes down the middle when you snap the phone into "tablet mode". This is the hinge that the displays swivel upon and is quite unavoidable at this point in time. It may get in the way if you wanted a true tablet size display experience but we do not think the Axon M was designed to entirely replace your tablet at home. Instead it is an extra "mode" that increases your user experience options.
We wonder how other manufacturers (if they ever dare to follow) will deal with this.
Design, Performance, Camera and Battery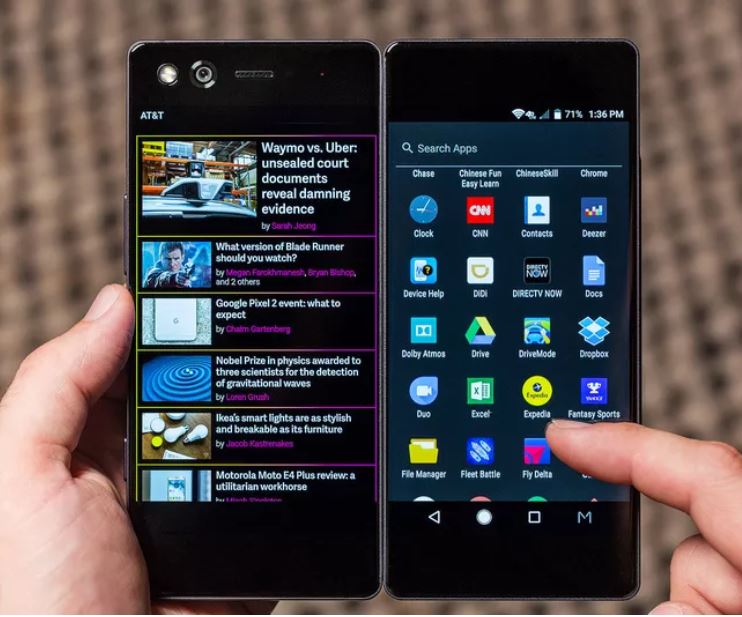 The displays of the phone both have Gorilla Glass 5 applied so they should provide a decent amount of protection, but of course this won't stand up to sand at all. So it is very important to be mindful or apply screen protectors to both displays if you tend to put down your phone on table tops. The phone is built of metal and even the back side of the second display is metal and feels good to the touch. It is certainly sturdy.
The camera is a 20MP camera with an f/1.8 aperture so it should fare pretty well under low light conditions. The phone does not come with a selfie camera, why? Thanks to the unique foldable design of the Axon M your Primary Camera easily functions as your selfie camera! Imagine using your high end primary camera as a selfie camera instead of defaulting to a lower resolution selfie camera! One camera to rule them all and reduce costs and internal space by dropping a redundant camera module.
The performance of the phone will be snappy but not Snapdragon 835 fast (latest available chipset). We have the Snapdragon 821 (last years chipset) inside along with a 4 GB RAM, and 64 GB of internal storage that can be expanded with microSD. We wished that ZTE would include the latest octa-core Snapdragon 835 here but the quad-core Snapdragon 821 should suffice with performance requirements of the dual screen phone.
The 3,180 mAh battery found inside is not that large and having a dual screen solution may actually drain the pack a lot faster than usual. Imagine playing a game on the top screen in tablet mode and you are texting your friend in the second. We may need more juice and a more efficient processor to keep things going for a while longer. We will see more real world usages as people begin to get their hands on the finalized units. We hope with enough software and hardware optimization's that ZTE will be able to pull off something amazing for the phone's battery life.
Early Verdict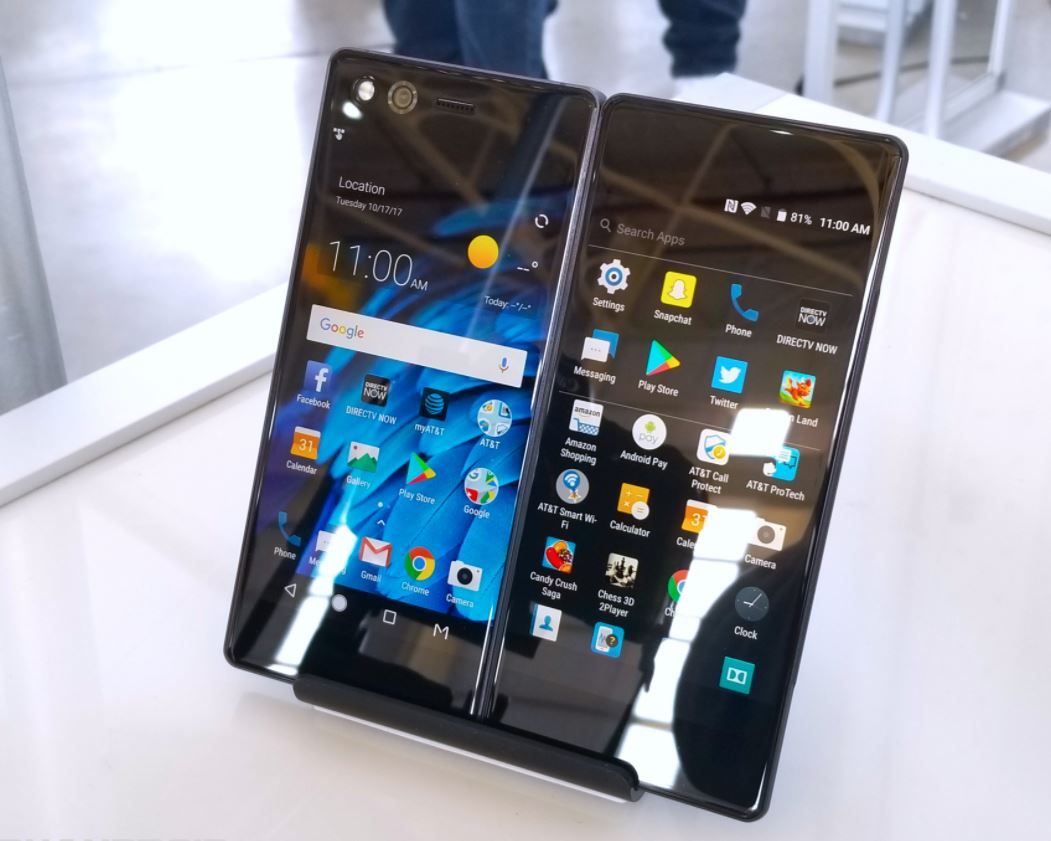 We love the idea of this phone. It is a refreshing (though not entirely new) design and a bit of a break away from all the copying manufacturers do while leapfrogging one another every few months. The ZTE Axon M has a working dual display solution with different viewing modes that take advantage of this unique configuration. You don't lose screen real-estate when you want to run multiple applications any longer and a lot of it is smooth and easy to manage. The phone's performance is good as it uses the flagship cpu/gpu processor chip from last year (the Snapdragon 821) which is a quad core processor coupled with the Adreno 530 graphical unit. Combined with 4 GB of RAM the multitasking is quite good and shouldn't cause too much stuttering. These are indeed flagship specs so we aren't looking at some old mid-range phone. This is ZTE's flagship model for this year.
The battery life is our only real concern here as it amounts to 3,180mAh only, still with enough optimization and with the maturity of the Snapdragon 821 chipset (if taken advantage of by ZTE) may prove to be a pleasant surprise instead.