Galaxy S7 Edge Nougat Update Affects Battery Life
Cellunlocker Tech Reviews
1:25 am February 17, 2017
Galaxy S7 Edge Nougat Update Affects Battery Life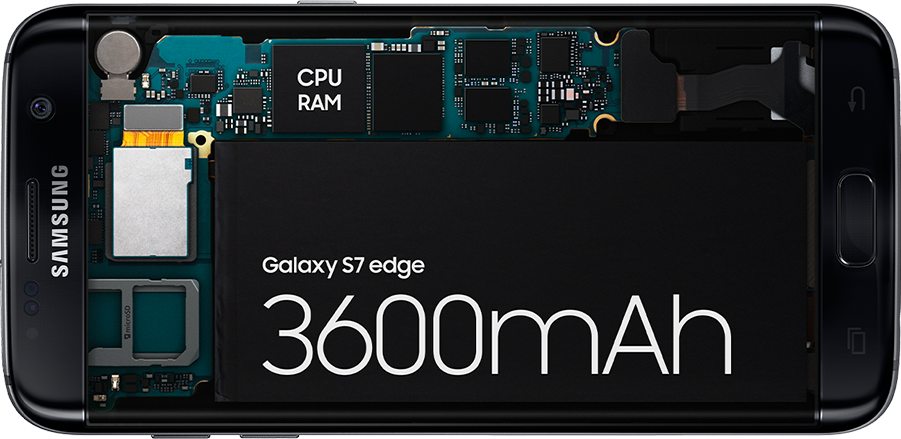 At this time Samsung is still working on distributing their own  Android 7.0 Nougat updates onto the S7 and S7 Edge devices around the world. Despite the slow and agonizing wait process there already has been a good handful of people in certain regions who already received the update. Notably we saw updated benchmark test's performed on battery life on an S7 Edge device before and after the Nougat upgrade. The good folks at GSMArena and PhoneArena did an updated test on Marshmellow and then Nougat to try and take into account the integrity of the battery (due to wear and tear). Overall it does not seem to look good. Here are the results: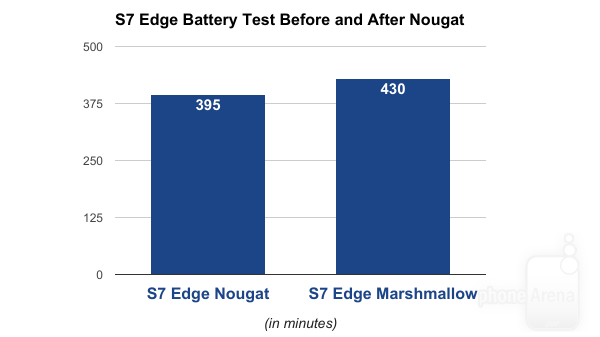 On the Galaxy S7, the Android Marshmallow OS battery life was rated at 397 minutes which is still excellent for a battery which must have seen degradation over the years worth of usage. Android Nougat, however, came to a close at 360 minutes instead which is noticeably less.
On the Galaxy S7 Edge, the Android Marshmallow OS clocked in at 403 minutes of usage in their tests still compared to 395 minutes compared to Android Nougat.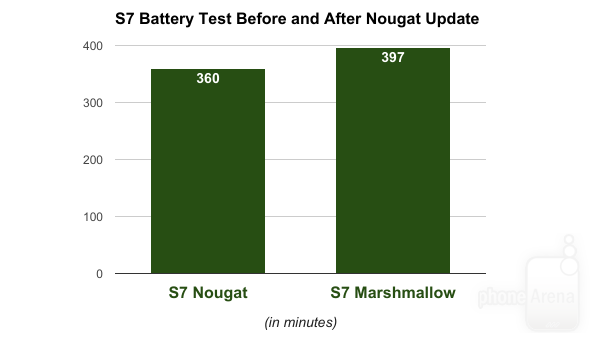 The update brings a lot of changes on the software front of the s7 and s7 edge platform. Ranging from a new UI, camera app overhauls, power saving modes and many new Android 7 features as well. Unfortunately, the first adopters of this new OS update began complaining about a drop in battery life for their S7 and S7 Edge devices. Phone Arena performed an investigation on this and found that there indeed was a connection between the drop in battery performance and Android 7.0 Nougat.
The overall numbers show that the devices are under performing by about 10% compared to when they were on Marshmallow. To test this the team kept the screen brightness at 200 nits and performed average usage tasks on each handset (on Marshmallow first to test the battery life after 1 year of usage, then Nougat).
The reason why the team re did the test on Marshmallow was to relieve the growing concerns over the age of the batteries (about 1 years old). Batteries naturally face degradation and lose battery life over time. Regardless, it is confirmed that there were no noticeable differences in battery life from when they first tested this at the beginning of 2016. It was only after upgrading to Android Nougat that we found a drop in battery life of approximately 10%.

The effects we see on battery life is all driven by the software. There were major changes and we assume there are still various bugs that will be squashed as we move forward. Samsung should be hard at work finding fixes and constantly pushing out proper updates to get rid of this strange phenomena that many see today. With proper optimizations to the software users should see a return to the glory days of long lasting battery performances in their S7's and S7 Edge's.