Samsung Galaxy Note 8 Summary! Here are the Specs and What you need to know
CellUnlocker Tech News
8:51 pm August 23, 2017

Today morning, Samsung finally unveiled the New Samsung Galaxy Note 8 in New York at their Unboxed event. Following their slogan: "Do Bigger Things" they proceeded to present brand new features and functions that is now included in the Note 8. Here is a quick run down of the Official specifications of the Samsung Galax Note 8. The Note 8 goes on sale on sept. 15.
Official Specifications:
Display:

6.3 inch Super AMOLED Infinity Display
2960 x 1440 (~521 ppi pixel density) resolution
Corning Gorilla Glass 5
18.5:9 Aspect Ratio

System:

CPU: Exynos 8895 Octa core (International) OR Snapdragon 835 Octa core (North America)

Cpu specs:

Exynos 8895 Octa Core: (4 cores running @ 2.3 GHz + 4 cores running at 1.7 GHz)
Snapdragon 835 Octa Core: (4 cores running @ 2.35 GHz Kryo + 4 cores running at 1.9 GHz Kryo)

Memory:

6 GB RAM
64 GB internal storage + microSD support for up to 256 GB

Battery:

Camera:

Primary: DUAL camera:

1 x 12 MP (f/1.7) 26mm wide angle lens with Optical Image Stabilization (OIS) and Phase Detect AF
1 x 12 MP (f/2.4) 52mm telephoto lens with Optical Image Stabilization (OIS)

Secondary (Selfie) Camera:

8 MP (f/1.7) Autofocus lens

Can record video (1440p QHD @30 fps)

Video:

Simultaneous 4K video, 9 MP image recording, touch focus, face/smile detection, Auto H.

2160p@30fps, 1080p@60fps, 720p@240fps

Sound/Music:

High end AKG headphones included in box
3.5mm Headphone Jack integrated
32-bit/384kHz audio

Networking:

Bluetooth 5.0, A2DP, EDR, LE
USB: Type-C 1.0 Reversible Connector

Available Features:

Iris scanner, fingerprint (rear-mounted), accelerometer, gyro, proximity, compass, barometer, heart rate, SpO2
Available Colors: Midnight Black, Maple Gold, Orchid Grey, Deep Sea Blue

S PEN specs:

4096 pressure levels
Fine tip (0.7mm)
---
What is so special about the Note 8?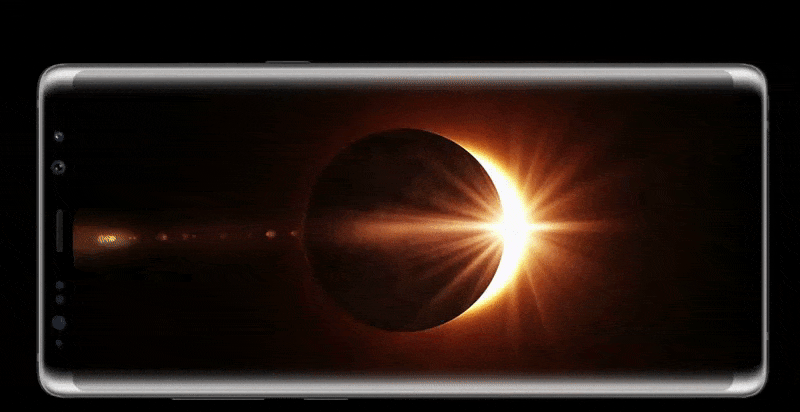 Samsung opened up their presentation with that gorgeous 6.3 inch Infinity Display. It is vibrant as ever and has a cinematic view with HDR support. It is rather cool to see that the Note 8 can retain a 6.3 inch (6.2 inch with curved edges) yet keep a small and slender body that fits comfortably in the hand (compared to the bulkier iPhone 7 Plus). The Note 8 also has an aspect ratio of 18.5:9 which means that it is on the "tall" side with a near bezel-less display. Samsung pitched this big feature as an opportunity for users to "more space to do bigger and greater things".
Just like last years Note 7 and this years S8 and S8 Plus the Note 8 features a body design that has perfect symmetry. This simply means that the phone curves forward and backwards in such a seem-less fashion that it just feels right in your hands. However, for the Note 8 they made the edges more flatter giving it a different feel from the S8 and S8+ which just keeps rolling around all the way to the other side. Especially after continuous usage you should feel less hand fatigue. The Note series have always been designed with the S Pen in mind. It was the first to create a "phablet" category many years ago and now, following tradition, we are given a beautiful device that is the embodiment of this concept. With more screen real-estate you should find drawing your art, writing down notes and writing a journal entry on the go to be a joy.
The S Pen and Features Improved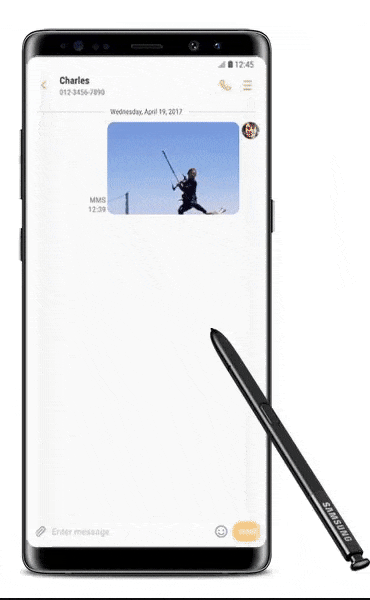 The S Pen is also water proof / dust proof this year so no worries in getting it accidentally wet or cleaning it with a wet cloth on occasion. This year with the Note 8, Samsung has improved upon and included new and useful features for the S pen suite. For example, users can now do more with the "screen-off memo" where you can just immediately write on the screen (even if it is off) when you pull out your S Pen. They've changed this so that you can actually keep on writing your ideas, your eureka moment or that address or information on and on (up to 100 pages) without turning on your phone! You can also pin your idea, to-do list, or what ever you've jot down onto the AOD (Always On Display) screen.
They've also included animated GIF functionality with the S Pen suite. Here, you can use the S Pen to write a message, draw a little doodle on an image or white canvas and send it to your friends via messaging apps to any phone around the world! An important note to make is that some social media and messaging apps may not support certain GIF size / lengths. This is a nice touch by Samsung which enables handwritten messages on photos, custom drawn emoji's and animated GIF's to express your feeling in the moment to your friends. A hand drawn and animated "Thank You" looks and feels a lot more better than a boring old typed out "thank you".
Creating your own GIF's is also back! Here you can use the S Pen and capture a an area of a video that is currently playing on your screen or what ever you see. This will then save a snippet of that area you've just captured and it will save it as a GIF. Pretty cool and we found it super useful and fun to play with back on the Galaxy Note 7. This was particularly useful in situations where websites did not allow for the downloading of their GIF's or Videos but we really wanted to share it with our friends and family. You modify the size of the shapes when capturing the GIF.
The S Pen has always been used by us in different ways. Some use it to journal in the mornings while sipping on their coffee, some use it to jot down tons of notes around the clock, while others actually create some impressive art pieces with their S Pen's. It looks like Samsung has included a wide range of brushes, pens, and various coloring tools to help you on this journey. A pretty nifty feature that Samsung has added via "PEN UP" (the companies Galaxy Note S Pen Artists Hub kind of like flickr or deviant art) are coloring pages. These are images designed by artists which you can download and just color in. (This is for you folks who love coloring books no matter the age).
Other features of the S Pen include the ability to hover your pen over text that is in a different language to have it automatically translated for you into English. The feature was further updated so that it can also automatically convert various units and currency into the USD or CAD (however you set it up).
Of course, the S Pen makes it super easy for us to save entire articles from the web for us to use for research or reading material later on. Screen writing, S Pen Glance and Magnify features are also available but these have been available since the Note 4 and 5 days.
The S Pen also has that clicky tip which really feels great when in our fidgety moments.
Some Awesome Note 8 Functions and Design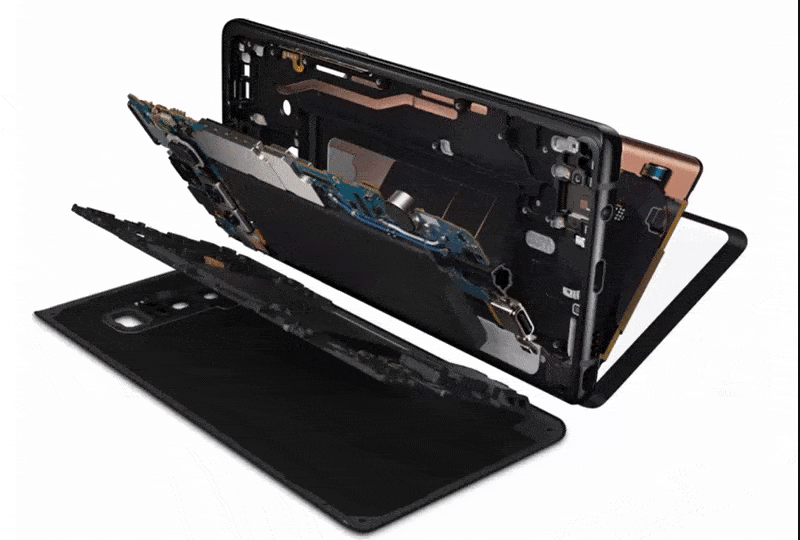 The Display is huge, yet the body is somehow so small and sexy. This enables you to view more content on screen which prevents the need to constantly scroll around and zoom around as you would need to on smaller screened (similar sized body) smartphones out there. The Infinity Display also has HDR 10 compliance which provides more details in the shadows and creates a beautiful image in your videos that support this feature. By now, many popular shows should support this such as shows on Netflix.
Samsung also added a cool new way of launching your apps. It is done by linking two apps together and adding it to your home screen. Now whenever you tap that icon the phone launches both apps in multi-window mode (one on top and one on bottom). This is really useful for situations such as when you start driving you can tap it to launch both your Google Maps and your music app simultaneously. Pretty cool. Let us know how you plan to use this feature in the comments below.
The Phone weighs 195 g (or 6.88 oz) and has a physical dimension of 162.5 x 74.8 x 8.6 mm (6.40 x 2.94 x 0.34 in. The back panel is also made of Corning Gorilla Glass 5 and the whole phone (including the S Pen) has an IP68 certification for an awesome dust/water proofing of over 1.5 meters deep and up to 30 minutes long.
This year, the Note 8 uses a smaller battery compared to the Note 7 which is rated at 3,300 mAh capacity. Combined with Samsung's 8-point battery safety check and their experiences from the past we are rest assured that we will not see another fiery fall of the Note. Thanks to the 10nm processor (Exynos for internationl and Snapdragon for NA) the power efficiency should be high enough to give us a full day of usage, but battery life will need to be further tested when we have our own unit in hand. What was not announced was the fact that Samsung included some new chemistry that enables the battery within the Note 8 to retain 95% of its life even after a years worth of usage. Comparably, all other smartphones out there only retain about 80% battery life after a typical years worth of usage.
The New Dual Camera
The Note 8 is the first Galaxy phone to come with a dual camera but what differentiates Samsung from other companies is the fact that each sensor contains OIS (optical image stabilization) while other manufacturers could add OIS only to the wide angle lens. This translates to smoother, more stabilized video footage and sharper photos even when using that telephoto optical zoom. Samsung stood on stage and showed a side by side comparison of the Note 8 and the iPhone 7 Plus' video recording and they did present a rather shaky footage from the iPhone 7 Plus while the Note 8 had a reasonably stable footage. We aren't sure as to how reliable this comparison is but we should certainly see that the OIS will work for the 52mm telephoto lens.
The cool new feature is that Samsung also included a 2x optical zoom which eliminates the need to digitally zoom in on subjects which destroys quality and you lose so much information. With actual moving lens' we should see some pretty cool images coming out of the Note 8.
Samsung also created a new function called "Dual Capture" which enables users to take one photo which saves as two different photos: one telephoto and one wide angle. This opens up some pretty cool options such as saving both or if you change your mind and what more of the story in your photos you have this option.
Portrait mode has also been implemented into the Galaxy Note 8 which enables you to blur the background of your subjects in post. This is called "Live Focus" and you can apply this effect via a slider after you take the photo. They presented this pretty well on stage but we will have to test this our selves and compare it to the iPhone 7 Plus.
Both sensors have a 12 MP platform but only the wide angle lens has a wide aperture of f1.7. The telephoto lens has an aperture of f2.4. So in the dark of night it would be wiser to use the wide angle lens to take those amazing photos as we have seen on the likes of the S8 and S7 Edge. The Dual Pixel sensor is also available only on the wide angle sensor which enables smooth and fast focus transitions.
Of course, the Note 8 comes with a suite of modes such as "Food Mode", "Pro Mode", "Panorama", "Time lapse" and "slo mo".
The Selfie Camera seems to remain unchanged
Not that this is a bad thing because the selfie camera on the S8 was pretty great. This is a 8MP f/1.7 bright selfie lens with the new smart auto focus function included. This is one advanced selfie camera. The selfie camera should serve you well even in low lighting and give you that crisp selfies you need.
Expandable storage and 3.5mm headphone jack is back!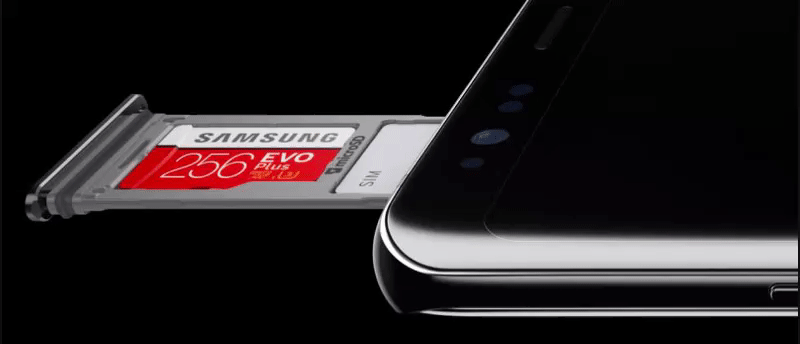 Not that it went away, but we are happy to see that Samsung is listening to the voice of the people and keeping that 3.5mm headphone jack as well as expandable storage that supports microSD cards for up to 256 GB. Samsung is including their AKG headphones in box so Note 8 users can enjoy some pretty sweet beats with their new smartphone.
Performance Speculation

The Note 8 is expected to be super fast and smooth thanks to the already tested and well known Exynos 8895 or the Snapdragon 835. The 6 GB RAM should also really bring added improvement to multitasking as well, about time Samsung caught up to other manufacturers in this front. With the Vulkan API also leading the charge and combined with the advanced Graphics enabled in the Note 8 via the MALI-G71 MP20 or the Adreno 540 we are in for some pretty sweet benchmarking alongside faster performance and networking speeds.
The Vulkan API enables console-quality gaming experiences which is leading the charge for developers to create some Triple A quality games for the smartphone arena. Expect to see some graphic-intensive games run very smoothly on your Note 8.
Gigabit LTE support and Gigabit Wi-Fi support is also included (but this really depends on where you live) so you can enjoy streaming, downloading, and just surfing online at up to 1 gigabit per second. Thats insanely fast and probably only available in certain countries such as South Korea and Japan.
Biometric Security and Samsung Knox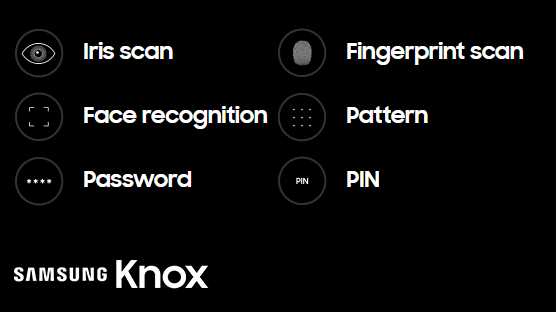 Samsung includes all of their advanced security measures and features for you to utilize. This includes all the functions we know and heard and love such as: the Iris scanner which has already been shown to work lightning fast and is pretty reliable. The Face recognition feature also works well but may be on the lower end of security. Patterns, Pins and passwords are certainly available and of course the finger print sensor.
The fingerprint sensor is found on the same place at the back as we saw on the S8 and S8 Plus. This may cause some disturbance yet again with people but we have seen people adapt to the situation and begin to really use and love their premium smartphones. We aren't too worried.
All of Samsung's security measures operate within the secure containers of Samsung Knox which is a military grade security system that is nearly fool proof. Consider your data kept safe.
Samsung Bixby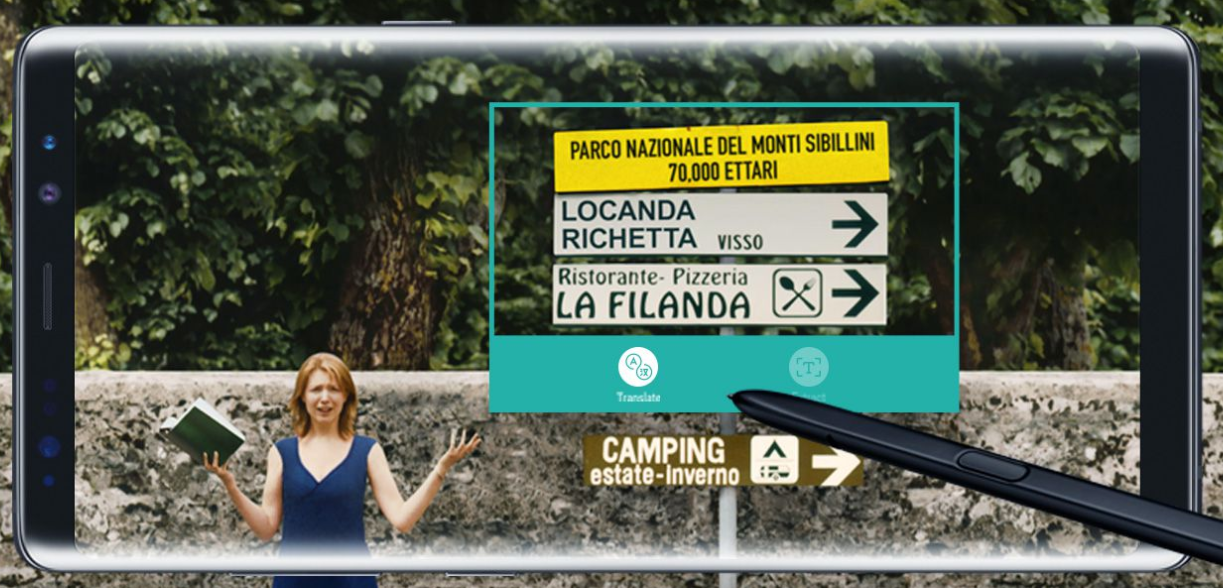 Samsung Bixby received some pretty cool updates which should also arrive on the S8 and S8 Plus. Now you can program Bixby to understand key phrases or words and Bixby will perform complicated tasks based on the circumstance you need it. For example, they showed us how you can simply state "Good Night" to Bixby which then proceeded to open the Alarm app, set the alarm to 6 AM, then turn on the Blue light filter. Furthermore, saying "Food Picture" prompted Bixby to open the camera app, change the camera to Foodie Mode, take the photo, open the gallery app, and move the picture of the food to the "Foodie folder". Now that's pretty awesome.
It seems like Bixby is growing everyday and being improved upon. We wonder how efficient and powerful Bixby can become into the future.
How Much Will it Be and When is it Out?
The Samsung Galaxy Note 8 will be quite expensive. In Canada it is 1299.99 CAD while in the US it is around 950USD. Expect to pay a big premium for a premium smartphone. The company announced that the Note 8 will go on sale beginning September 15 2017. This is good news as usually Samsung takes months for it to get the devices out.
Your local carrier should be providing a cheaper alternative up front with a 2 year contract term or other.
Will you be buying the Galaxy Note 8? Let us know in the comments below!