Samsung Galaxy Note 8 Review: Is It the Best?
Cellunlocker Tech Reviews
11:30 pm September 19, 2017
Samsung Galaxy Note 8 Review: The Beast Unleashed
Is the Galaxy Note 8 the best?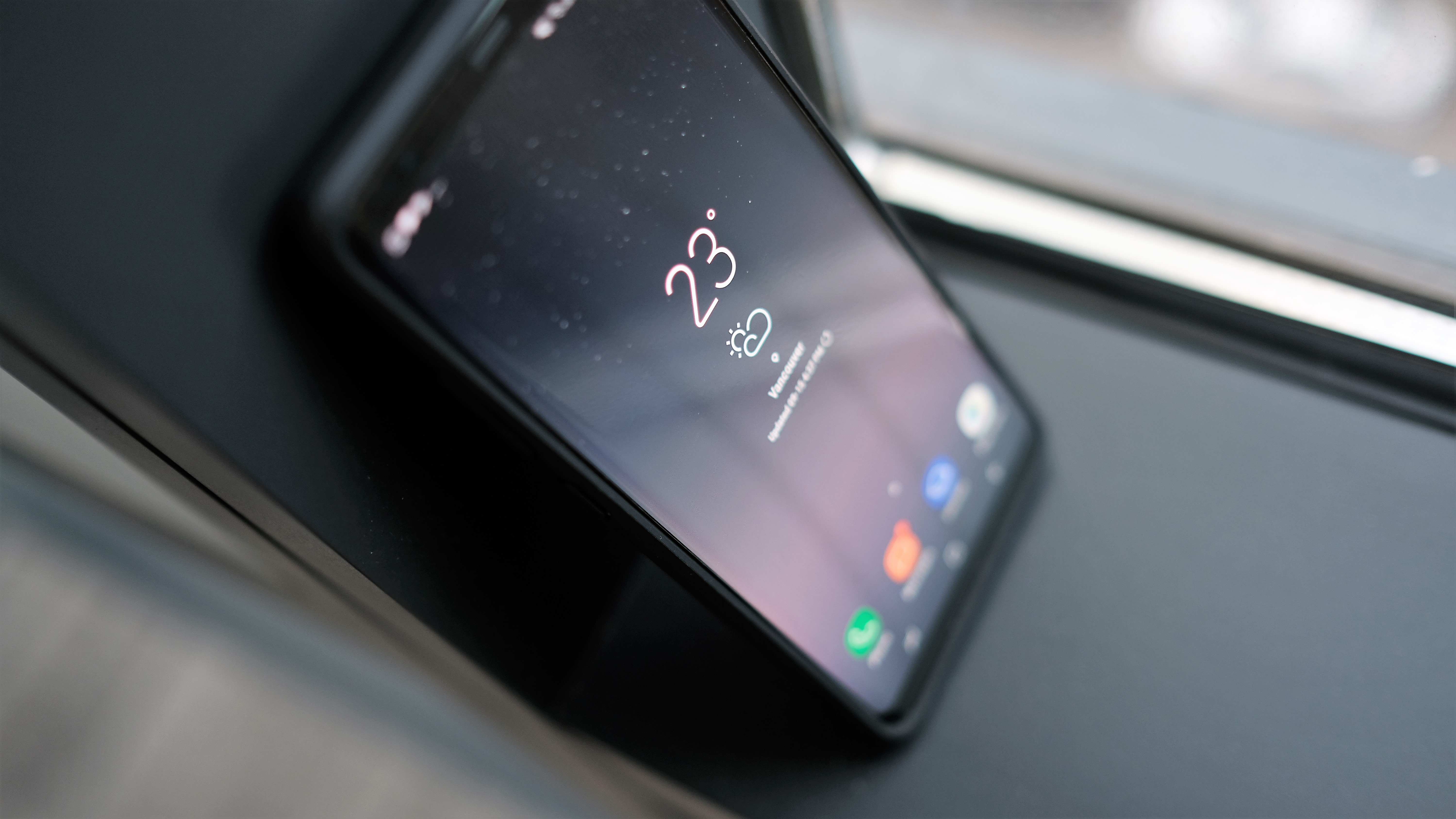 Samsung's latest flagship offering is the Samsung Galaxy Note 8. The Note series have always been known for it's large body size, high-end components, vibrant displays, long battery life, and the advanced S-Pen stylus experience. The very first Galaxy Note received a lot of ridicule but little did the majority know the first Note was a huge success and thus Samsung was the first ever to create the "Phablet" category. Every other manufacturer (including Apple) followed suit eventually and here we are today with jumbo sized smartphones with jumbo sized specs. Let's dive in for a quick look as to what the Note 8 has to offer.
Specs Cheat Sheet:
Body Specs:

Dimensions: 162.5 x 74.8 x 8.6 mm (6.40 x 2.94 x 0.34 in)
Weight: 195 g (6.88 oz)
Corning Gorilla Glass 5 on front and back + Metal material on sides

Display Specs:

6.3 inch 2960 x 1440 resolution (~521 ppi pixels per inch)
Infinity Display
Super AMOLED Display Technology
HDR 10 compliant
"3D Touch": Pressure sensitive home button tech under the display
Updated Always On Display

Processing Power:

CPU: Qualcomm Snapdragon 835 Octa-Core processor (North America) OR Exynos 8895 Octa-Core processor (International)

Snapdragon 835: 4 x 2.35 GHz Kryo cores + 4 x 1.9 GHz Kryo cores

GPU: Adreno 540 (North America)

Exynos 8895: 4 x 2.3 GHz + 4 x 1.7 GHz

GPU: Mali-G71 MP20 (International)

RAM: 6 GB
Battery: 3,300 mAh capacity

Other Specs:

Storage space: 64 GB / 128 GB / 256 GB

MicroSD storage Available

3.5 mm headphone jack available!
IP68 certified – dust/water proof over 1.5 meter and 30 minutes
Bluetooth 5.0
USB Type-C
Security:

Iris Scanner, Face Recognition, Finger print sensor, Samsung Pass, Samsung Knox

Available Colors:

Midnight Black, Maple Gold, Orchid Grey, Deep Sea Blue, Star Pink (Taiwan only)

Camera:

New Samsung Dual Camera

12 MP Wide Angle lens f/1.7 (26mm focal length)
12 MP Telephoto lens f/2.4 (56mm focal length) w/ Live Focus (aka. Portrait mode)

Video Functions:

2160p@30fps, 1080p@60fps, 720p@240fps, HDR, dual-video rec

Selfie Camera

8 MP Autofocus f/1.7 camera
Performance: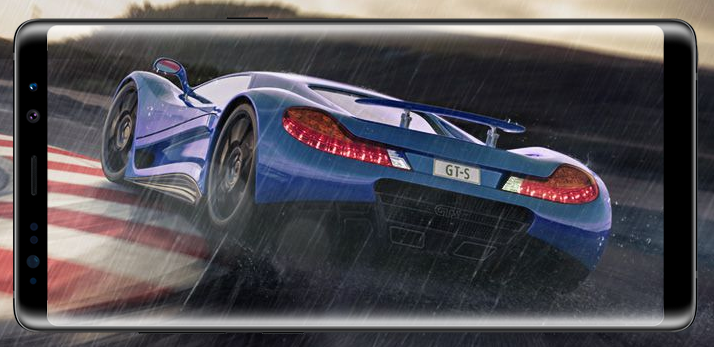 The Note 8 is a power house of a smartphone and can tackle any task you throw at it with ease. This is a premium high-end Samsung flagship that should not have any performance issues. The Qualcomm Snapdragon 835 (US / China / Canada) or the Exynos 8895 (International) processors both exhibit high level's of performance. This is no longer 2016 where Samsung included an octa-core exynos processor for international Note 7's while including a Snapdragon 820 QUAD-Core processor for the North American/Chinese units. The 820 was noticeably slower, got hotter faster, and had stutter issues that comes randomly compared to an octa-core. This year Samsung did it right with the 10nm Snapdragon 835 octa-core processor which does not heat up, is super speedy, and exhibits no stutter at all. 3D gaming is easy for the Note 8 as you will get high fps and smooth gameplay.
To elaborate on how hot the Note 8 gets, at the very most we felt it get slightly warm. We were playing Final Fantasy 9 and it stayed cool in the hands, maybe slightly warm. Watching youtube videos, browsing the web, browsing instagram, editing photos, and playing some more Pocket Morty was definitely not enough, by far, to even get the Note 8 warmed up. In conclusion, unless you are running a stress test of the highest degree we cannot see the Galaxy Note 8 produce any significant amount of heat either with the Snapdragon 835 nor with the Exynos 8895 variant. Bravo Samsung. We theorize that due to the larger body of the Note 8 and being slightly thicker also contributes to a much more efficient natural heat management system.
The 6 GB RAM is a first for Samsung and we welcome it even though they are behind compared to OnePlus. Regardless multitasking has become even more easier as the larger RAM can take on larger amounts of apps opened and tasks demanded.
Display: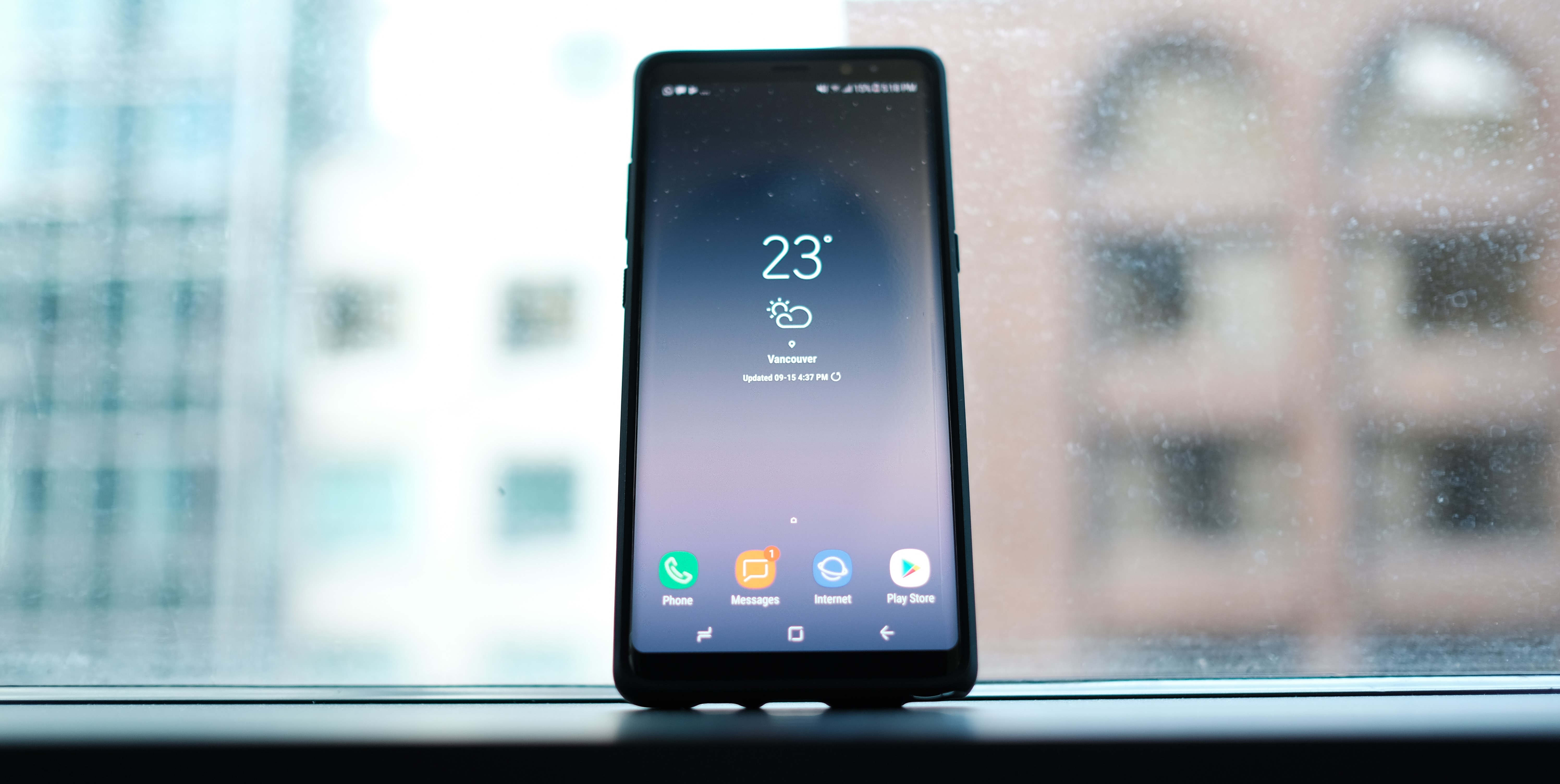 The Note 8 comes with a massive 6.3 inch display with a resolution of 2960 x 1440 (521 ppi). The display is a Super AMOLED Infinity Display so it basically wraps to the edges and eliminated most bezels save for a tiny bit on the top and bottom. You can only see the volume, power and the bixby button on the sides if you look straight down. Depending on the wall paper you use the image seems like it flows off of your Note 8 and onto the reality behind it, almost blending in with the world. It is a beautiful display, the most beautiful display we have seen yet even with the iPhone X coming out. The Infinity Display tech makes more sense when compared to the Essential or the iPhone X which both have this bezel sticking in the center from the top giving the phone's annoying "ears". The Note 8's Infinity Display has curved edges on both the right and left sides (just like the S8) but the difference here is that the Note 8's "edge" is a lot less pronounced and is only a slight edge. This is something we have seen on the Note 7 before and it only contributes to a more comfortable user experience.
The display is sharp, vibrant, with deep blacks (as we always expect from OLED panels) and high brightness levels. You can't go wrong with this bag of magic. The Note 8's display is massive which means that you get a lot more screen real estate than ever before. We viewed web pages and found that we did not need to scroll anymore in a lot of cases. We only scrolled from old habits we gained from using smaller screened phones. There is just so much space! All in a slim, light packaged phone that still somehow fits comfortably in your hands.
Build and Handling: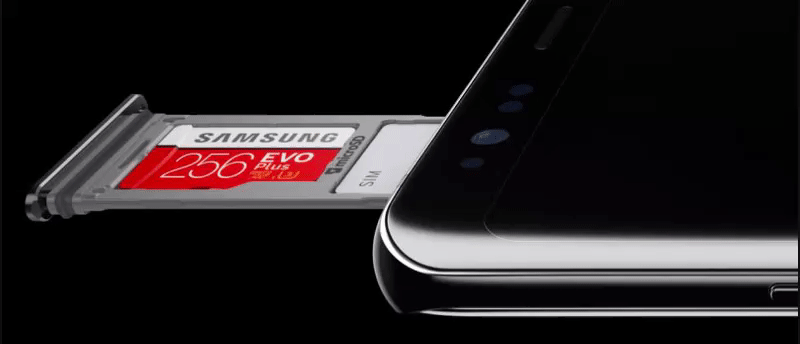 The Galaxy Note 8 is bigger and heavier than most flagship smartphones we have seen yet. It weighs about 195 grams and has a very large 6.3 inch display. It is also slightly thicker than the S8+ and noticeably at least an inch taller than the S8+. The phone is still thinner than the iPhone 7 Plus which has a considerably smaller display despite the iPhone's massive bezel's surrounding that smaller display. The iPhone 7 Plus, consequently, is just a big unwieldy smartphone compared to the elegant design of the Galaxy Note 8. The Note 8 is taller, however, compared to the iPhone 7 Plus but we prefer that than having a fatter, larger iPhone that has a smaller display. The Note 8 is packaged in a water/dust proof build with an IP68 certification. That means up to 1.5 meters and 30 mins of water.
The phone is built out of Corning Gorilla Glass 5 on the front and back which is bound together by a metal bezel that goes all the way around the phone. It is beautiful to look at (especially the Deep Sea Blue and the Midnight Black) and screams premium when you hold it. With 195 grams it does have some heft to it but it is far from being "heavy". Despite being slim and slender considering that it has that massive 6.3 inch Infinity Display flowing like rainbow waterfalls off the edges it is still a relatively large smartphone. Nothing like the Nexus 6P or the iPhone 7 Plus large but still large. People with smaller hands will need to consider all of their options before looking at the Note 8.
The Finger Print sensor makes a return to it's high throne above and sits as the left hand wing man beside that dual camera. Samsung did switch up the arrangement this time around as the flash and heart rate sensor is lodged between the camera module and the finger print sensor. This should help users make less errors (mistaking the camera as the sensor) when reaching for that sensor. The sensor is quite hard to reach due to the phones tall build and requires more than finger gymnastics to get used to this. You may need two hands.
The camera module along with the heart rate sensor and the finger print sensor is flush on the back which is good to see. The only thing is that the color of that rectangular piece (which holds the cameras and sensors) will always be black. So even if you purchase the Deep Sea Blue the panel holding the sensors will still remain black. This could be a good thing for some folks.
The Note 8 comes with wireless charging back (fast charging) and also a USB Type C. The Speaker grill is found at the bottom beside the USB connection port which is also flanked by that beautiful 3.5mm headphone jack. The S-Pen is nestled in its silo beside the speaker at the bottom right corner of the Note 8. The phone also supports microSD cards.
The Home Button is re introduced in the Note 8 as the same pressure sensitive strip under the display but only for the home button at the bottom and center of the Note 8's display. This has a huge resemblance to the iPhone's new home button introduced with the iPhone 7 with haptic feedback emulating a button click. The tech works very well without any flaws or issues and we even sometimes felt that the phone's bottom half is a button that is clickable. It feels great. The home button works even with the display turned off.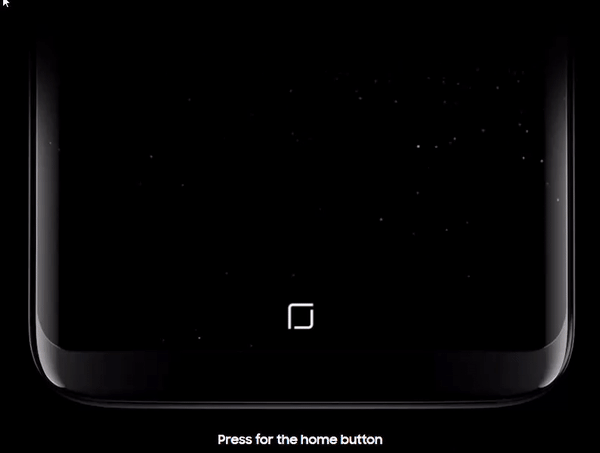 Battery Life:
The 3,300 mAh battery is smaller than the 3,500 mAh battery found in the S8+. Last year we all know what misfortune overtook our beloved Galaxy Note 7, but the good thing is that Samsung learnt a big lesson from this and has implemented an 8 point safety check system that guarantees safety and also it seems like Samsung tweaked with the Note 8's battery chemistry which enables the battery to retain about 95% of its charge even after 2 years of usage. The typical smartphone (even flagships, such as Apple) can only retain about 70% battery life after 1 year of usage.
From our initial tests the Note 8 shows a very respectable 4 – 5 screen on time with about 55% battery life remaining at the end of the day. This is with mild usage including: browsing 9 GAG, playing Pocket Morty, engaging in social media apps, a lot of messaging back and forth and browsing the web for info. The Note 8 easily lasts you throughout the day but if you need to top up it only takes minutes for you to last an additional several hours. You can forget your anxiety and worries surrounding smartphone battery life if you own the Galaxy Note 8. It just lasts.
Despite the smaller battery size and a bigger 6.3 inch display the Note 8 is equal to or even better than the S8+ with a larger 3,500 mAh battery. We assume that the 6 GB RAM, and optimized Snapdragon 835 processor is providing high efficiency performances leading to less battery consumption needed.
Camera Quality:
The GALAXY line has been known for some time now for their high quality picture quality. The S7 Edge, in particular, received high praise and awards for having such a fantastic low light camera that reproduces vibrant colors and details. That same 12 MP camera with phase detect autofocus and a wide and fast aperture of f/1.7 is also included in the Note 8. The only difference is Samsung's brand new attempt at their own Dual Camera set up. Beside the 12 MP 23mm standard camera we now have a 56mm telephoto lens which also contains a 12 MP sensor but with a narrow aperture of f/2.4. The telephoto, consequently, cannot take in as much light as it's partner beside it but has a unique ability to capture photos farther away with original optical quality without sacrificing data by pinching in to zoom (digital zoom).
Granted, Samsung is actually quite late to the dual camera party but with good reason. Samsung worked hard to include, for the first time, OIS (optical image stabilization) into BOTH len's in the dual camera setup. No other manufacturer had this until the recently announced iPhone X. Having OIS in a telephoto lens is crucial in getting clearer, sharper shots. Telephoto photography is much too shaky without OIS or some form of stabilizers.
The Telephoto lens enables Samsung to include their own variation of Apple's Portrait mode which Samsung calls "Live Focus". Live Focus is basically portrait mode except this time the user can adjust the amount of background blur a photo should have before, during and AFTER the shot is taken, even if you come across the photo several days later and decided that less blur should be used. This is a cool touch indeed. Another new feature Samsung has introduced with the Note 8's dual camera set up is "Dual Capture". Dual Capture takes two photos with both the wide angle lens and the telephoto lens when you shoot with the telephoto lens. We actually found this to be very useful because when we shot a portrait shot of a friend she wished she could see more of the background, so all we had to do is click the "Normal Picture" button while you are reviewing the photo to see the wide angle version of the photo with more of the background captured. Since you cannot travel back in time (yet?) to take that exact same photo with your wide lens, we are grateful Samsung thought this through and included the Dual Capture feature.
The Selfie is an 8 MP sensor f/1.7 lens and we found it to be just that, it works in low light and captures good amounts of details. It is a typical Samsung flagship selfie camera unit with high quality results. The auto focus included helps in various situations but we found that we had to tap the screen to refocus time to time. Despite the f/1.7 fast aperture low light selfies are difficult for any smartphone since smartphone's only have a tiny sensor. We enjoyed using it and we are certain selfie lovers will love the Samsung f/1.7 selfie camera.
Regardless, the software and algorithm that Samsung deployed is new (starting with the S8) which enables faster autofocus, faster shooting, sharper photos, and photos with deeper tones. The camera shoots three photos whenever you shoot with your main camera and combines them into one image (this all happens during the time it takes you to hit the shutter button, nano seconds).
 
The New and Improved S-Pen: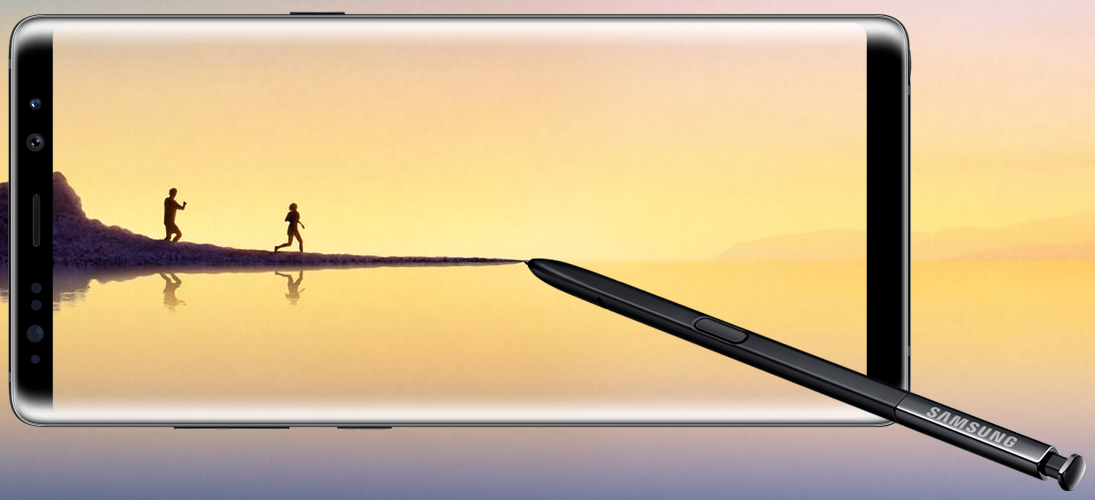 The S-Pen is a staple feature to the Note series. We must admit that the stylus has it's appeal and use to only a small percentage of users while most will most likely forget about it after their "honey moon phase" with it. Despite all of that the S-Pen is chock full of actually useful features and functions. This year the Pen is the same as the Note 7 with its thinner and more pen like 0.7mm tip and with a 4096 levels of pressure sensitivity under the display the S-Pen brings you closer to a digital "pen and paper" experience. I personally use my Galaxy Tab with S Pen and the Note phones for my journal entries everyday and note taking and handwriting has never been so fluid and natural. It is an awesome thing to have in an advanced smartphone.
Samsung includes a button on the S-Pen that which you can click while hovering the pen above your display to launch a wheel that contains all sorts of functions.
There are many cool features including: GIF capture by creating a box around something and it will record the animations or video clip within that box. You can share gifs that you normally can't with this method.
Translation by hovering your S-Pen over menu's and websites that are in a different language during travel's was absolutely indispensable and made the experiences of travel that much better in those small scenarios.
Smart select (create a box to capture), screen write (write on any screen you captured), and bixby vision (hovering your pen over certain images and texts will enable your AI Bixby to tell you more.
Drawing and writing has never been easier and natural, we know you will enjoy it. The S-Pen is built of plastic but has metal accents and a click top which is the Note users age old fidget spinner for some years now. The pen does not fit backwards and is light weight and feels high quality. Best of all the S-pen does not need a battery to operate! (Looking at you Apple pen).
The stylus has been ridiculed by many manufacturers, users, and reviewers including Steve Job's himself. However, seeing how Apple launched their own official stylus (Apple Pen) and the S-Pen not going away in any foreseeable future the use for it is still very much alive. The S-Pen is the most advanced smartphone / device stylus implementation in the market and no one does it better than Samsung. Samsung has had several years to keep innovating and building on it and it is paying off. The Note lines S-Pen is a highly recommended tool for bloggers, people who love to write with their hands, to play games with a stylus (instead of with fat fingers blocking the way), and any creative minds who love creating art. We have seen some of the most detailed and fantastic artworks created on the Note smartphones throughout the years.
Should You Buy the Galaxy Note 8?
This is an age old question in the consumer market asked by all. Given the information above and a lot more floating around on the web the Galaxy Note 8 is a strong contender among the high end smartphone segment. The two major downsides to the Note 8 is the Price, and the fingerprint sensor positioning. The fingerprint position beside the camera is not that big of a deal on the S8 or even the S8 Plus because we can get used to it and because we can reach it. However, the Note 8 is substantially taller and require you to double your efforts to reach that sensor, it is difficult. The price of 930$ or 1299 CAD is expected as the general market price for Smartphones is on the rise right now. Even the iPhone X is currently priced at 1400 CAD on the website which is more than the Note 8.
The things we must consider when buying a Note 8 are the following: can you afford it?, do I use the S-pen habitually or am I really interested in gaining that new habit?, how will the size of the Note 8 affect me? What other phones are there available?
If you doubt that you will use the S-Pen, just go for the Galaxy S8 Plus. The S8 Plus has essentially all the same specs as the Note 8 minus the dual camera, size, and extravagant price tag. If you want smaller we recommend the Galaxy S8. However, other highly recommended smartphones include the iPhone 8 Plus, and the LG V30. All the high end phones will be priced similarly (except for the LG V30 which under cuts the competition) but if money is a large issue then we also recommend looking at the mid-tier phones that perform admirably with older tech repackaged such as the Asus Zenfone 3.
The Samsung Galaxy Note 8 is a fantastic phone with powerful specs, long battery life, barely any heat emissions, huge Infinity Display, and a high quality dual camera setup. The S-Pen is the main reason people go for the Note phones due to its versatility and usefulness. If all of these things are in your realm of interests and needs and if you have the deep pocket required for this, then by all means, go for the Note 8. Otherwise check out the other phones we mentioned above.
If you need to Network Unlock Your Galaxy Note 8 permanently, safely and quickly, check out our Samsung Unlocking Services below!
(Unlocking lets you use any other networks you wish and will save you a lot of money when traveling as Unlocking enables you to use local SIMS. Don't Pay Expensive Roaming Fees to Your carriers!)