Top 10 Samsung Galaxy Note 8 Cases
Cellunlocker Tech Reviews
11:54 pm September 11, 2017
Top 10 Samsung Galaxy Note 8 Cases
The Samsung Galaxy Note 8 is shaping up to be the best premium phablet flagship device this year. While we wait for the iPhone 8 to arrive we already know that the Note 8 is a big phone with a huge near-bezel-less display and advanced specs. Powered by the newest Qualcomm Snapdragon 835 processor and being the first Samsung device featuring a dual 12-MP camera system this is no ordinary phone.
Of course the Note cannot be a Note without mentioning the S-pen and its suite of features. With the tip being only 0.7mm thin combined with 4096 levels of pressure on the display you get a fantastic pen-paper writing experience on the go.
The only downside to the Note 8 is it's current price tag of 930$ or 1299 CAD in the north. So it would make sense to invest in a case and screen protector to really safeguard your expensive investment. Most youtuber's and phone enthusiasts all agree that having a screen protector and phone case will greatly improve your chances of preventing scratches, cracks, and other damages that would otherwise easily happen in your pocket, bag, or during an unfortunate drop.
Here we list our top 10 choice of cases for the Samsung Galaxy Note 8, be sure to follow our other article about our Top 10 Screen Protectors for the Galaxy Note 8.
1. Spigen Rugged Armor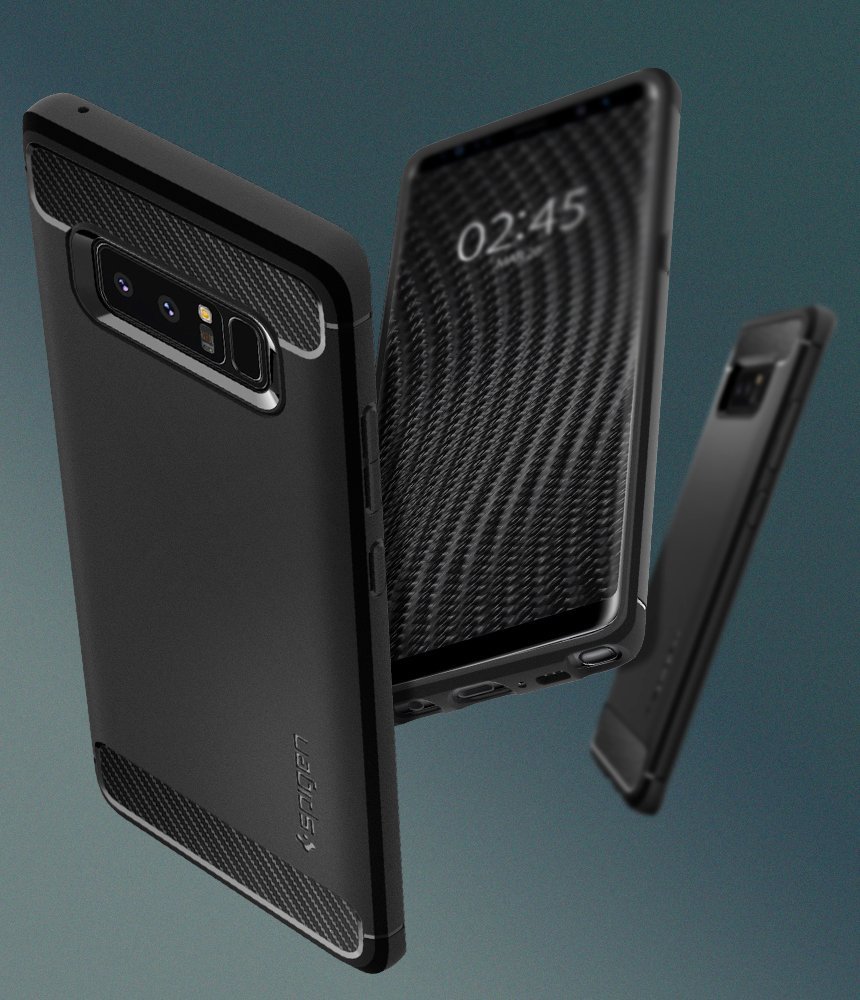 Spigen is a well known brand by now and they create some of the best screen protectors and cases. Here we present the Spigen Rugged Armor case for the Galaxy Note 8. It is mostly minimalistic save for the top and bottom section which present a carbon fiber finish. The matte black color is gorgeous and it uses flexible TPU layers to protect your Note 8. The case comes with raised edges to protect your phone when placed on table tops and it adds only 0.1 inches to the thickness of the phone. We highly recommend checking out this case
2. Tech21 Note 8 Case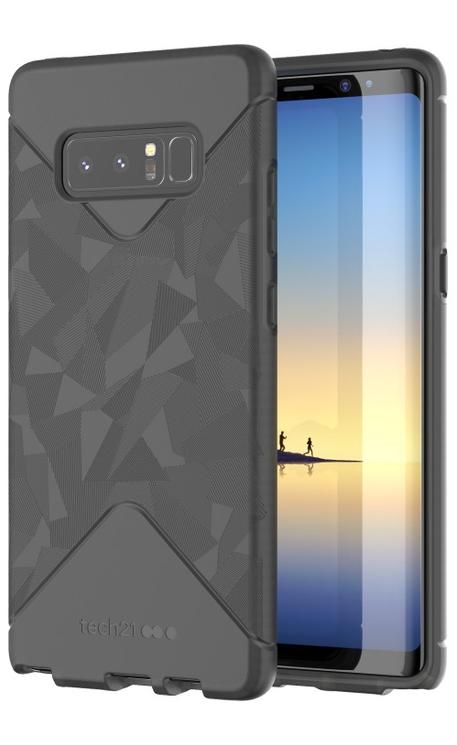 This case by Tech21 comes with a pretty cool design on the back, it is thin, light weight, and is advertised to protect your Note 8 from a 3m / 10 ft drop thanks to their "Three-layer drop protection" which they call FlexShock. The materials used give it a tactile feeling so it should be a lot better to grasp in hand. Of course you are given access to all of the phones buttons and ports.
3. Spigen Slim Armor CS w/ Slim Dual Layer Wallet Design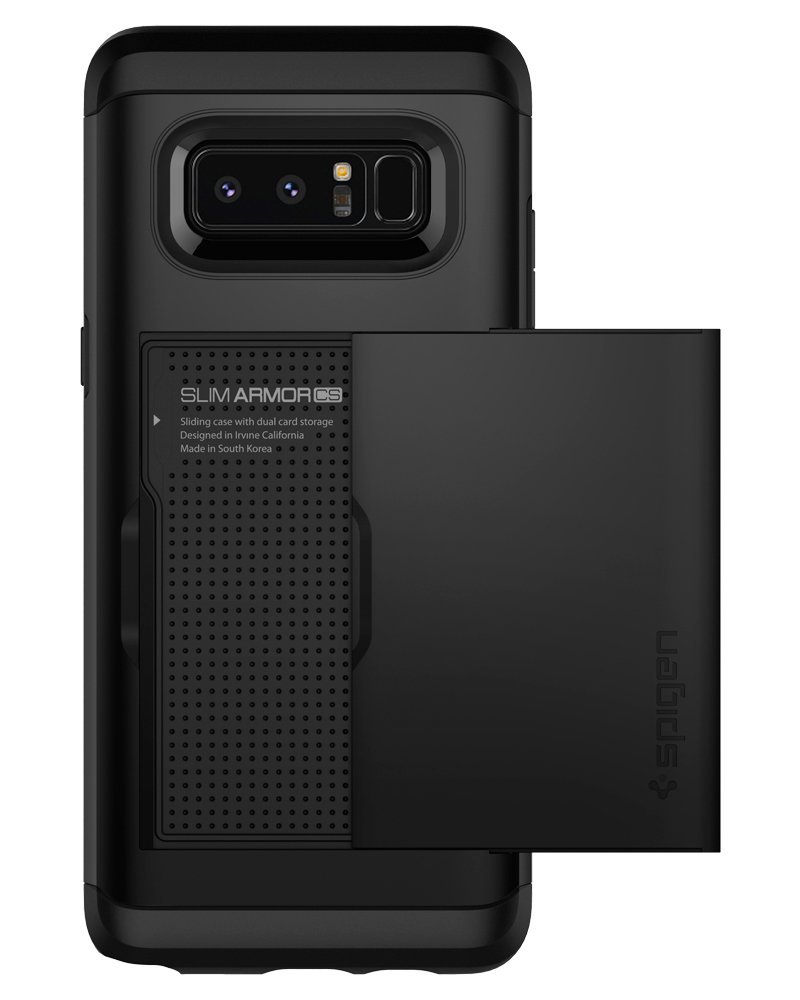 If carrying a card inside your case is important to you check out the Spigen Slim Armor CS for the Note 8. The dual-layered shock-absorbing TPU material provides rigid protection and durability. The case is surprisingly slim and light which keeps the phone pretty thin still. There is a compartment at the back of the case where you can slide in up to two cards and some cash for the road. The case received military grade certification and they also use air-cushion tech in the four corners of the case.
4. Trianium Clear Hybrid Case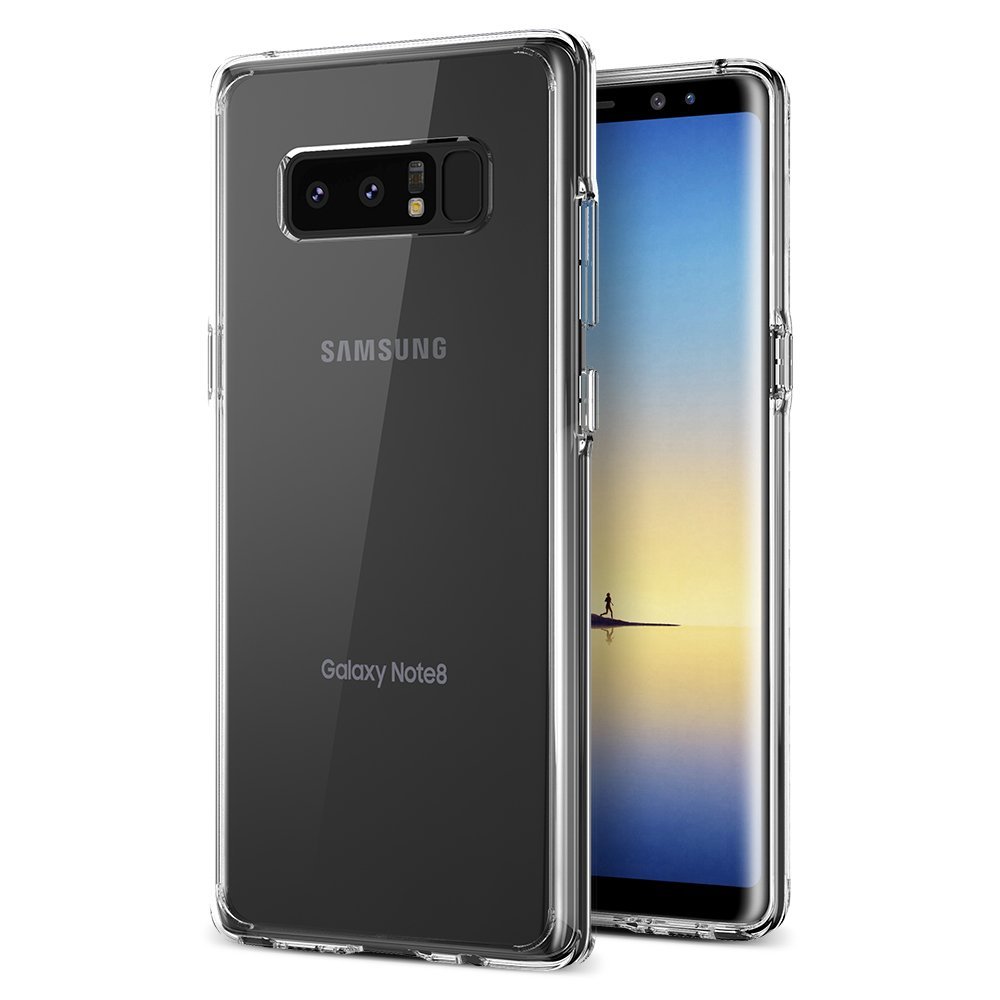 If you are looking to protect your Note 8 but still show off it's sleek colors and design check out the Trianium Clear Hybrid Case. The case will fit your Note 8 like a glove with proper cutouts for the Spen, ports and buttons. It uses flexible TPU for the sides and a hard PC back for the back cover. The case is very slim so it shouldn't add much to the bulk of the device. The back is raised a little bit as to protect the camera of your phone as well.
5. OtterBox Defender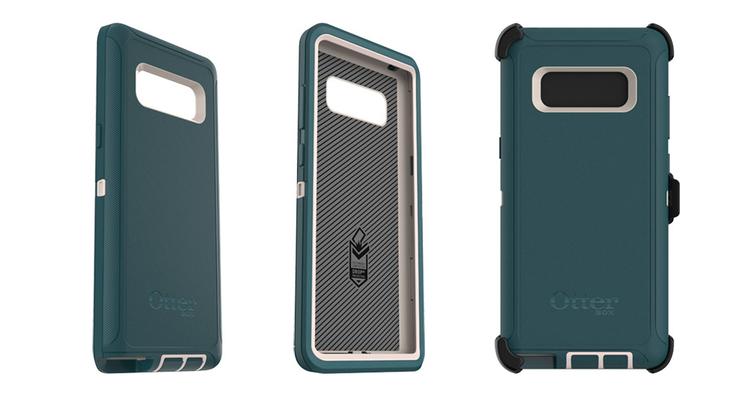 For those looking for ultimate protection need not look further than OtterBox. As a long time manufacturer of heavy-duty cases they have proven time and time again that phones have the greatest chance for survival with their cases. We introduce the OtterBox Defender. It comes with a lifetime warranty and is a well known manufacturer. Works with wireless charging and has a multi-layer build for maximum protection. There are also port covers that protect them from additional dust.
6. Samsung S-View Flip Cover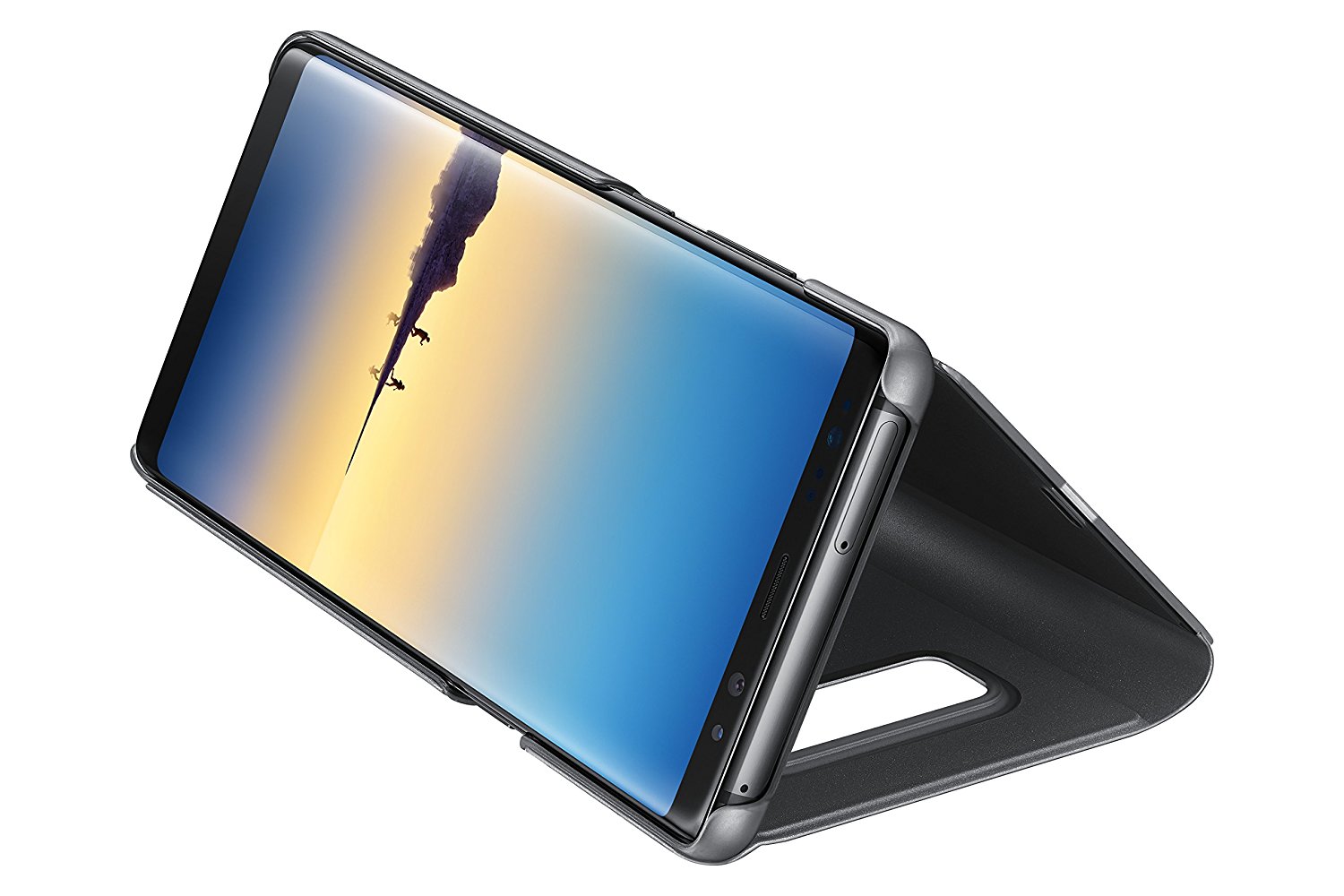 For those who prefer OEM cases directly from Samsung we recommend the Samsung S-View Flip Cover. This is easily one of the more prettier cases available as it compliments the color of your Note 8 and also doubles as a kick stand when showing videos to friends or viewing it yourself. Even when the screen cover is closed the case shows all sorts of important information including: missed calls, new messages, emails, alarms, and more. You can even accept and reject calls without having to open up the cover!
7. Samsung Galaxy LED Cover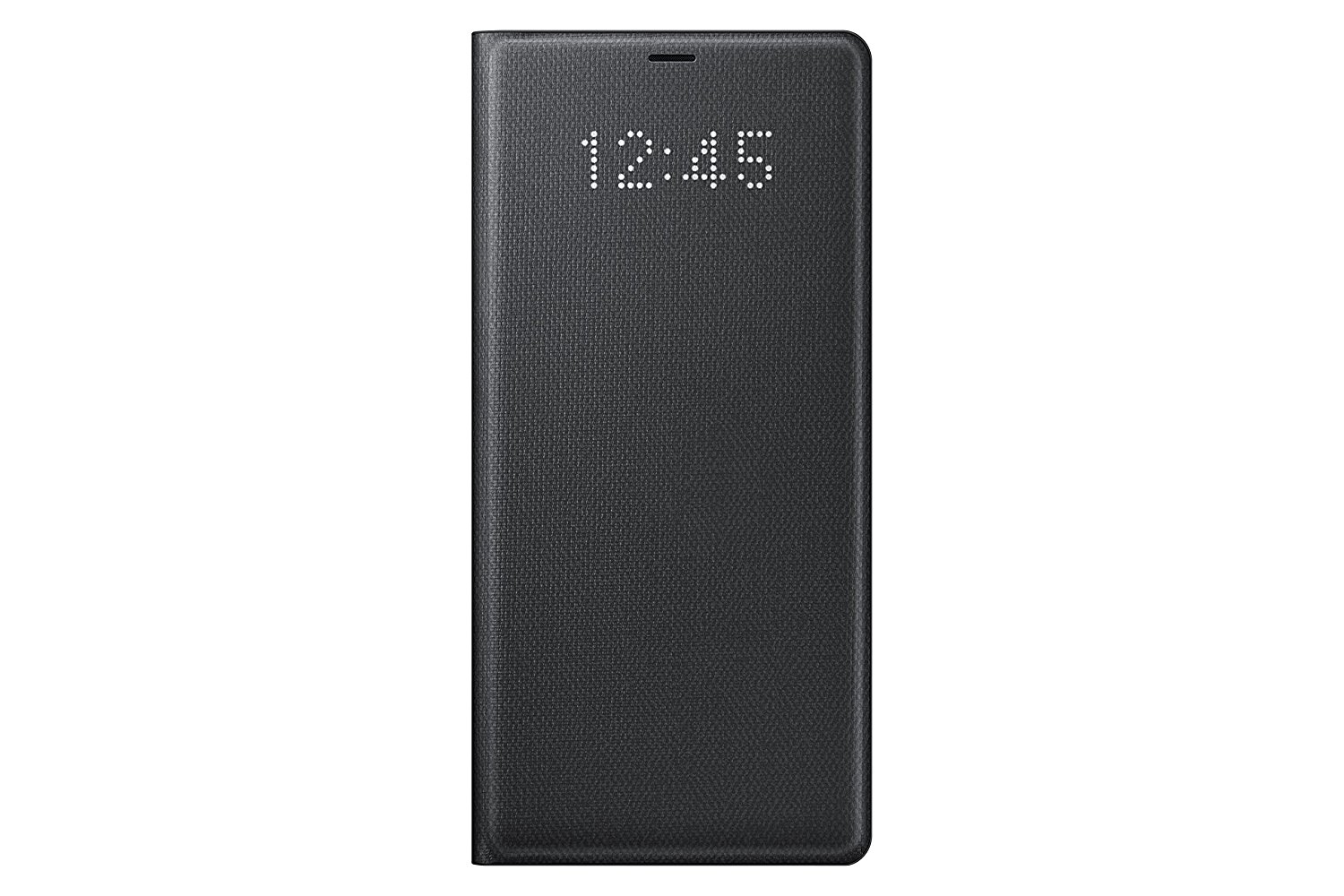 Another Samsung OEM case is the SAMSUNG LED View Wallet Case. The LED case has been released along side every flagship Samsung phone since the Note 4. Presenting a cool pixel lighting format it tells time, shows missed calls and messages, you can accept and reject calls and it also shows various animations that you can configure to mean different things. Music controls are also shown on it. This is a perfect case to protect the front and back of your phone while still seeing a cool 8 bit pixel LED lighting version of critical information right on the cover.
8. Spigen Liquid Air Armor for the Note 8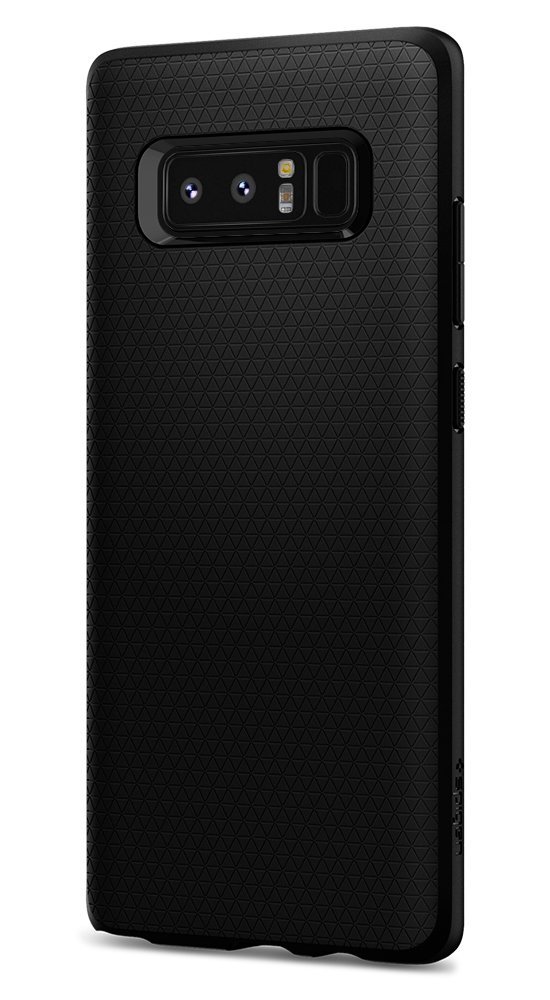 Spigen's other design is called the Liquid Air Armor and it looks sleek and good. Using a flexible and slim TPU material the case is lightweight and looks fantastic. It fits the Note 8 perfectly giving it a slim feeling. There is a geometric pattern going on in the back and because it is matte it should be pretty good against fingerprints. Air cushion technology and military grade certification all goes to help protect your Note 8.
9. Samsung Galaxy Note 8 ATGOIN Crystal Clear Flexible TPU case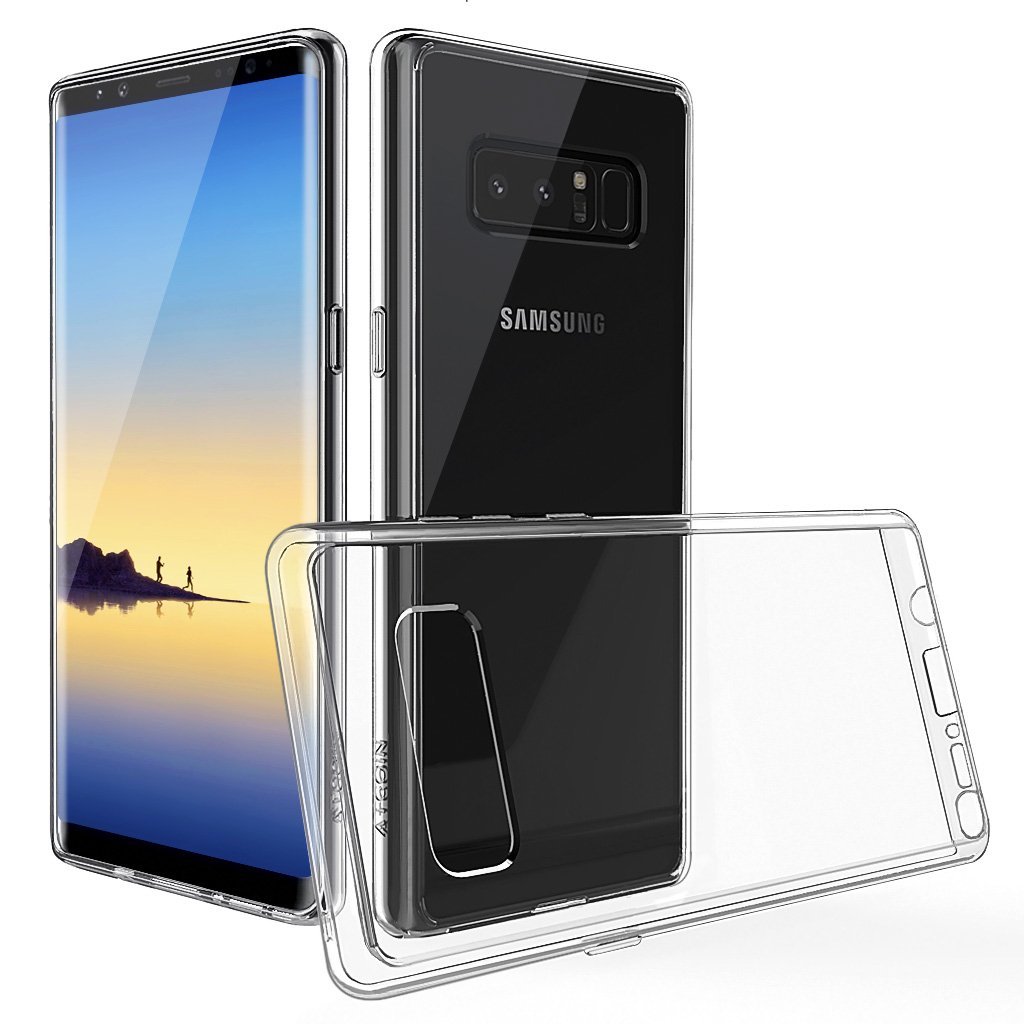 For those who love simple and basic clear TPU cases we would like to recommend ATGOIN's Crystal Clear Slim Fit Flexible TPU. Being a clear case it still shows off that beautiful Note 8 in its entirety but also protects it from scratches, finger prints and most drops. Using a flexible material it easily covers the sides and the corners of the Note 8 combined with a raised lip on the front and a bit on the back protects the phone from the surface of a table you may set it on. The material is definitely light and you wont feel it in the weight but due to the grippy feeling of the material it should make it a lot harder to accidentally have it slip out of your hands.
10. Caseology Vault Series Slim Protective TPU Case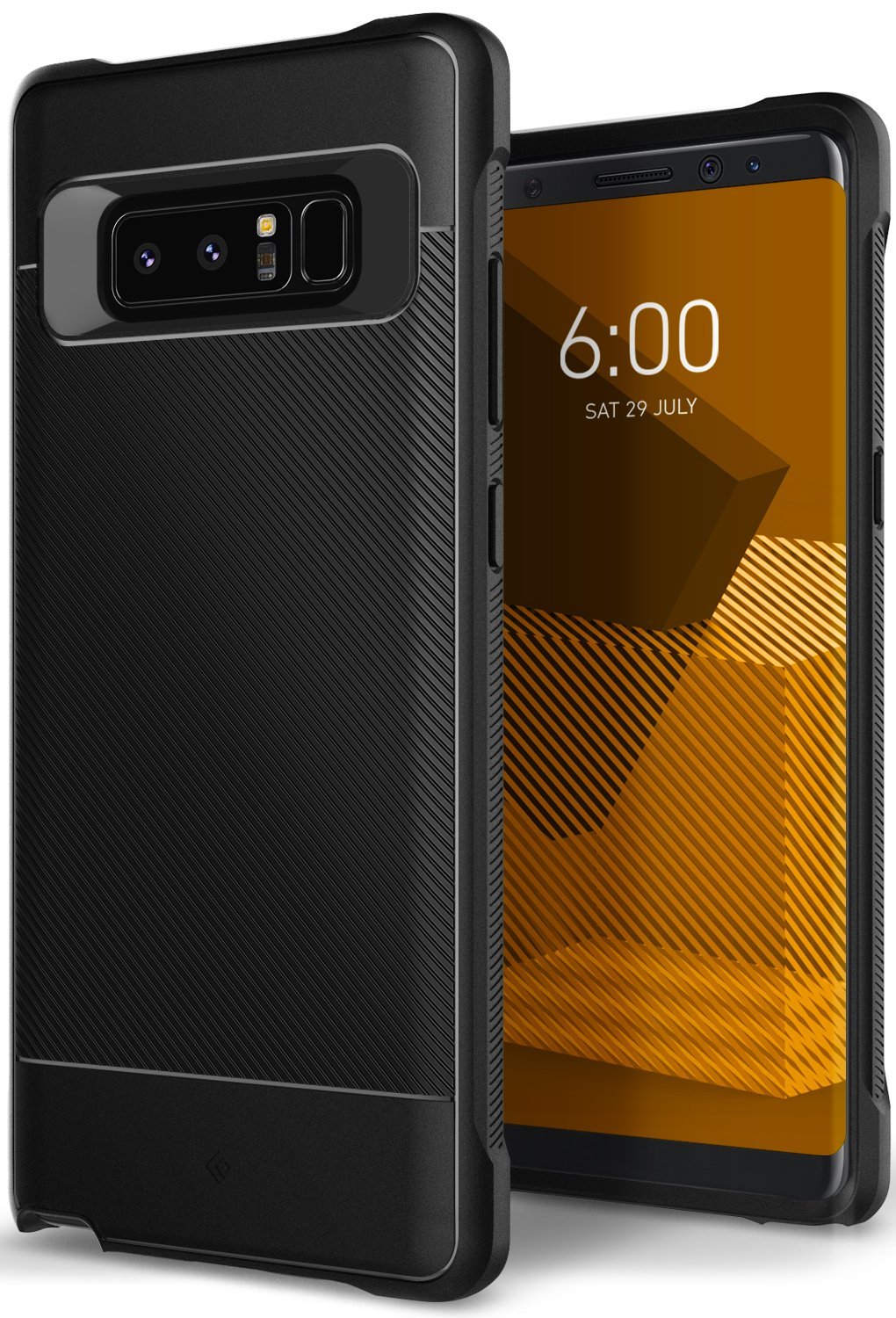 Caseology has been manufacturing many cases as well. The Vault series is what we recommend in protecting your brand new Galaxy Note 8. The case is thin and utilizes a protective TPU based case to absorb shock from drops. Using a 3D texture cover provides additional grip along with additional shock absorption. The case is light and still enables the Note 8 to be pocket friendly and has cutouts for your buttons, the SPen and ports. The case is compatible with Samsung's Original Wireless charging pads as well with most 3rd party wireless chargers.