The New Razer Phone
Cellunlocker Tech Reviews
9:15 pm November 7, 2017
Mainly known for gaming peripherals and systems we are surprised to see Razer join the fray in this smartphone battle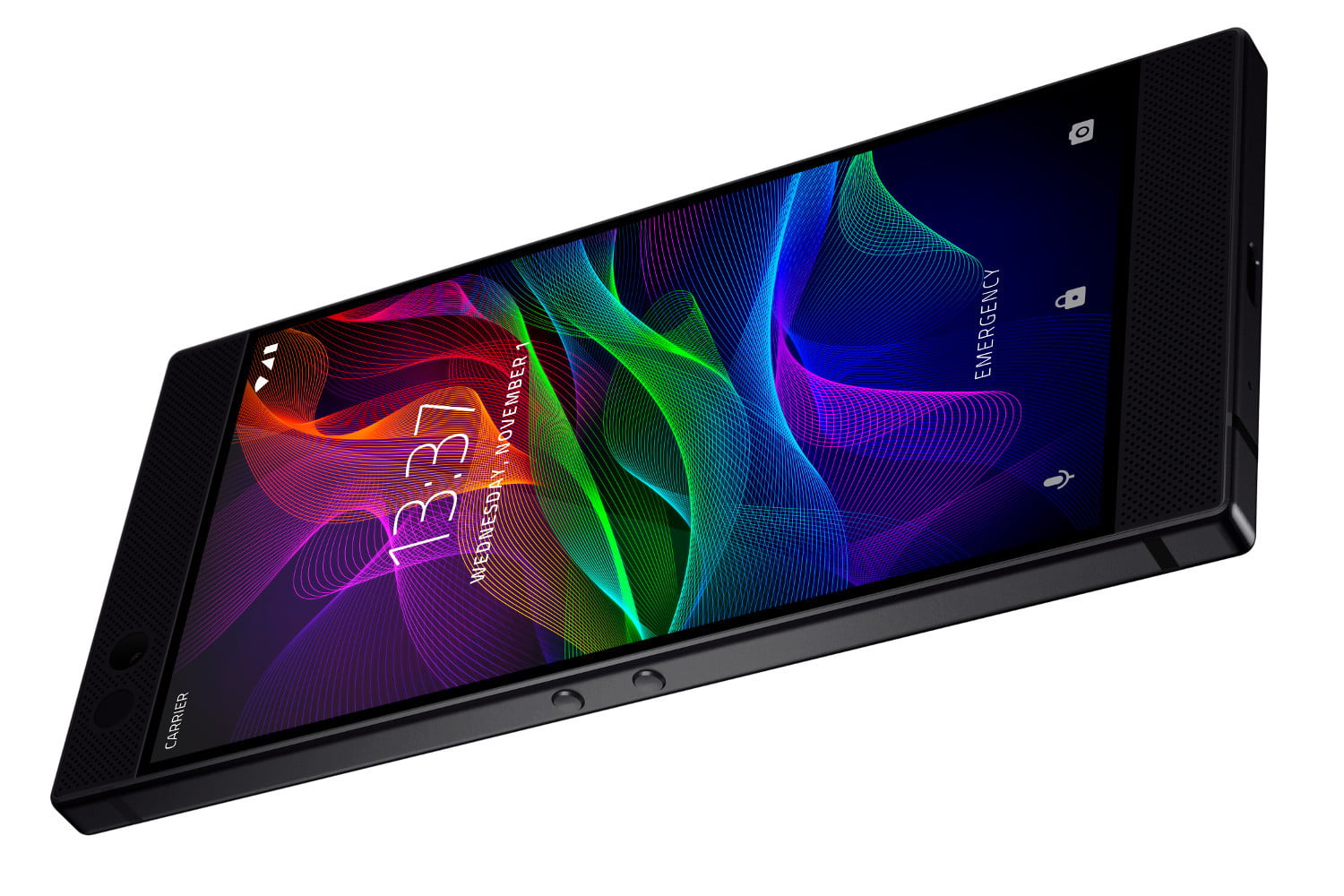 From afar the new Razer Phone looks like a Sony Xperia device but get up front and you would be quite surprised with what you would find. This is the first smartphone ever to boast a 120Hz display (Ultra Motion technology) and major dual stereo speakers that take up the top and bottom on the front of the device. The speakers are extraordinarily loud with serious bass (for a smartphone) and really great accented sounds. There are high end specs found in this phone as well running a Qualcomm Snapdragon 835 processor (Adreno 540 GPU) with 8 GB of LPDDR4 1866 MHz RAM an internal storage of 64 GB with expandable storage via microSD an impressive 4,000 mAh battery and a dual rear camera set up at the back. Let's dive a bit deeper.
+Pros:
Amazing Speakers
120Hz Display Designed for Gaming and Media consumption
Lot's of power under the hood
-Cons:
Camera App needs updating
Overall the Design is pretty old school
No Headphone Jack
Part 1. That Display Tho…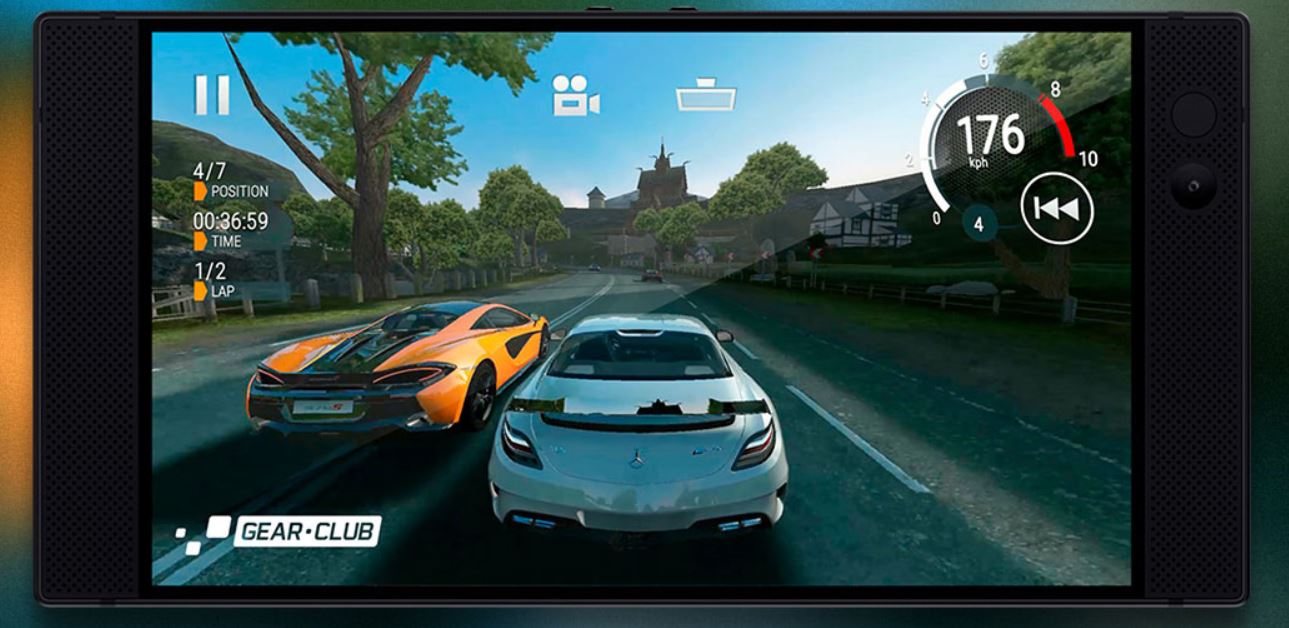 120 Hz Refresh Rate
5.7 inch QHD+ Display
2560 x 1440 resolution
LCD
This is the first smartphone ever to ship with a 120Hz display and Razer calls it their Ultra Motion technology. What this translates to is buttery smooth performance on display. Most other phone's come with a 60Hz display which is "good enough" for most standards but placed side by side the 60Hz display will look a bit more "slower" when particles or animations dance around your display. These Hertz ratings describe the displays "refresh rate" which is the speed of which the display can render motion and frames. With 120 Hz you should expect zero lag or stuttering and all your motion content will simply be fluid and buttery smooth.
Combined with a Quad HD display and it's wide color gamut (thanks to Razer's implementation of their advanced IGZO panel normally found on extravagant Razer Blade laptops) everything should run with great vibrancy and sharpness.
The Razer Phone comes with a 5.72-inch QHD (2560 x 1440) LCD display. As mentioned above the display has a wide color gamut and a 120Hz refresh rate which Razer uses as a selling point to mobile gamers.
The devices display is not AMOLED, thus it will not "pop" in color vibrancy as we have seen in AMOLED panels.
Part 2. Powerful Speakers

Dual stereo front facing speakers with Dolby Atmos technology
24-bit DAC (certified by THX)
The most obvious feature of the phone are the dual stereo front facing speakers, one on top and one on the bottom. These speakers have awesome audio performances and is the world's first to be certified by THX. Within each speaker holds individual amps that boost sound and combined they can create a 3D virtualized sound effect. The speakers, then, are powerful enough to reproduce amazing sound quality while you are in front of the phone and even behind it.
The 24-bit DAC (also approved by THX) involves the headphone jack. No, the phone itself does not have a 3.5mm headphone jack available but the included USB-C to 3.5mm headphone jack adapter in the box has this tech feature integrated. The DAC built into this headphone adapter boosts the sound signal when using your 3.5mm headphones. Just try not to lose this expensive dongle.
Part 3. Performance

Powered by the latest Qualcomm Snapdragon 835 Octa-Core processor
Powered by the Adreno 540 GPU
64 GB of Storage + microSD expandability
8GB RAM
The specs are high end and that is good to see. These specs ensure high performance and great multitasking. Since the Razer Phone was designed to be able to play graphics intensive mobile games as well as multi task we are not that surprised to see a whopping 8 GB of RAM in the device. 6 GB in the Note8 enabled it to keep a whole lot of apps opened in the back ground without having to kill any for new apps so with 8 GB the Razer Phone will have zero multitasking issues as of today.
The Snapdragon 835 chip inside is powerful and the latest available. Gaming is a breeze with no drops in fps at all and running apps is very fast and efficient. The display also takes advantage of the processor and the Adreno 540 GPU on board to boast that 120 Hz refresh rate which gives you amazing motion experiences.
The phone runs 7.1.1 Nougat out of the box but Android OREO (8.0) is in the works and should arrive soon in 2018 Q1. Having a microSD expansion slot allows some awesome storage options as well.
Part 4. Battery Specs and Life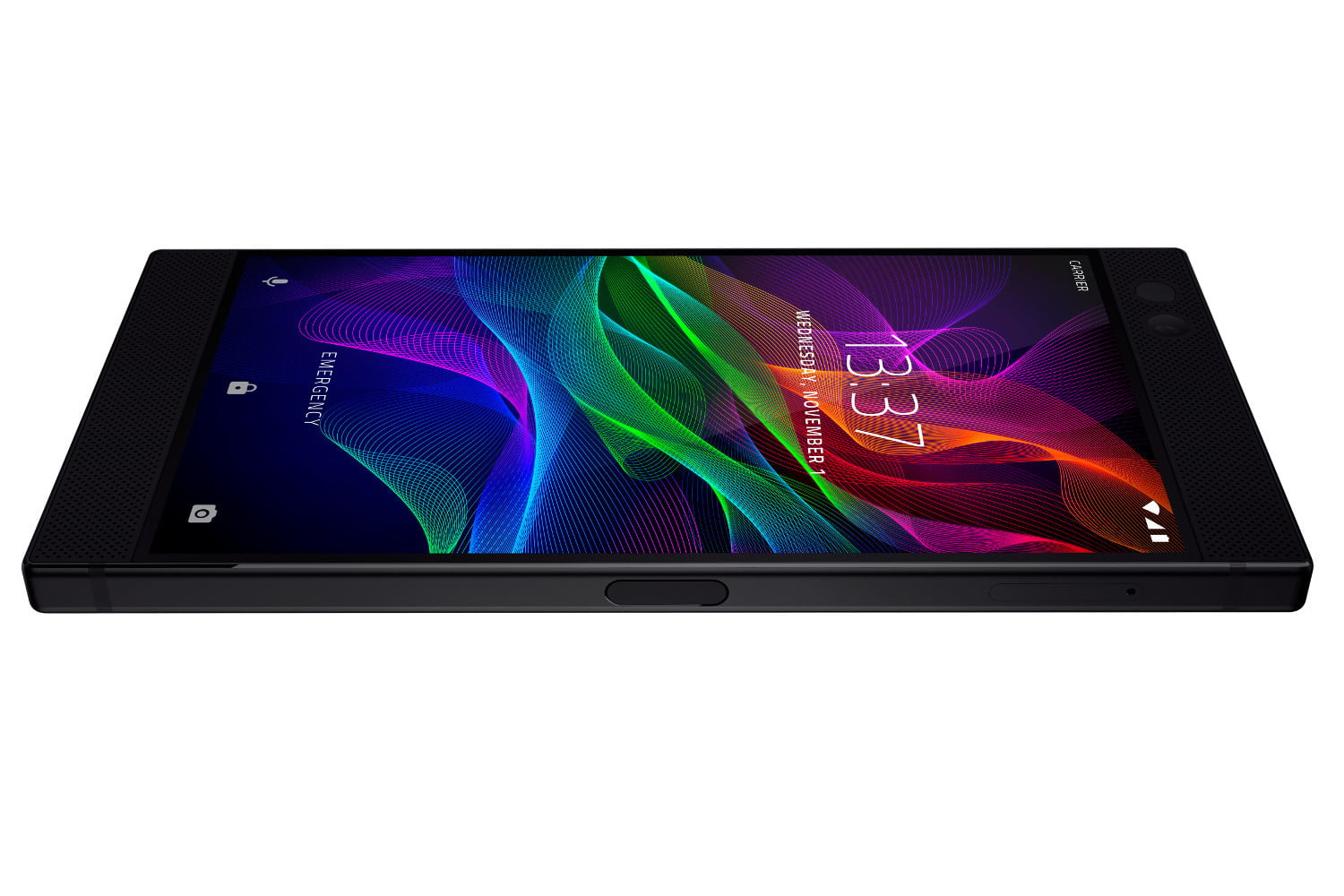 4,000 mAh Battery
Quick Charge enabled (Qualcomm Quick charge 4+)
The Razer Phone comes with a large 4,000 mAh battery which is huge. This is a seriously large battery which out specs that of Samsung phones, Apple phones and a lot of other manufacturers.
With this battery Razer has claimed that you will be able to watch 12.5 hours of video on a single charge. 63.5 hours of music playback or 7 hours of hearthstone gameplay.
Qualcomm Quick Charge 4+ getting you from 0% to 85% in only one hour.
Part 5. Game Booster
Razer includes a new feature called "Game Booster" which optimizes the phone for game play. For example, you can select "performance mode" which turns off notifications and allocates cpu power to the game you are running.
Razer has also created important partnerships with game studios to create Quad HD, 120 Hz editions of various games to run exclusively on the Razer Phone which includes: Arena of Valor, Tekken, and Final Fantasy XV.
Part 6. Design
Design resembles the Nextbit Robin (which Razer acquired)
Blocky phone design with bezels
No Headphone Jack
Since Razer acquired Nextbit it makes sense that the Razer Phone has borrowed some design DNA from the Robin phone. It is basically the Nextbit Robin with massive modifications via Razer's decisions.
We can see Razers classic black finish that we see from the Razer Blade series and the awesome front facing stereo speakers with big upgrades and large grills above and at the bottom of the display.
The fingerprint scanner is also built into the home button which is found on the right of the phone which means the volume keys are found on the left.
Again there is no headphone jack on this phone so we will need to rely on the included headphone adapter (usb C to 3.5mm)
The phone measures 158 x 78 x 8 mm and weighs about 197g.
Part 7. Camera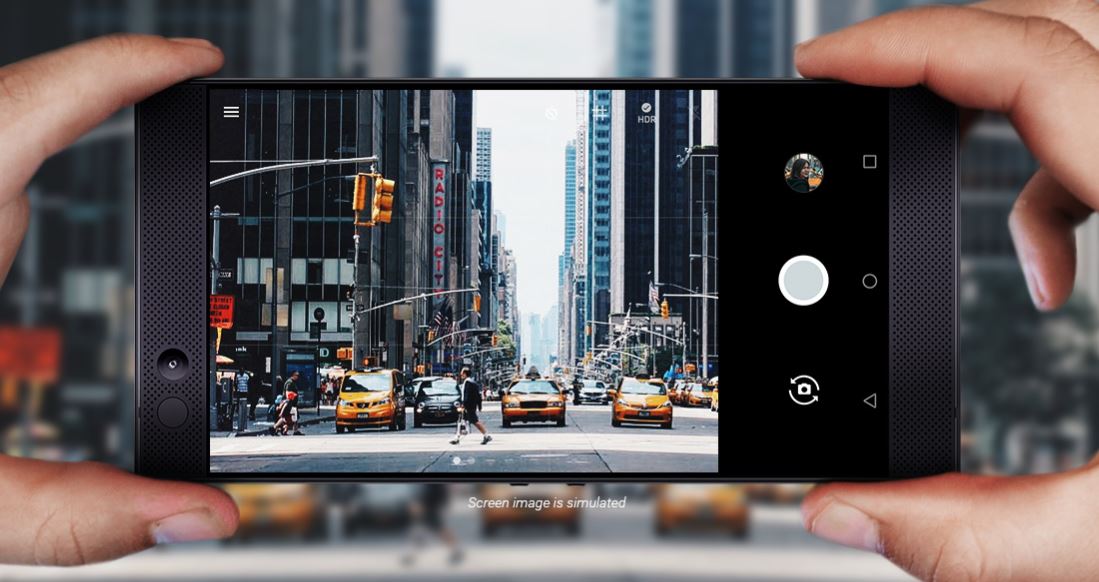 12MP + 13MP Dual Rear Cameras 
8MP front facing camera
The Razer Phone comes with dual 12 MP + 13 MP cameras on the back, one standard angle the other being telephoto (optical zoom).The Main camera has an aperture of f/1.8 while the other has an aperture of f/2.6. 4K video recording @30fps is available.
The secondary selfie camera is an 8 MP f/2.0 sensor.
The Camera UI is very simple which lacks a manual "pro" mode. It is a super simple point and shoot app. The beauty of Android shines here as you can download better camera apps from the play store.
The dual cameras provide a smoother zoom experience via pinching on the screen to zoom in and out. The zoom will utilize one or the other lens depending on your zoom. Razer has worked hard to make the zoom transition as smooth as possible.
The Camera (in pre production) is only about 89% completed so we will need more time for Razer to finish their work on it. We found that the telephoto lens is an updated sensor found on the s7 which means that performance and imaging could be very good.
Conclusion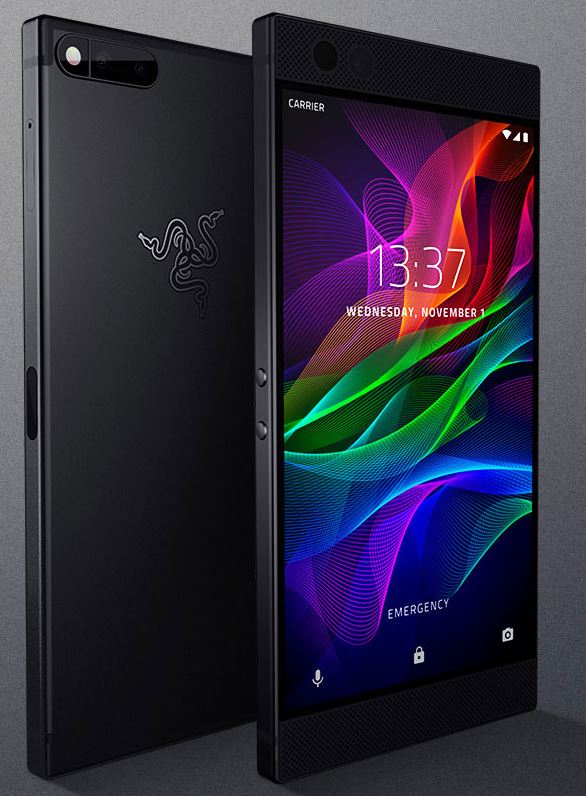 The Razer Phone is an exciting phone in it's own rite with dual stereo speakers, stellar performance, dual camera, new 120Hz display and a large 4,000 mAh battery. The device, however, won't appeal to all folks due to it's gaming focus via their marketing.
Regardless, the smooth performances and high end specs make it a worth while consideration amongst the high end smartphone line up of 2017.
We only hope Razer may improve upon the camera and also the software greatly. The stereo speakers is amazing and no smartphone is able to match the amps in them for now.
The design may seem outdated and resemble that of the Nextbit Robin but a lot of this is forgiven because the bezel's are actually speaker grills and the display is still quite large at 5.7 inches.
For now we see a lot of positive aspects of the device but we will see.
The Razer Phone is coming out for U.S. carriers and in the UK. If you found your phone to be Locked visit us at cellunlocker.net to find your own Network Unlock Code!