Best Screen Protectors for the Samsung Galaxy S8 Top 5
CellUnlocker How Tos
6:56 pm August 2, 2017
Best Screen Protectors for the Samsung Galaxy S8 Top 5
1) G-Color (Error Proof / Bubble Free) FILM screen protector for the Galaxy S8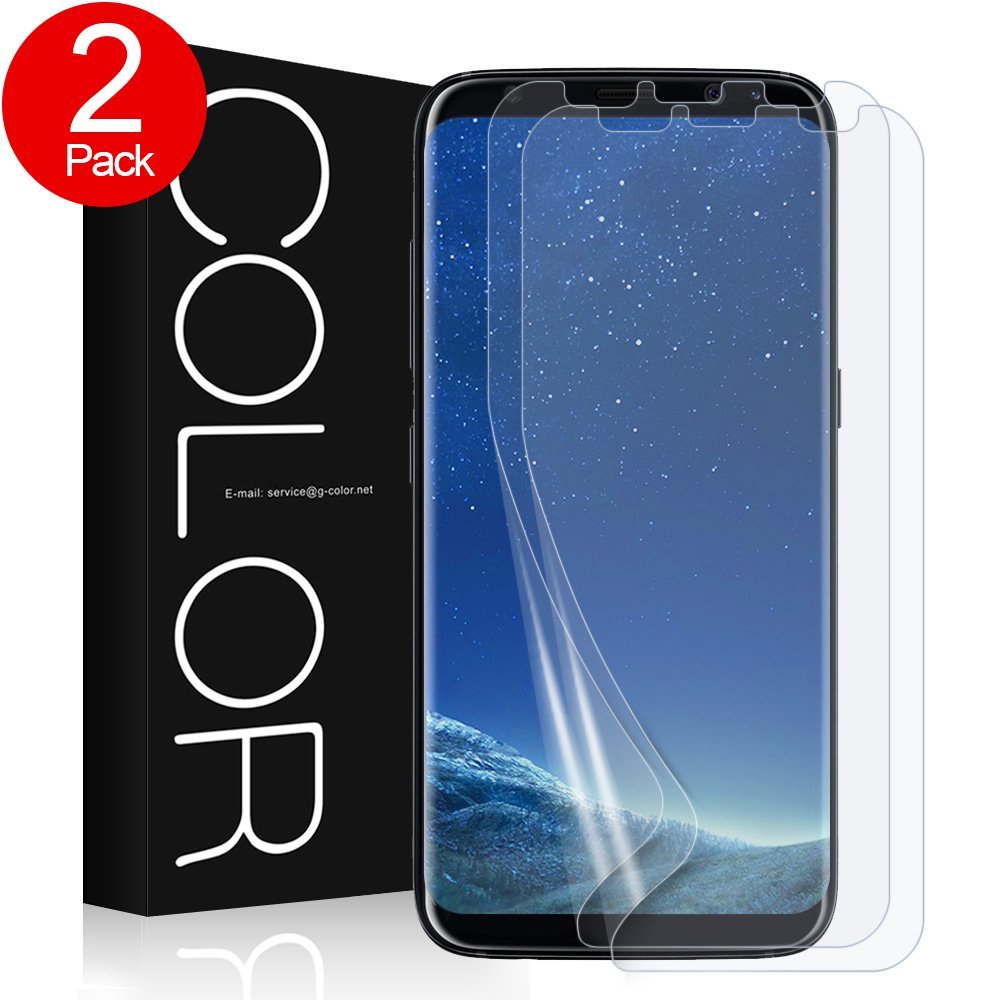 G-Color's 2 pack film screen protector comes with its own little case that is crucial in the application process. The product has received high praise and reviews on Amazon and it seems to be the best go to solution for your Galaxy S8. There is a video that the company provides for users to follow as well. The installation uses a wet application technique which enables you to slide the protector around until it fits exactly right. You can peel it off and re-apply if you made an error.
The film screen protector is also bubble free and prevents edges from being lifted off. Bubbles disappear within 24 hours and if the edges / corners lift up simply apply more of the wet solution and use a microfiber cloth to push it down.
The screen protector comes with a case that helps keep the edges intact which the instructions state that you should keep it on for 72 hours at least.
Once you follow the steps properly you will find that this is the best screen protector option available. You can put on any case for it and you have a scratch proof, fully sensitive, clear film solution.
Get it here for more information
2) SPARIN Galaxy s8 Soft Film Screen Protector with 3D Curved Edge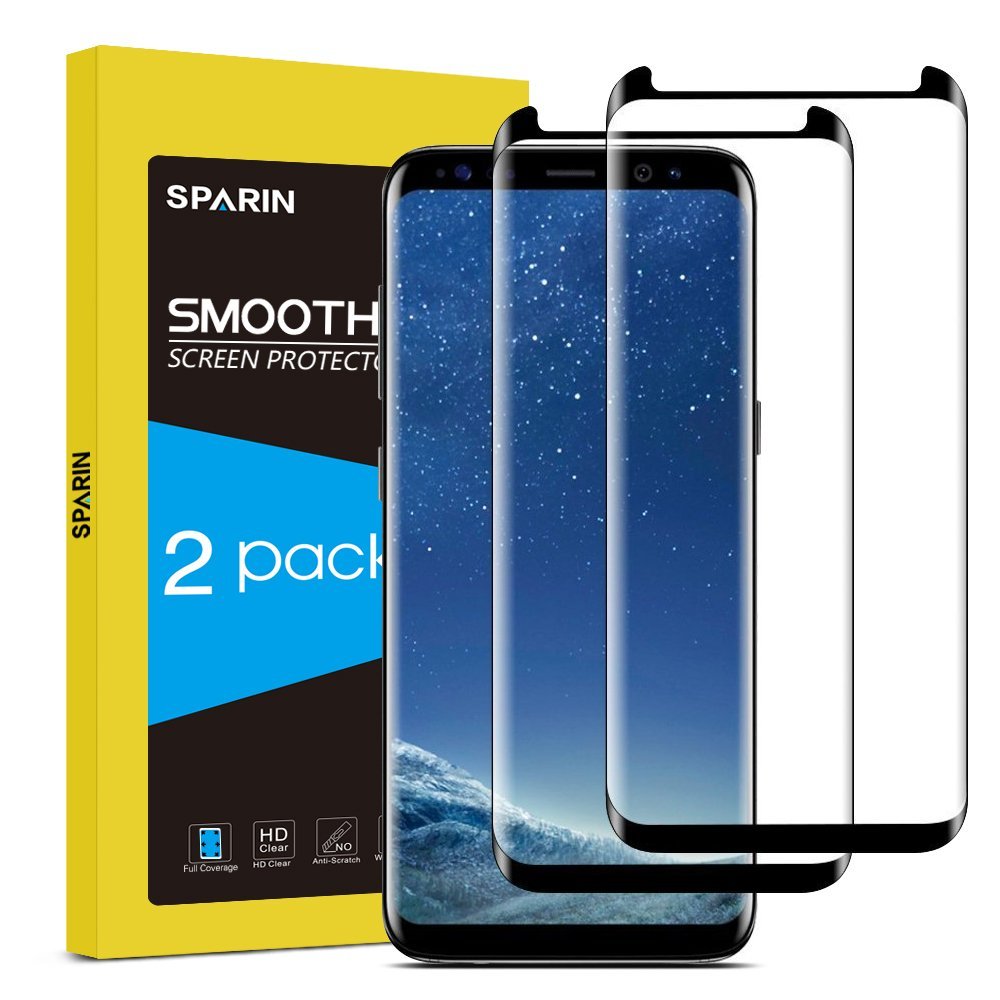 The next screen protector that seems to have great reviews is the SPARIN Galaxy S8 Screen Protector. This screen protector is designed to fit the Galaxy S8 perfectly with its 5.8 inch Infinity Display. It covers your thin bezels well and is also case-friendly. The company also claims that your display's touch sensitivity should be un-hindered due to its thin design. The product comes with wet wipes, dust-absorber's, microfiber cloth, and 2 of these soft 3D screen protectors. Many users have found it to be excellent and a great alternative to tempered glass protectors that also cover the whole display but face many issues such as edges lifting off or cracking over time. The product is not expensive and is excellent.
One thing that users have warned others about is that due to the perfect fitting of the protector, the user would have to carefully apply it to fit the protector exactly right.
Get it here for more information 
3) EURPMASK 3+1 Ultra HD Clear TPU Protective Film (Anti-Scratch and Bubble FREE)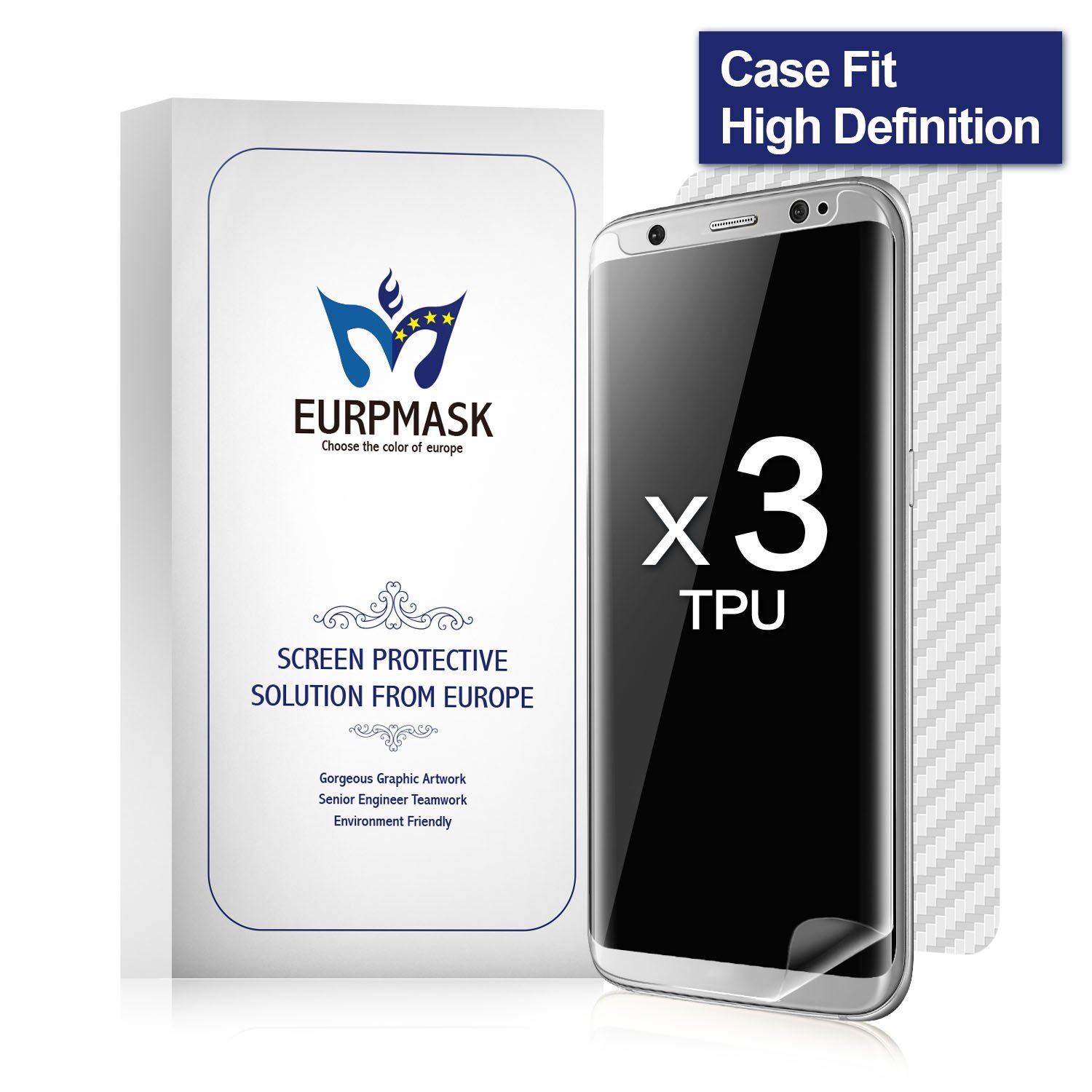 A company called EURPMASK came up with a TPU based screen protector that is also seeing pretty good 5 star user reviews. Again, the company is reminding all of their customers to read their installation instructions carefully before application. However, once applied the flexible materials will protect your phone edge to edge and also a bonus rear protection film included will give you full coverage front and back. The TPU film is ULTRA clear with 99% transparency to retain your S8's original HD Infinity Super AMOLED Display. Of course there wouldn't be any interference to the touch sensitivity of your phone.
The EURPMASK Ultra HD Clear TPU Protective Film is also scratch proof which is also equipped with "self-healing" properties that eventually eliminates minor scratches that amasses on any screen protector over time. The company also claims that their screen protector helps eliminate dust, oil and finger print smudges.
The package includes 3 front protective TPU screen protectors and 1 back cover, a dust removal sticker, dry and wet alcohol wipes and a microfiber cloth. The company also provides a lifetime replacement warranty.
Customer reviews point out that EURPMASK provides excellent customer service while delivering the right products as described. The quality is great and the protector gives a smooth feel. Quite a few are pleased with the purchase.
Get it here for more information
4) CORNMI Galaxy S8 Tempered Glass HD Film Screen Protector + TPU case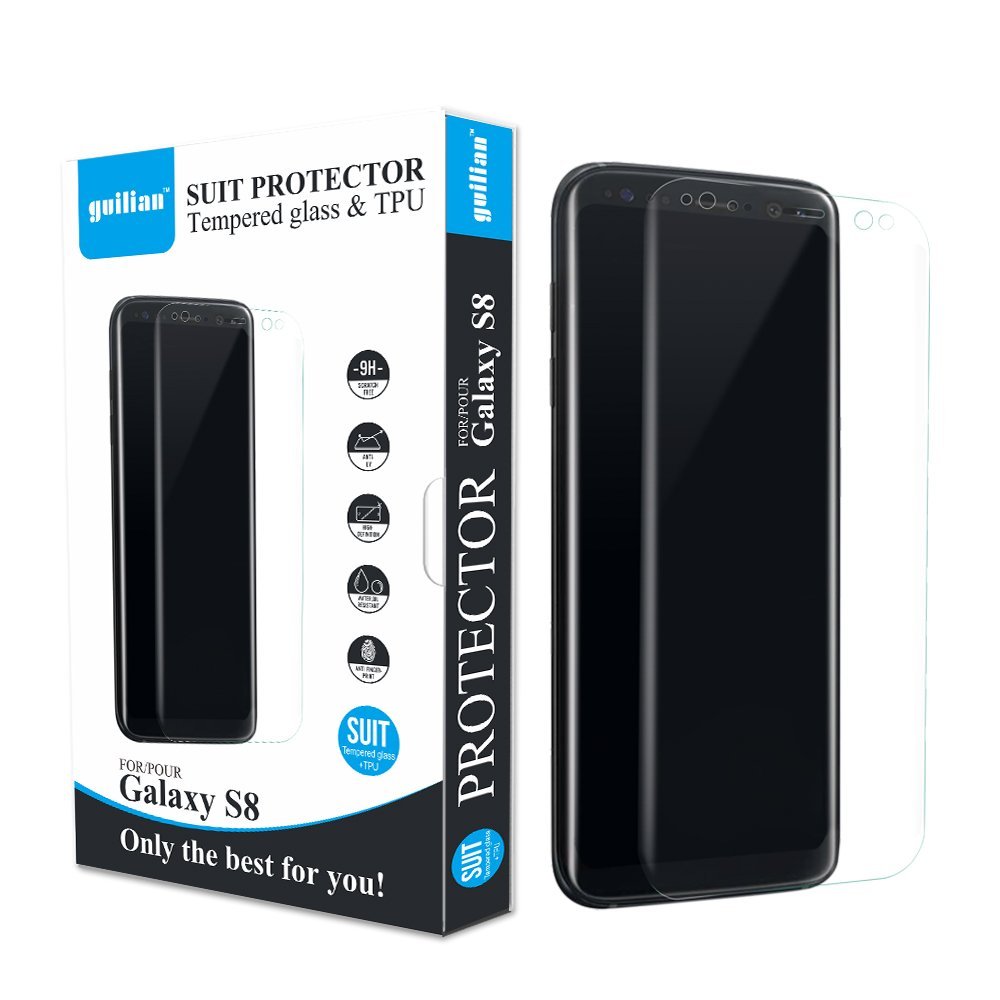 CORNMI's tempered glass HD film protector provides a 9H hardness which prevents scratches and cracks. It has a 3D curvature design that provides full coverage for your curved Infinity Display.  It will fit your phone well. The protector provides Ultra-Clear transparency to a 99.9% degree.  The protector was designed to be easy to install and provide a clean /bubble free fit.
The package includes the screen protector and a TPU phone case.
Amazon user reviews gave this product 5 stars easily calling it flawless. The product seems to indicate that touch sensitivty is un-hindered compared to many other glass protectors available. The product is cheap and works as advertised.
Get it here for more information
5) Moshi Ion Glass for Galaxy S8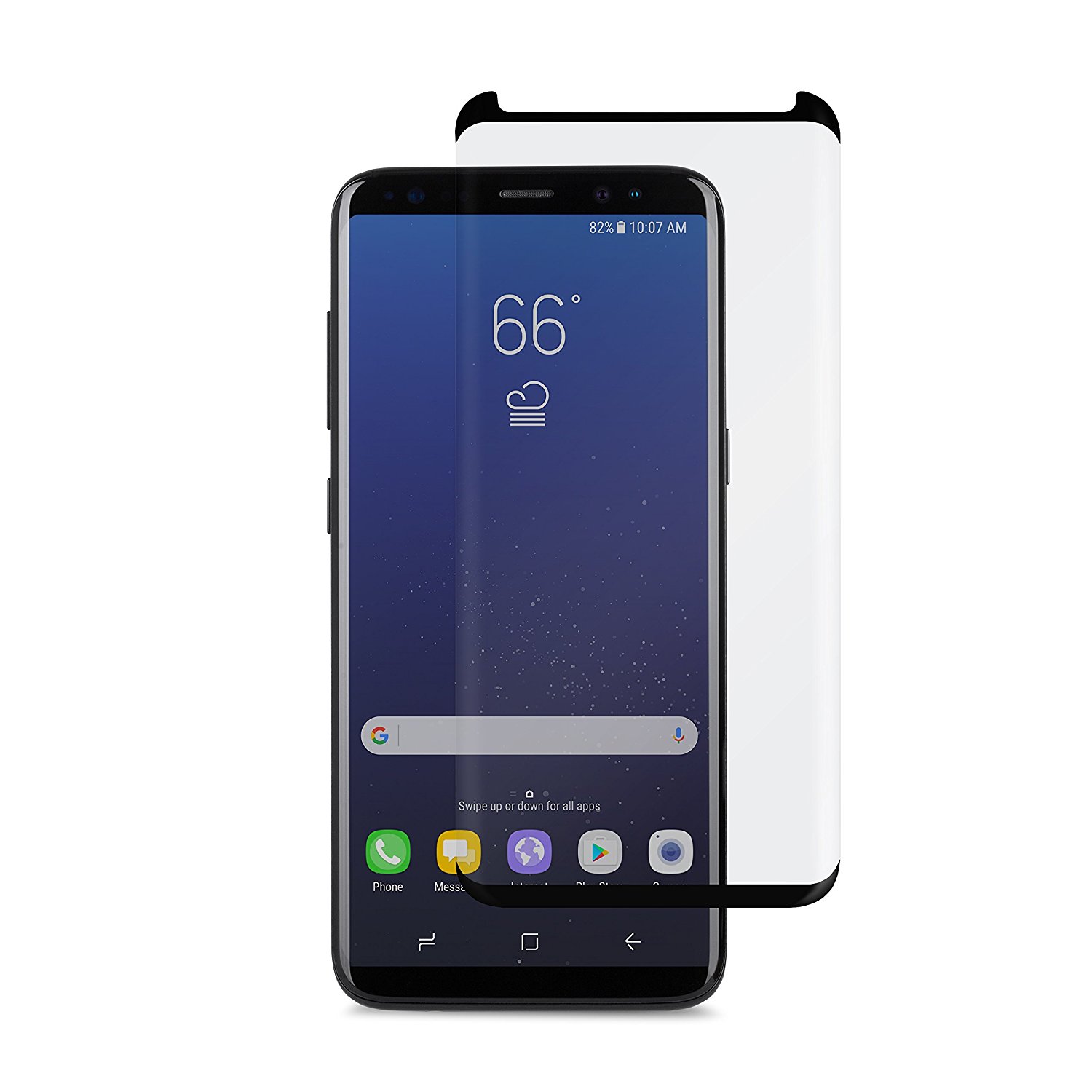 This glass screen protector from Moshi has a 9H rating on the hardness scale. 9H means that it should be pretty good at resisting scratches and getting shattered. Moshi claims to be using atomically-strengthened glass which is apparently a lot stronger than tempered glass. The company cuts from curved pieces of glass which provides precise protection for the Galaxy S8. The screen protector then fits like a glove on the face of your S8 covering the tiny bezels as well as making it look like you aren't using a screen protector at all! There is an extra coating on top that is oleo-phobic (anti-finger print). Moshi claims that their IONGlass protector is about 40% thinner than most protectors available on the market today.
Read all reviews before you buy.
Click here for More information