10 Best Smartphones We Recommend in 2021
CellUnlocker How Tos
11:17 am July 12, 2021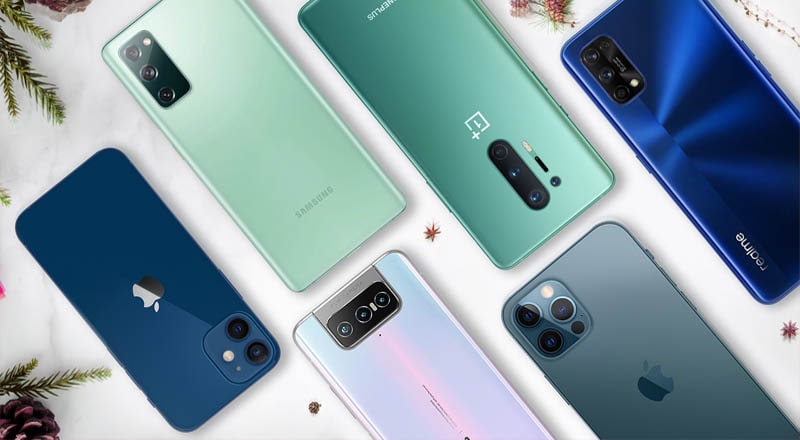 Going through life, either personal or professional, without a smartphone in 2021 is impossible. Most communications and transactions are carried out via apps, and because it is the era of fast technology, everyone expects it to be completed instantly. Smartphones are available at various prices, come in different sizes, and offer a wide variety of features. However, some of these smartphones are not only a little harsh on the budget but are also very fragile. Accidentally dropped it? It is gone forever. Splattered a drop of water? Instant death. An ideal daily use smartphone is supposed to last you a lifetime. Hence, it is very important to do your research, especially when you're not that financially stable.
Thankfully, in the past few years, various tech companies have introduced water-proof smartphones with in-built gorilla screens, and that too at great prices.
We have curated a list of the Top 10 Best Smartphones in 2021. Let's take a look, shall we?

Apple is known for releasing beautiful, and aesthetic smartphones which end up setting trends for other smartphone companies when it comes to appearance and features. Recently, Apple has released its iPhone 12 with three back cameras and a wide variety of color and storage options. The body is available in black, white, blue, red, and green colors, and the storage capacity ranges from 64GB to 128GB and 256GB. It is a great option and investment for people that require high-quality images, videos, or other digital results, either for their job or as a hobby. The price for this model starts at $830 and can go as low as $790.
The overall design of this model is the same as the iPhone released before it but, it's definitely sleeker, and the operations are more fluid. Other similar features include; the processor, wireless charging, 5G support, Face ID recognition, front and rear wide-angle cameras. However, the screen is definitely wider, and so is the battery life. What makes this smartphone stand apart from all the others in this list is its capability to shoot brighter, high-quality videos that no one would assume have been shot on an iPhone.
If the price is too high for you, then buying a second-hand iPhone 12 is not a bad idea. You can easily find one that works well as new because Apple has successfully created a frenzy that people sell their rather new models to purchase the latest iPhone in the market. However, there is one drawback in purchasing a second-hand model; in case, it hasn't been rebooted entirely then it could get locked and only open by either entering the Apple ID for the previous or by jailbreaking it. Don't fret because we can unlock your iPhone 12 without too much hassle!

The Samsung Galaxy S21 Ultra stands second on our list, which is undoubtedly the best android smartphone to purchase in 2021. Moreover, the Samsung Galaxy S21 Plus and the Samsung Galaxy Note 20 Ultra stand in close competition. However, it is definitely an investment and a rather expensive one indeed. Although the price range starts at a whopping $2000, the great thing about Samsung as a leading android based smartphone brand is that they often discount their new models a lot sooner than other brands.
The features that this smartphone comes with totally justify its price. The smartphone comes with a wide 6.8″ screen and the best camera quality ever known to android phones. The latest features, the beautiful design, strong body, the Qualcomm Snapdragon 888 high functional processor, or in layman terms, the fastest processor for android phones makes this phone the best investment. Moreover, the model also supports a stylus pen, but it is separately sold. Hence, the smartphone is best for digital artists.

The Samsung Galaxy A52 5G has every right to be crowned the "best budget smartphone" given its amazing features at a great price of $499. The smartphone is known for having all the features which aren't generally available in phones at this price. These features include; fast processing and functions, water-resistant, monthly security updates and bug fixes, a 6.5″ screen with an OLED panel, a great image quality, and a battery that lasts throughout the day.
For having 6GB ram and a Snapdragon 750G processor, the Samsung Galaxy A52 5G performs exceptionally well. The phone runs smooth, with little to no stutter during functions, navigations, app switching, and heavy tasks. All in all, it is a great phone available at a great price.

You cannot leave behind Google when it comes to making a list of the best smartphones right now. Google is known for providing its consumers with the best smartphones under $500. Google has to be the only smartphone company that launches a better model but at a cheaper price. The Google Pixel 4A is a far more updated version of the Google 2019 Pixel 3A but at a lower price.
The camera quality is otherworldly, thanks to its 4 Pixel main sensor. Bad lighting? No problem. The Night Sight Mode will automatically brighten the picture without compromising on the quality. That's not the only feature that makes Google Pixel 4A one of the best smartphones in 2021. Other amazing features include; high-speed functioning, no lagging, high battery lifetime, 5.8″ wide OLED screen display, and a sleek appearance. Despite having a slim body, it is strong, sturdy, and can take falls without scratching up. Overall, it is a great purchase for someone who doesn't want to exceed their tight budget, nor do they want to suffer from a lagging phone that makes their life harder than it already is.

The Samsung Galaxy S20 FE 5G is hands down one of the best smartphones for seniors. It is easy to use, affordable and hosts a plethora of daily-use features. It is sturdy, stylish, homes a fast processor, and a long-lasting battery which is a great plus for seniors. We all know they are guilty of keeping multiple apps running at all times. No wonder they need a smartphone long-lasting battery life. Moreover, the phone comes in a wide range of colors to choose which include; orange, white, red, navy, lavender, and mint. Furthermore, the 6.5″ widescreen with 120Hz and AMOLED display takes watching videos to a whole another level.
Smartphones are incredibly easy to use but not for everyone. Sometimes our grandparents or even our parents find it hard to function one. It's too complicated for them. They might click on certain setting options that could further complicate their use. Such is the case when the smartphone ends up being locked, and your parent or grandparent does remember their updated passwords. However, there is no need to worry because we can unlock your Samsung Galaxy S20 for you without any hassle.

Newsflash! Samsung is not the only competent android based smartphone brand. There are various others that can be classified as strong competitors to Samsung. Not in terms of marketing, but definitely in terms of providing better features at a much lower price. It is sleek, sturdy, modern, and stylish.
Now let's talk about features. The OnePlus 9 pro comes with a 6.7″ widescreen with AMOLED display, the deceptively fast Snapdragon 888 processor, 8GB RAM, good enough battery life but fast charging capabilities, and outstanding camera quality. The excellent lens houses the capacity of capturing the actual vibrancy of colors which is often better than DSLR cameras. Most features present within this smartphone are adjustable that not only help you customize your phone as your needs but also save a lot of battery.

iPhones are great smartphones in general. They are fast, sturdy, and aesthetically pleasing. But they are indeed very pricey hence, rarely do these iPhone models provide value for money that is unique for android models at a cheaper price. However, when it comes to the iPhone 12 series, that statement doesn't apply. The iPhone 12 Pro may be expensive, but it provides its users with an all-in-one experience of the highest quality. Want to sell high-quality digital art but can't afford an iPad along with a phone? No worries, all you need to buy is the iPhone 12 Pro. Want to become a YouTuber? Produce high-quality content? Shoot short films but can't afford high-quality cameras plus crew and lighting? Don't worry because the iPhone 12 Pro is all you need. Your audience will not even suspect that your content was shot on an iPhone. The main camera sensor not only captures high-quality Night Mode images on the ultrawide camera but also maintains the quality with the TrueDepth front camera.
The iPhone 12 Pro comes with a 6.1″ wide OLED display, A14 bionic processor, 6GB RAM, 12 megapixels ultrawide rear camera, a good enough battery life, a lightweight body, and an aesthetically pleasing appearance. Moreover, the smartphone is available in various storage options such as 64GB, 128GB, and 256GB.
The only con here, apart from its expensive price, is that the box only contains the iPhone so you will have to purchase the earphones, and the charger separately.
8. Apple iPhone 11:
Just like the iPhone 12 series, the iPhone 11 allows you to take high-quality and clear pictures and videos even in bad lighting with its Night Mode feature. Even if you don't need the phone for professional reasons, it is a great way to upgrade your selfie game. The best part is that the price is susceptible to go down as newer models are launched. If you want to enjoy most of the iPhone 12 series features but at a lower price, then going for the iPhone 11 is not a bad idea. The appearance is pretty much the same however, some aspects may differ. The iPhone 11 comes with a 6.1″ LCD screen, A13 Bionic processor, 4GB RAM, a lightweight body, and a good enough battery life. Moreover, it gives users to choose from three storage options, 64GB, 128GB, and 256GB.

Amidst the latest iPhones, we all forgot the phones that once ruled the market. However, we are seeing a lot of those companies make a comeback. One of such companies is Motorola. They are back in the game by introducing some high-quality smartphones at commendable prices. The Moto G Power is known for its amazing battery life and fast charging capabilities. The 6.6″ LCD makes watching videos and movies a great experience. Other features include; 4GB RAM, Snapdragon 662 processor, lightweight body, and great picture quality.
10. iPhone SE 2020:



The iPhone SE is a great option for seniors who want an easy iPhone that completes their day-to-day tasks without having to pay for features that one doesn't want. It is definitely one of the best smartphones for seniors. Aesthetically pleasing, 4.7″ LCD, A13 Bionic processor, good enough battery life, doesn't lag, good camera quality, affordable price, contains all the basic features; what else could you want?
CONCLUSION
Smartphones have definitely made our lives easier but, they can still be complicated. There is so much important data stored on our smartphones hence, the security is tighter and harder to bypass. Once your smartphone gets security locked, there are slim chances that you might be able to open it unless you remember the credentials to unlock it. If that's not the case, then opting for professional smartphone unlocking services is the best option for you, and we will be happy to assist you!
Start your unlock order by filling out our form here Cellunlocker.net