The Apple iPhone X is Worth the Upgrade
CellUnlocker Tech News
12:29 am September 13, 2017
The Apple iPhone X is Worth the Upgrade

Apple just uncovered the wraps on the brand new Apple iPhone X, the most talked about smartphone immediately during and after the Apple Keynote today. This is a beautifully crafted iPhone with beefy specs, amazing technology and a hefty price tag. Let's quickly dive into what Apple is giving us for the holidays. Is the Apple iPhone X worth the upgrade for users who already own the iPhone 7 Plus? Is it worth switching over from Samsung's S8 and Note 8? Let's find out.
---
Quick Tech Specs:
Dimensions:

143.6 x 70.9 x 7.7 mm (5.65 x 2.79 x 0.30 in)
Weight: 174 g (6.14 oz)

Body Design:

SIM: Nano-SIM
IP67 Water and Dust Resistant
Apple Pay enabled
Strong Glass on front and back with Stainless Steel wrapping around the sides

Display:

Super AMOLED (Super Retina Display) touch screen
5.8 inches (~458 ppi pixels per inch) 2436 x 1125 resolution
Edge-to-Edge Display Panel
3D Touch Display
Dolby Vision / HDR 10 compliant
True-Tone Display
Display Zoom

System Specs: 

OS: iOS 11
Apple-Designed A11 Bionic Processor (64 Bit Architecture)

6 – Core processor (2 high performance + 4 high efficiency cores)
Embedded M11 Motion Co-processor

microSD: NO
3.5mm headphone jack: NO
Internal Memory: 64GB / 256 GB
RAM: 3 GB

Camera Specs:

Primary:

Dual 12 MP , f/1.8 & f/2.4 phase detect autufocus lens.

OIS in both lens'
2x optical zoom on telephoto f/2.4 lens
Quad-LED True-Tone Flash

Video:

Able to record 1080p @ 240 fps for ultra slow motion
4K video recording @ 24/30/60 fps

Selfie:

7 MP f/2.2 with Face Detection

Portrait Mode / Portrait Lighting Mode

Wireless Communication:

Bluetooth: 5.0, A2DP, LE
Wi-Fi 802.11 a/b/g/n/ac, dual-band, hotspot
USB 3.0 (Lightning) Reversible Connector

New Features and other Features:

New: Face ID
New: Animoji
New: Augmented Reality Implementation

Battery:

Unspecified: Claimed to have 2 hours More than the iPhone 7
30 minutes of charging provides 50% battery life (Fast Charging)
What is the iPhone X?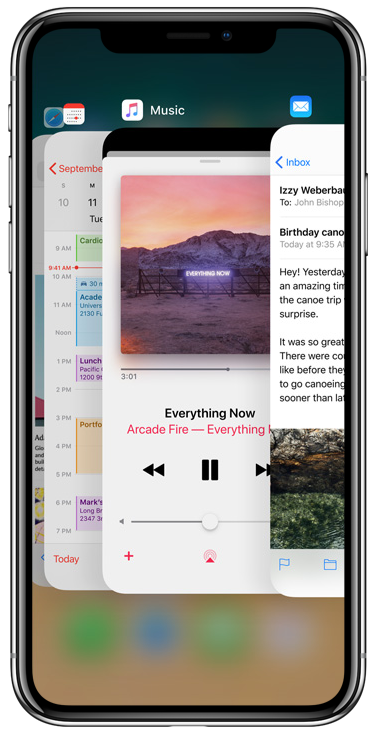 The iPhone X is Apple's celebration for their 10th anniversary by providing the best components and the best product they can at this point in time. The iPhone X or the iPhone 10 was unveiled at the Steve Jobs Theatre alongside the more traditional iPhone 8 and the iPhone 8 Plus. The iPhone X matches up with most of the leaks and rumors we have already seen with that edge-to-edge bezel-less display that resembles a cross breed of the LG G6 and the Essential Phone. What is most exciting, however, is not in the design of the phone but the hardware and software that Apple presented. It comes with AR (Augmented Reality) capabilities backed by powerful hardware and professional software engineers who put it all together into a cohesive package that, so far, does not feel like a gimmick. The iPhone X also comes with a chock full of senors at the top of the display within that tiny strip of black bezel which can measure the depth of your face and shoot 30,000 invisible dots to create a security image based on your face. This is so advanced and I have not seen such a thing launch with a smartphone yet. Samsung's face recognition is full of holes and can be bypassed with a printed picture of the owner of the iPhone. The new Apple-Designed processor is the A11 Bionic which is a 6 core processor with 2 high performance and 4 high efficiency cores. There is also an M11 Motion coprocessor and a Neural Engine that processes the new Face ID feature. There is so much more to cover about the iPhone X so read on below and we will try to explain what we witnessed in each category of the phone.
So far, the iPhone X is shaping up to be Apple's best offering as many people are already raving about the innovations of Apple and this new refreshing design choice that brings the already well received breath taking AMOLED display panel that goes edge-to-edge.
Lets Break it down…
iPhone X: The Display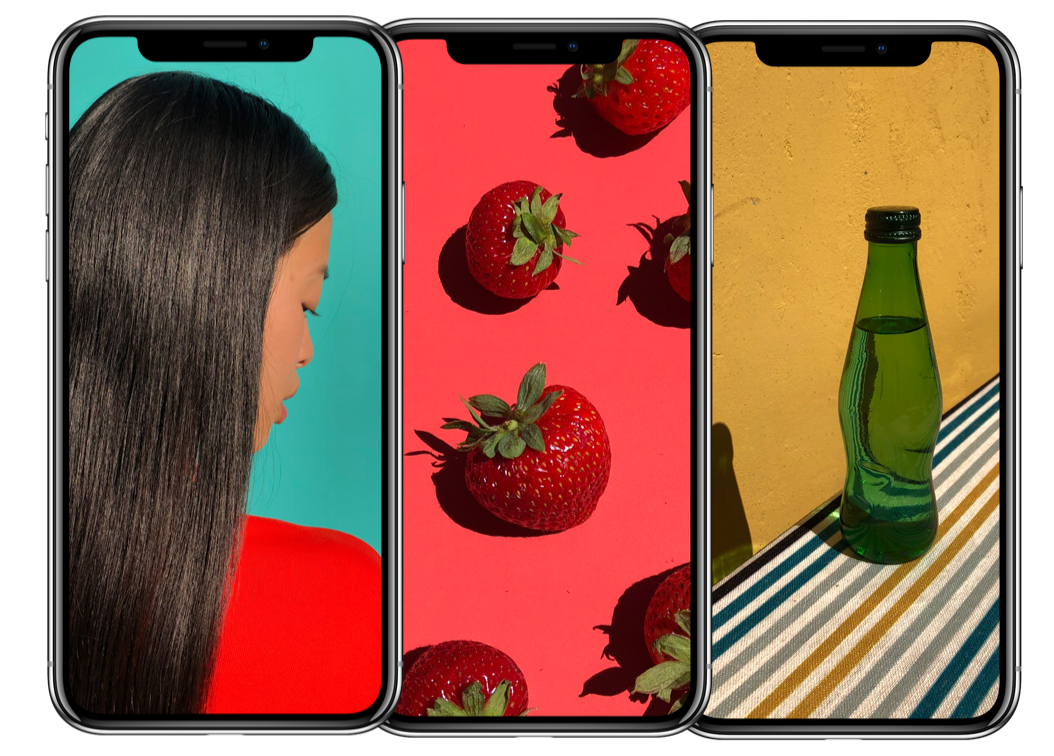 Apple calls it the Super Retina Display which is basically the leaked Edge-to-Edge near bezel-less Retina Display now built on an OLED display panel for the first time for an iPhone. OLED panel's have been around for a long time and Samsung and LG are the primary manufacturer's of said display technologies. It provides deeper colors, deeper blacks, high brightness levels and more. We are happy to see that the iPhone X boasts a 5.8 inch Super Retina Display with a (~458 ppi pixels per inch) 2436 x 1125 resolution, The display panel curves around the edge's of the display. There is only a tiny piece of bezel that sticks in from the top and center which contains an impressive array of sensors and cameras.
The display is quite beautiful to look at. Period. We are already deep in an age of high end smartphones that provide amazing display experiences so though we are not utterly blown away we still greatly appreciate Apple joining the bezel-less wars. The 5.8 inch display is awesome to look at and to have more display real estate is always welcome. With true blacks, and awesome colors popping Apple also engineered the device to provide accurate color gamuts.
iPhone X: The Specs, Battery Life and the removal of the Home Button
As mentioned the new iPhone X is powered by Apple's newly developed A11 Bionic processors which is a six core 64 bit processor with an M11 motion co-processor and a Neural Engine. The A11 Bionic CPU is 25 percent faster than last year's A10 chip and it the four core high efficiency component is 70 percent faster than the older model. The new Apple-Designed GPU is 30 percent more efficient than last year making it on par with the A10 at half the power.
The flagship is rated at IP67 which is water and dust resistant. The iPhone weighs about 174 grams which is quite light compared to the Galaxy note 8 and the phone itself is not that big in the hands with a spacious 5.8inch AMOLED (Super Retina) display.
The Processor is not slow at all but rather the opposite. IT is fast, powerful and speedy. Gaming will never be an issue as the new GPU also supports Metal 2 API and console quality gaming. Heavy duty apps won't be an issue either as the processing power can handle up to 600 billion operations per second. Apple hasn't been clear on a few front's though; we have still yet to figure out what the battery capacity is. Apple simply dismissed any comments about battery specs with a simple statement that the iPhone X will last 2 hours longer than the iPhone 7. So far we have heard that the iPhone X should have 3GB of RAM but this is not officially confirmed yet.
The iPhone X is running on iOS 11 at launch so it will come with all of the awesome perks the operating system brings.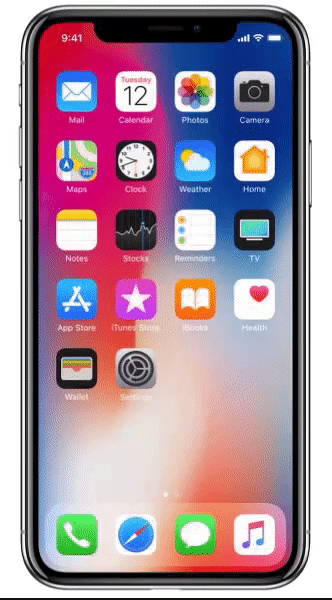 Face ID works very well.
The Home button is now gone, instead it is replaced by a tiny on screen tab at the bottom of the phone which you must swipe up to go home, tap and swipe to the center to go to your multitasking cards and also swipe left and right on that little tab to switch between apps. This seems a bit strange to us and though the process is smooth enough it will be a bit of a transition for people who are used to the famous iPhone button. If that traditional button placement is still preferred we recommend you check out the iPhone 8 or the iPhone 8 Plus instead. To unlock your phone with Face ID will require you to pick up your phone, look directly at it to see that white lock icon switch to the Unlocked position, then you must slide up to get rid of the lock screen. It sort of feels like the android lock screen with all that swiping and sliding.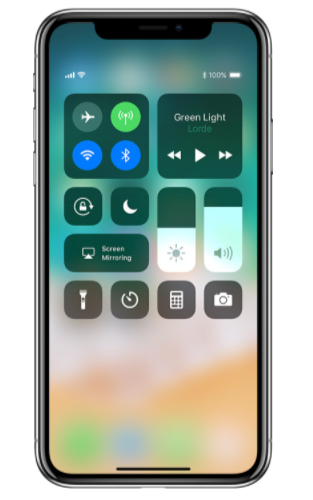 To get to your Commands just swipe down from the top right corner of the phone and to get to your notifications you will need to swipe down from the left side of the iPhone.
The iPhone X has been certified with an IP67 water/dust resistant rating. This is perfect for the time where you accidentally spill water and you have no need to worry about dust.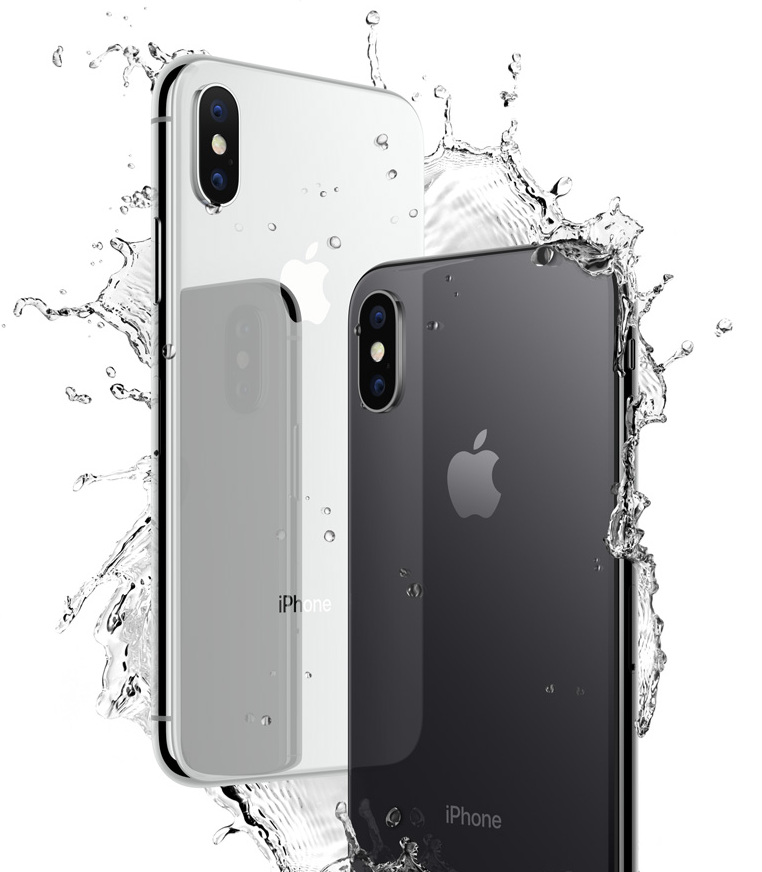 iPhone X: The Camera & Augmented Reality:
Main Camera:
The iPhone X comes with a Dual Camera configuration both of the lens' will be 12 MP in sensor size. True to the leaks, rumors and the dummy units the iPhone X's dual camera layout is vertical (up and down) compared to the horizontal placement we see on the iPhone 7 Plus and the iPhone 8 Plus. Between the two len's sits the Quad-LED True Tone Flash which illuminates subjects 50% farther and brighter. The Dual 12 MP sensors have larger pixels that are deeper and have new color filters. The iPhone X will be the second flagship phone to have Dual-OIS (optical image stabilization) in both lens' (the first being the Galaxy Note 8). Optical Image Stabilization will provide clearer and sharper images even in low light situations. Especially during video recording OIS will come in handy as it stabilizes your video shots a great deal compared to devices that do not have OIS.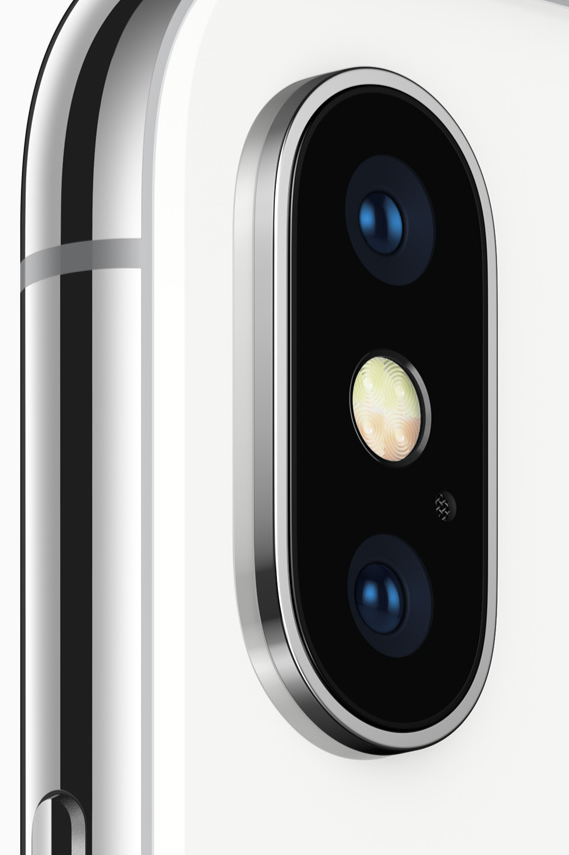 A new feature that was announced was Portrait Lighting. This feature uses the advanced cameras, the new A11 Bionic processor with it's new ISP, Depth Sensing Cameras and complicated software to create artificial lighting on your subject's face as if there were studio lights in place all around you. We have yet to test this and see how well this works. Just like the portrait mode that came with the iPhone 7 Plus this could be a hit or a miss. The different Portrait Lighting modes include: Natural Light, Studio Light, Contour Light, Stage Light, and Stage Light MONO (black and white).
The 2X optical zoom is found on the telephoto lens with that f/2.4 aperture opening. Sure, the f/2.4 is narrower and lets in less light compared to the f/1.8 faster lens on the wide angle lens but generally portraiture is best used in good lighting. When you tap and hold the 2x ZOOM button in the camera app you have the option to slide it around on a small circle to quickly zoom up to 10x zoom. 6x zoom is highest for video zooms.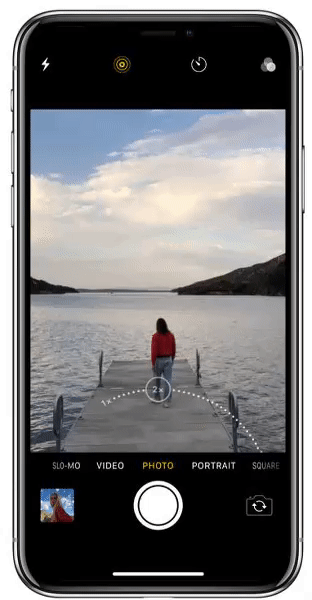 Apple says that because the A11 Bionic chip has advanced machine learning this would help a great deal in taking better photo's. It seems that the photography system will be able to see more, comprehend the scenes more and execute methods. There are 6 elements (lens') in the f/1.8 wide angle camera. The company also managed to include OIS in the telephoto len's via what they call a "state-of-the-art seven-magnet solution".
Apple also stated that the Portrait Mode is improved so that you can achieve even sharper images and the background blur should be improved even in low light usage.
The iPhone X now supports 4K video up to 60 fps and slo-mo videos up to 1080p up to 240 fps.
Augmented Reality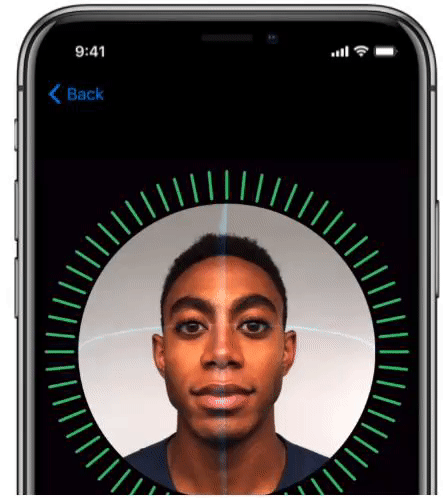 AR, Augmented Reality was a big feature presented during Apple's keynote. The primary dual camera's on the iPhone X is more than capable. Apple paired up with some well known game development companies to demo a game based entirely on AR. The game was smooth, immersive, and sound and visuals respond to your camera. During the Apple Keynote they showed some pretty cool AR usages. For example, when watch a game at the basketball match or baseball you can use various apps to point your iPhone at the players on the court. The app will use your iPhone's AR capabilities to pin a name and face and stats on each living player before you.
Another cool AR implementation is using the star apps. Point your iPhone towards the sky above you and the app will apply the starry map with its lines, dots, and names upon the literal sky. No software gimmicks. It uses the advanced AR enabled software and the advanced iPhone camera inside.
The Cool side of the new Selfie Camera: Face ID and the TrueDepth Camera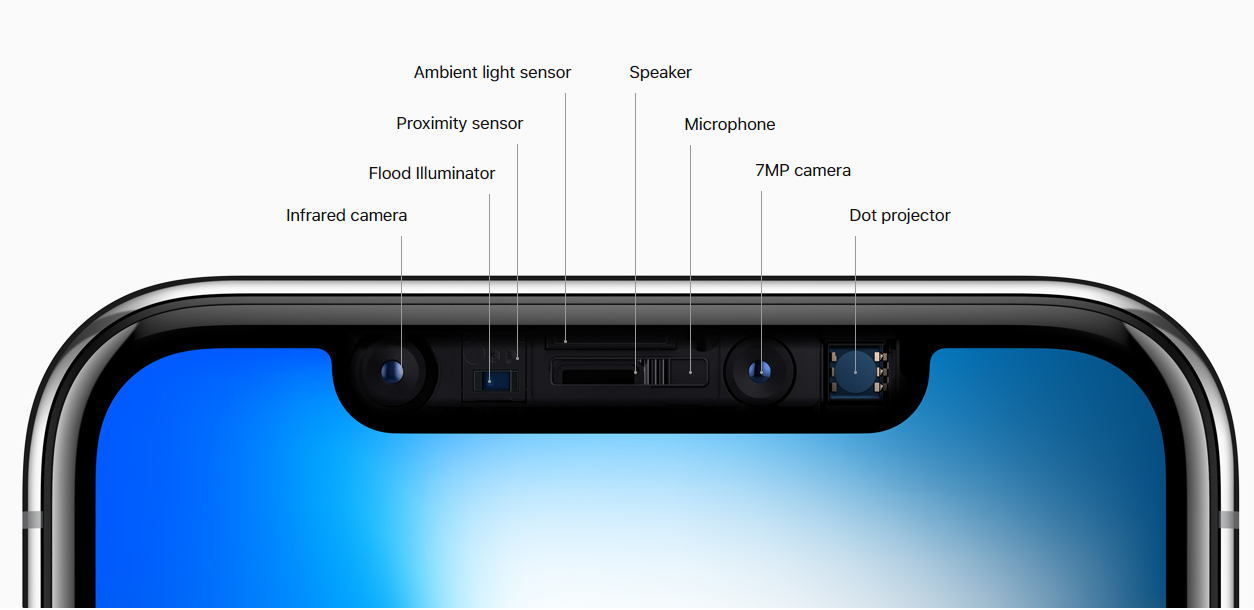 The 7 MP True Depth Camera has an aperture of f/2.2. Impressively, Apple integrated Portrait mode and Portrait Lighting mode into this camera. We expect to see some pretty awesome portrait selfies to start popping up online.  The Selfie camera also works with the new security feature Apple calls "Face ID". Face ID is basically an advanced form of the face recognition unlocks found on other devices. The greatest difference between the two is that Apple's implementation provides a fast, and an actual secure solution to use your face to unlock your iPhone and also use Apple Pay.
The set up is quick and involves you looking at the screen and rotating your head in a circular motion. This is achieved by the TrueDepth camera, the infrared sensor, ambient light sensor, proximity sensor, flood illuminator, dot projector and the A11 Bionic chip with the Neural Engine inside. So your information need not sync with some cloud system far away but directly with the engine integrated inside your iPhone X. The TrueDepth camera projects 30,o00 invisible dots that creates a precise 3D depth map of your face. During the keynote Apple has explained that you no longer can use a simple photo of your face nor can you sculpt a perfect replica of your face and use that to unlock. It needs YOUR face. Additionally, even if you were to grow a beard, your hair, wear a scarf or change your earrings thanks to the adaptive Face ID feature the function changes with you and still recognizes you.
The TrueDepth camera is also able to analyze more than 50 different muscle movements that is then mimic'd by your chosen emoji. It worked fantastically and was super fun to play with. You can send this over Apple iMessages as a sticker or an animated emoji with your voice recording. It is accurate, fun and worked darn well.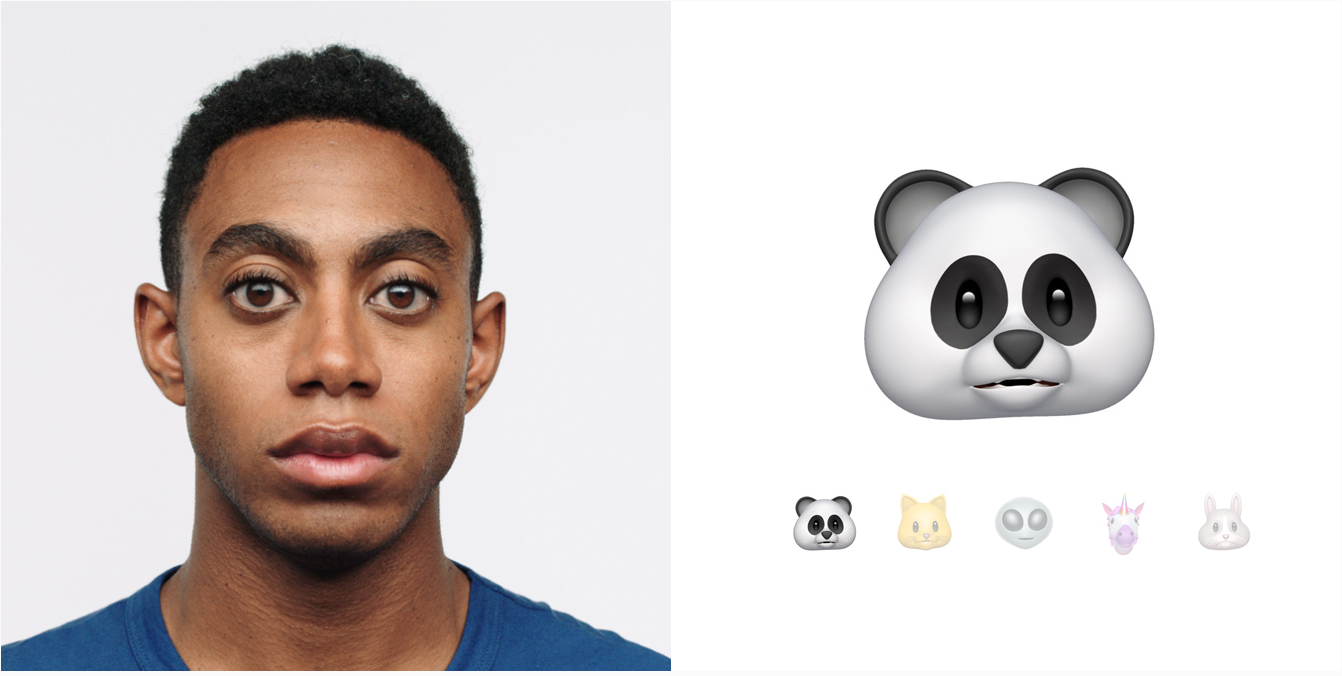 iPhone X Joins the Wireless Charging Front: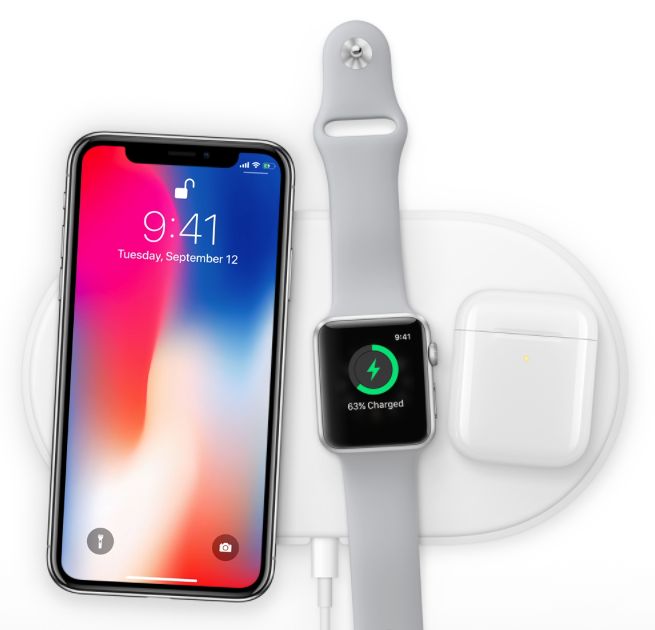 The build of the iPhone comprises of glass and surgical-grade stainless steel. Thanks to the glass back Apple is able to finally incorporate wireless charging. During the keynote various reps introduced their partnerships with various companies who will be providing Qi Certified wireless charging products and service in and around stores, cafes, libraries, and charging pads. They already announced an elegant looking Apple AirPower which is a take on previously presented charging power mats but somehow through this mat the iPhone will be able to show the battery percentages of all of your other Apple products such as the new Apple Watch Series 3, and the optional AirPod Wireless Charging Case.
Conclusion & Thoughts:
The phone comes in either a 64 GB configuration for 999$ or a 256 GB variant which is priced higher. On the Canadian website the pricing is set at $1319.00 and $1529.00 respectively.  So the price is going to be heavy and most may be deterred from this awesome iPhone due to that point alone. Considering that the smartphone market prices are on the rise we should not be entirely surprised with the pricing. If you do end up pouring in your savings into this device outright or on contract remember that you are investing in a fantastic new smartphone with high end specs, new features that look really cool (though we are unsure how the customers will respond into the future). If the price is too high and if you miss the home button we still recommend other high end smartphones such as the iPhone 8, iPhone 8 Plus, Samsung Galaxy S8, S8 Plus, the LG V30 and others.
The pricing seems to be competing with that of the Galaxy Note 8 which is similarly priced at a high premium.
The iPhone X is undoubtedly a big contender in the flagship premium smartphone arena. It needs to face off with the likes of the LG V30, the Note 8, the S8 Plus, and a few others. Apple, however, seems to have the upper hand in marketing as their commercials and adverts appeal to most people. The Apple brand is also a premium icon statement that have heads turning without much effort. We would not be surprised to see many still go for the iPhone X one way or another as it is indeed the most beautiful and refreshing design change that Apple has brought in a long time. One of the major pitfalls of releasing a new smartphone every year is the challenge of designing a revolutionary device. The iPhone X's design did not seem unique in itself as it resembled a cross breed of the S8, the Essential phone and the LG V30. I do not believe that design alone is the main reason to buy the iPhone X. The reason is in the Apple brand, the new and awesome features that Apple laid out on us which includes the newly announced; AR, amazing TrueDepth camera with it's array of advanced senors, and the new FaceID. The Animoji is also a cute and fun addition that breathed life into Apple's new product.
During the Apple Keynote Tim Cook and his associates did not make any mentions about the 3.5mm head phone jack at all. In Apple's eyes, it is truly a thing of the past. However, we still see many people and users desire for a flagship premium phone to have all functions available including the 3.5mm headphone jack. How long will the 3.5mm jack last?
Overall the iPhone X is a serious flagship phone with serious specs and exciting new features some of which unseen yet in another smartphone.  Just be prepared to shell out an arm and a leg for it's premium price.
Preorders for the iPhone X begins on October 27 while the smartphones will begin shipment on November 3.