iPhone 6 Plus Unlock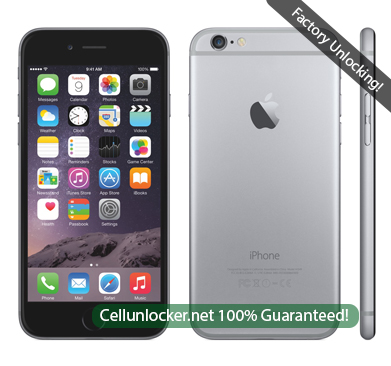 How to Unlock iPhone 6 Plus
Factory Unlock iPhone 6 Plus to work on other GSM Networks
The iPhone 6 Plus with its 5.5 Inch 1080 Retina HD Display is the largest and newest innovation from Apple. Jam packed with new features, the iPhone 6 Plus will come carrier locked. This means upon using another carriers sim card you will not be able to use this device with their network. Luckily, Cellunlocker.net provides an unlocking solution so your iPhone 6 Plus will become permanently factory unlocked. Once unlocked, your iPhone 6 Plus will remain unlocked even after updating the firmware. Our service is guaranteed 100% or your money back.
Requirements PLEASE READ:
* Please make sure that your iPhone 6 Plus has been activated with its original carrier at least once before.
* IMEI Number must not be barred, reported stolen or blacklisted.
* Network must be listed in the drop down box below.
* If your iPhone is running on iOS 7, Please read HERE first
Please verify your Network is included in the list below. Our current popular Networks for iPhone 6 Unlocking include:
USA: T-Mobile, At&t
Canada: Telus, Koodo, Rogers, Fido, Sasktel, Bell, Virgin, MTS
United Kingdom: Vodafone UK, Orange UK, O2 UK, Orange UK, T-Mobile,
Three UK, Tesco UK, EE UK
Australia: Optus, Telstra, Three, Vodafone, Virgin
Chile: Movistar, Entel, Claro
Denmark: TDC Mobil, Telenor, Telia
Ireland: O2, Vodafone
Netherlands: T-Mobile
Brazil: Claro, Brazil Telecom, TIM, Vivo
France: Bouygues, France Telecom, Orange France
Korea: KT Telecom, SK Telecom
Spain: Movistar
Norway: NetCom, Telenor
+ Many More…Please take a look at supported Network List Below
If your iPhone 6 Plus Network is not listed below under "Networks" or you don't know the network your iPhone is locked to, DO NOT ORDER this, as your Network MUST be listed below
Why Unlock your iPhone 6 Plus with Cellunlocker.net?
* Easily switch Sim cards between GSM Carriers using the same iPhone 6 Plus Phone
* Unlock your Apple iPhone device from the comfort of your own home
* Our Automated system will E-Mail you when your iPhone is unlocked
* If you are travelling, buy a local SIM card and save on roaming fees
* Cellunlocker.net Guarantees Lowest price and Fastest Turnaround time
* No complicated jailbreaking,software, or cables required
* There is absolutely no risk of damaging your iPhone 6 phone by unlocking it.
100% Guaranteed to Unlock your Apple iPhone 6 Network
Popular iPhone Unlock Models
Popular iPhone Unlock Networks
Telus Mobility
AT&T
Bell Mobility
T-Mobile USA
Rogers
Verizon
SoftBank
Koodo
Fido
Metro PCS
Claro
Virgin Canada
Unlocking Phones – Frequently Asked Questions
Requirements before unlock
iPhone must be activated with it's original carrier
Must have access to the icloud account on the phone to turn off FMI
Unlock Instructions
1.Install latest version of iTunes
2.Make sure phone is updated to the latest official version from iTunes
3.Connect phone to iTunes with not accepted (not valid) SIM card
4.Wait until iTunes detects phone
5.Now disconnect phone and reconnect after 10 seconds
6.Phone is Unlocked
09/20/2018rrrr
iPhone 7 Plus
09/19/2018rrrr
iPhone 6S Plus
09/15/2018rrrr
iPhone 6 Prepaid
09/15/2018rrrr
iPhone 8 Plus
09/02/2018rrrr
iPhone 6S Plus