Samsung Galaxy S6 Edge Unlock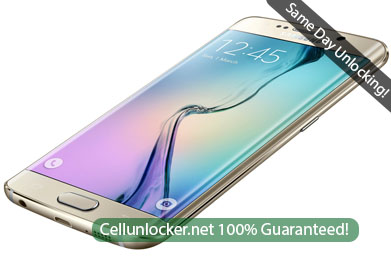 How to Unlock Samsung Galaxy S6 Edge (SM-G925, SM-G925F, SM-G925W8) by Unlock Code
Samsung Galaxy S6 Edge Unlock is now available to be officially unlocked via Cellunlocker.net
With Samsung's release of the Galaxy S6 and the Galaxy S6 Edge, we are given something that we've never seen before: Samsung flagship phones composed almost completely of metal and glass. However, as gorgeous and awe-inspiring the Galaxy S6 is, the Galaxy S6 Edge takes it one step further by following in the footsteps of the Galaxy Note Edge.
The Samsung Galaxy S6 Edge is Samsung's top of line device. This device is available with all Major USA carriers including AT&T, T-Mobile, Verizon, Sprint. In Canada, Rogers, Bell, Fido, Telus, Koodo, Virgin, Sasktel, Wind, Mobilicity, Videotron will all be carrying the Galaxy S6 Edge.
Cellunlocker.net offers a solution for you to Factory Unlock your Samsung Galaxy S6 Edge so there will be no more carrier restrictions. This means, once you unlock it, you can insert a Sim Card from any GSM Carrier across the world. Whether you are traveling and buy a local sim card, or if you want to change to a cheaper service provider without purchasing a new phone, unlocking with Cellunlocker.net is fast, easy and 100% Guaranteed.
We solve the issue of "Sim Network Unlock Pin" or "Network Control Key" when you insert a sim card from another provider.
We use the Exact Same method Carriers or Stores will charge you 50 dollars plus to unlock your Galaxy S6 Edge. Our method is the official method to factory unlock your device.
Why Unlock your Samsung Galaxy S6 Edge with Cellunlocker.net?
* Unlock your Samsung Galaxy S6 Edge from the comfort of your own home.
* Easily switch Sim cards between GSM Carriers using the same device
* No complicated rooting, software, or cables required
* Simply enter the Samsung Unlock code we e-mail you
* If you are travelling, buy a local SIM card and save on roaming fees
* Unlock your Galaxy S6 Edge device from the comfort of your own home
* Our Automated system will E-Mail you the Samsung Unlock code
* Cellunlocker.net Guarantees Lowest price and Fastest Turnaround time
* There is absolutely no risk of damaging your Samsung S6 Edge phone by unlocking it.
100% Guaranteed to Unlock your Samsung Galaxy S6 Edge SM-G925 Device to any GSM Network
Unlocking Samsung Galaxy S6 is Fast, Easy and 100% Guaranteed with Cellunlocker.net!
Unlocking Phones - Frequently Asked Questions
Instructions for Inputting Unlock Code:

1) Power on your Samsung Galaxy S6 Edge device with a foreign sim card
2) Phone will prompt for you for "Sim Network Unlock Pin" or "Enter Unlock Code"
3) Enter the unlock code provided
4) Your Samsung Galaxy S6 Edge phone is now unlocked!

No Reviews at this page at this time
Please check out our
Testimonials
Page from customers and also checkout our reviews at
Review Centre